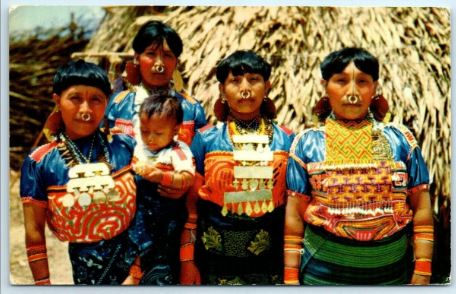 Bill Sutherland, a Company headquarters lawyer in Boston, on temporary duty in Puerto Armuelles and Panama City, and his wife, Edna Mae, were close friends of ours. We had several common interests, among them pre-Colombian history of Central America and Indian artifacts.
____________________________________________________________________________________________
***If you missed any of the previous installments, click on the links here:
 1928: Part 1,   1928: Part 2,  1928: Part 3,  1928: Part 4, 1929:Part 5, Part 6, Part 7, Part 8, Part 9, Part 10, Part 11
I was in Panama City for dental work and met Bill in the office there late one afternoon. We then went to the nearby world-famous Mamie Kelley's Club (actual photo below!) for refreshments. Several hours later it was agreed that we would go to the San BIas islands and take color movies of the Indians there. He was not a photographer and I had never taken pictures with a movie camera.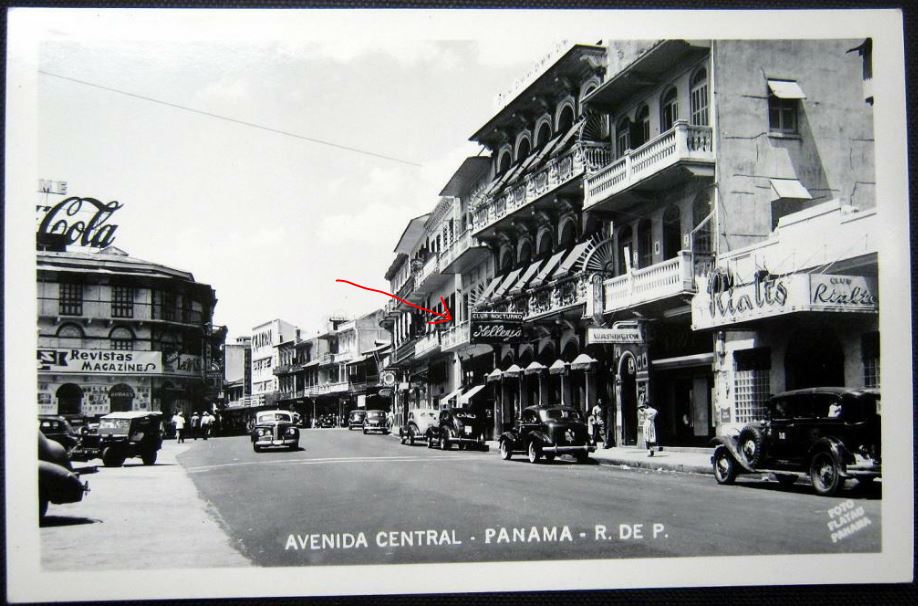 We shopped until late that night – Bill spent about $800 for the best Kodak movie camera, film, light meter and tripod. We also acquired a few "trinkets" for trading, several bottles of expensive brandy, a small supply of canned "food" (peanuts. guava paste, sardines, sausages, crackers, etc.,) and two large towels.
In the morning we took the train from Balboa (Panama City) on the Pacific side of the Canal Zone to Cristobal (Colon) on the Atlantic side where we boarded a coastal trading schooner for the islands.
NOTE: Here is real video footage from the time and you can see the train they took to Colon at the 2 minute mark!
In our anxiety to get going on our expedition, we failed to advise the PanAma City office, or our families in Puerto Armuelles, of our itinerary. I spent the daylight hours rocking along on the little boat, it had a crew of two, studying the directions for using the movie camera. I knew that if I didn't get some good pictures my reputation as a photographer would be quickly smeared, and so would I, Bill had a violent temper!
His wife, a beautiful and stylish dark-haired Texan, had modeled for some of my first color pictures, taken on Kodachrome 4″x 5″ sheet film with a large Graflex ground glass focusing camera. There was no 35mm color film in those days.
We arrived about noon the next day, went ashore in an Indian dugout toting our equipment and supplies. Our headquarters there, for our one afternoon, night and morning visit, was in the open on the beach under a coconut palm.
The San Blas archipelago includes hundreds of idyllic small islands with white sand beaches, coconut palms, all in calm blue waters. Clans or small family groups of the Indians live on separate islands. They are remnants of the primitive indigenous San Blas Cuna Indian tribe. Fortunately the Spanish conquistadors missed this little strip of the Caribbean and, although the Indians are now considered Panamanian citizens, when we were there only a few of them spoke any Spanish and they dressed and lived in their own tribal ways. They were gentle, pleasant people and lived in thatch huts. Their food was mainly fish and shellfish, coconuts and some corn and vegetables which they grew in small plots on the nearby coast. The San Blas mountain range, unexplored primitive and wild country, rises abruptly from the coastal plain to over 4,000 feet. That was the setting for my first, and only, effort as a movie producer-cameraman.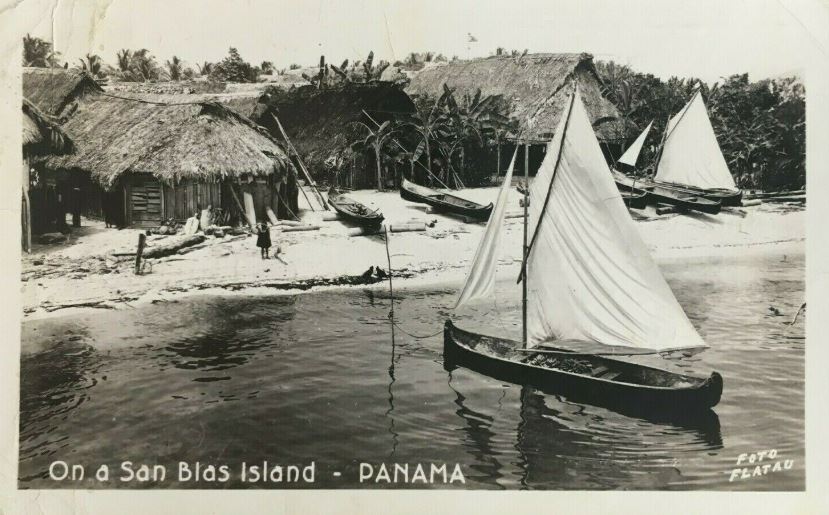 When we arrived, the men were working their fields on the mainland but we were well-received by a group of about 30 women dressed in their bright, colorful skirts, blouses and headpieces. Many had a gold ring in their nose. The "molas", which the women make themselves by reverse applique, are large frontal and back pieces of their blouses. I took a particular liking to one which the girl took off and gave to me in exchange for two pieces of blue and yellow cloth (with which she could make another) and some colored postcards of Peruvian Indians with the shrunken heads of their enemies. Such were some of our trading trinkets.
A little later the "chief" arrived. He could speak a mixture of Spanish and English since he had spent several years of his youth as a seaman on a coastwise boat. Our friendship was cemented by a couple of drinks of brandy and he volunteered to assist us in producing a movie. The scenario we had plotted was simple, but took several hours of rehearsing for the 'star' (Bill) and the 'extras' (six young girls in full native attire).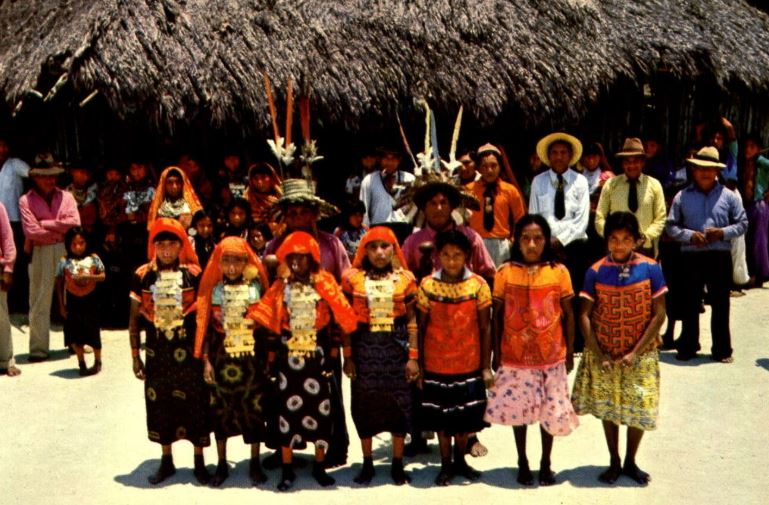 I loaded and set up the camera and tripod on the beach with a view of sky, palms, sand and blue water. The script called for Bill to be sitting alone on the white sand at waters edge, when out of the distance a dugout canoe paddled by and the girls come into view. They land on the beach, jump out of the canoe, rush up to Bill, grab him and pull him (a willing victim) to the dugout. Then, with Bill in the canoe with them, they paddle off slowly into the sunset. End of Scene I – and several rolls of film!
Bill and I were offered shelter in a thatched hut but preferred to spend the night sleeping on the beach, with a towel as a mattress and a sky full of bright stars as a canopy. A little brandy helped to soften our '"pads" and to warm the rather cool sea breeze. In the morning we joined the chief for a strange breakfast of pieces of deep-fried conch, some type of corn patties, and some "old" (fermented) coconut milk. Then, with his help, we were ready for Scene II.
On the far side of the island from the landing there was a round hut, completely enclosed with thatch, elevated on poles with a flimsy ladder stairway up about six feet to the only opening, a small "door". We were told that young virgins, who had been betrothed by young "braves", were confined in this hut for several weeks before their "marriage". No males were allowed to enter. There were colorful molas, with the usual abstract designs of birds, fish and animals, attached to the outside, presumably to identify the girls inside. It was guarded by an elderly female. I started cranking away on the camera (no electric drive then) as Bill, a rather hefty person, approached the old woman, pushed her aside and laboriously climbed up the ladder. I was afraid it would collapse, that he would fall and break some bones, and that we might become permanent residents of the island, but it held together. After he entered, a lot of young girls started screaming and rushed out down the ladder. A few seconds later Bill appeared in the little opening tugging a young maiden down the ladder. With considerable effort he carried her in his arms as they disappeared into a setting of palms, seagrapes and blue sky. The closing scene was the chief sharpening his spear and shaking his head as he gazed into the distance. End of San BIas movie.
Our farewells were touching scenes as the schooner picked us up to leave in the afternoon. We had a smooth passage back to Colon but on the train back to Panama City the next morning other passengers seemed to be staring at us. I guess we were slightly unkempt.
Needless to say, a lot of people were relieved when we reported in at the Panama City office. For four days no one knew where we were, family and friends were really upset, police had checked jails, hospitals, bars, hotels, passenger lists on planes and ships leaving the country, but no record of us! I was worried about Harriet and also afraid that I probably would be 'fired' by the Company. But all actors, movie producers, and cameramen have tough times and our lives returned to normal in a few days.
I only saw the films once and thought they were wonderful. They were rated "X" by Edna Mae, but Bill kept them for the rest of his life. I heard that after his death, she had donated them to a museum on Indian culture in Houston, Texas, where she was living. I kept the mola for years and eventually gave it to Sue, who cut off the sleeves and had it framed. So, now she knows the true story connected with it!
To be continued…
Stay tuned for PART 13 of this story!
NOTES:
*All photos, researched from the era, were added by the editor of Visit Puerto Armuelles. 
It has become much easier to find historic photos from 1940 on!
.
Please follow and like us: