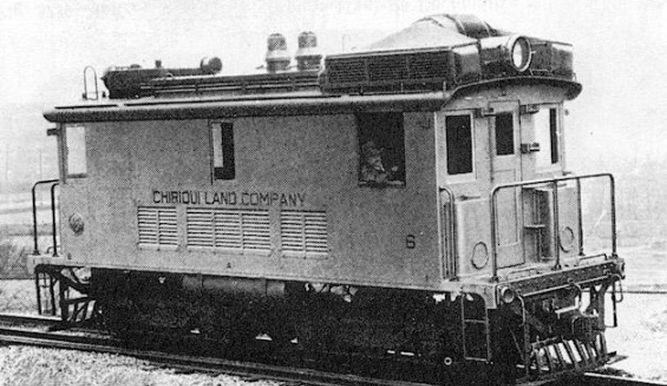 Part 5: The Transition in 1929
Just as I was finishing the planting of Guacimo farm in late 1929 the railroad arrived in Esperanza and that was the end of the "good life" on a woodland Farm.
***If you missed the previous installments, click here: 1928: Part 1,   1928: Part 2,  1928: Part 3,  1928: Part 4
Work trains arrived daily loaded with construction materials and workers. Soon there was a wooden eight-room bachelor quarters building with mess hall, kitchen, running water, toilets, showers and electric lights. And a commissary with a large ice box. Ice was delivered three times a week from the ice plant in Armuelles, but it took us a couple of weeks before we could stomach cold beer – it would bloat us up terribly!
The Company now had a license to import and sell liquor and an immediate improvement was that we now got a slug of good Scotch whiskey instead of local rum if we downed the liquid quinine at the supper table.
Our menu slowly changed from fresh local fish and meats to canned stuff and cold storage items from California. Permanent wooden labor camps were being constructed and work started on houses for the superintendent and 3 overseers. Esperanza became a district headquarters and included 5 other farms in addition to those adjoining the center. Additional labor camps and overseer's houses were built on each outlying farm.
In Esperanza there were two new arrivals, a district superintendent, another transfer after many years in the Almirante division, and Dr. Vining C. Dunlap. "Doc", a Ph.D in Agronomy, Bowdoin, Maine, had spent several years in Africa and in tropical America looking for banana lands for the Company. Chiriqui was one of his recommendations and it was my opinion, given to the President of the Company in 1926, that the soils in this region would produce good bananas for many years.
It is still producing, and is one of the Company's largest divisions, in 1982 – 56 years later. Some of the older divisions died out after 10 or 15 years. Doc worked directly for the President of the Company and now was assigned to check the soils in the jungles of the Golfito area in Costa Rica, which adjoined Chiriqui province in Panama.
Esperanza would be my base camp and he was provided' with two "camp cars", living quarters and a kitchen. Camp cars were like mobile homes but constructed on a railroad flat car. His cars were spotted on a railroad siding across from the new bachelor quarters. He immediately became a member of our afternoon beer and bacalao club, and the principal raconteur with his vast knowledge of and experiences in the tropics. He and I soon became close friends, both New Englanders, and with similar interests in natural history.
Doc had a cook and housekeeper, Margarita, a good-looking Costa Rican girl, an excellent horsewoman and a never-miss shot with her Colt 38 Special six-gun. While Doc was away on extended trips making the soil surveys, she cared for and protected his camp and a little vegetable garden which she tended. The whole area was enclosed with a high chain-link fence and locked gate and was off-limits to the Esperanza crowd – all except me!
Margarita had a record player too and had heard a couple of records echoing from my manacca shack. One evening during our beer session Doc asked me to bring my records over to his camp and have dinner. We listened to my records, and theirs, while sipping several Dewars White Label Scotch highballs and then feasting on tamales. ("White Label" became the drink for United Fruit employees for the next 40 years that I know of, perhaps longer. At first the cost in the commissary was about $1.50 a fifth!). That evening was the beginning of a lifelong, almost a family, relationship between Doc and me that lasted until he passed away 40 years later in New Orleans. He inspired me, taught and guided me directly or indirectly, for the remainder of my years with the Company.
Doc's specialty was soils but he knew the names, scientific and local, of almost every tree in the forest, as well as many of the orchids, birds and animals. He became Director of Tropical Research for the United Fruit Company and I worked for him in Honduras for many years. He was probably the best-known·employee in the tropics, highly respected by everyone, and a guiding influence in several critical decisions which literally saved the Company in later years .
I have mentioned that a district superintendent had been assigned to Esperanza to supervise the five farms and make preparations for harvesting and shipping bananas which were now commencing to "show" (bud). Potential banana production, barring blow-downs or floods, was around 625 bunches per acre yearly. With bunch weight averaging 80 pounds, this was 25 tons of bunch fruit per acre. As bananas are now handled, this would be about 1200 boxes of "clusters " 1,000 per acre.
A district clerk was also assigned to Esperanza to handle the office work and records. Up until the superintendent arrived, we woodland overseers answered only to the Superintendent of Agriculture whom we rarely saw since he lived in Progreso. He only came to my farm once to spend a few hours riding around checking the general quality of the work. A young guy from the accounting department·in Puerto also appeared once to check some of the field work against my payroll. He didn't hang around long and was scared to death of the sound of howler monkeys which I told him were tigers. And he could hardly walk after a couple of hours in the saddle on a rough-gaited mule provided especially for him!.
Life in Esperanza was.different now with the railroad, the new buildings, and people coming on motorcars from Puerto almost daily to check this and that but mainly just to see what a banana farm looked like. We could still see and hear the flocks of macaws and parrots flying over at daybreak and the falcons calling at dusk, but with so much activity and so many people around, the jaguars, ocelots and pumas had retired far into the remaining forests in back of the banana farms.
The 5,000-acre district was now planted, but in the three other districts, where about 10,000 acres had been planted, there were still some 20,000 more acres of jungle to plant. Woodland overseers and their specialized labor were at a premium and I was lined up and and looking forward to starting another new farm near the Costa Rican border. In the enjoyable solitude of my jungle life I wasn't even aware of the Wall Street stock market collapse in October 1929 which was the start of the great depression of the 1930's. However, its effects were beginning to be felt by the United Fruit Company – and very much so later on. In addition, another division, Castilla, this one in Honduras, was closing down due to "Panama Disease" so it was important to get the Chiriqui division in production and shipping bananas.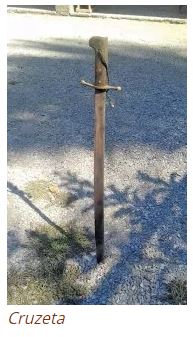 That weekend I went back to Esperanza to pick up the rest of my gear and attend a big party which my No. I Nicaraguan contractor, Tomas Mairera, had for me in his large manacca camp – with about 70 of his laborers and the other Esperanza overseers. I rode Cantinera to his camp with no difficulty since the old commissary along the way had just been demolished! I was presented with a "Cruzeta", a long narrow type of machete but with a straight blade like a sword and with a brass grip with the guards extending about two inches on each side, forming a cross – hence the "cruzeta". It was a prized possession of all Nicaraguan "gladiators" who could afford one. What a night with many guitar and vocal numbers, all going on at once and gradually becoming more dissonant, and a few fights, but no major blood letting. I was feeling bad from eating and drinking so much. They strung up a hammock for me and, after sleeping a couple of hours, recovered enough to ride Cantinera back to our camp in the morning. Then I said "adios" to the rest of the gang there (although I would see most of them off and on later) and took a motorcar back to Puerto Armuelles. And that was the end of a rather short (18 months) but exciting and enjoyable chapter in my checkered career – that of a banana woodland overseer.
To be continued…
PART 6 of this story: Move to Puerto Armuelles in 1929
NOTES:
*All photos, researched from the era, were added by the editor of Visit Puerto Armuelles. 
Please follow and like us: