Bienvenidos a Puerto Armuelles, Panama!
Find all the information you need for planing your next visit to this quaint beach town on the Pacific Coast of Panama. Start with a glance over the Fast Facts about this wonderful down-to-earth locale and begin to discover why more and more people are being drawn here. Some say it is the laid back "tranquilo' charm of the old banana plantation homes and friendly nature of the residents who are seen strolling along the town's streets amidst bicycles, dogs, and street peddlers. Others come to Puerto Armuelles for the unspoiled beauty of the surrounding jungles and long stretches of solitude found on the many beaches. For others, there is the attraction of being in on the ground floor of the resurgence of this once vibrant town and the promise of tremendous growth ahead. Whatever your reason for looking into Puerto Armuelles, we hope to provide a good start for your visit right here on these pages. So, start exploring and feel free to contact us if you have any comments or questions at info@VisitPuertoArmuelles.com
Meet the folks behind the scenes: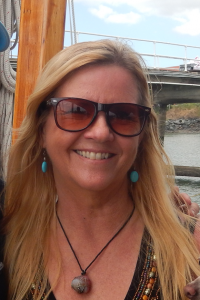 Debbie Fishell, Managing Editor
A world traveler who has lived over 12 years as an expat in different countries, and is now a permanent resident of Puerto Armuelles, Panama. Debbie was an editor for Escape Artist International for 2 years, creating and running the Panama portal. Becoming frustrated with the lack of reliable information about her new hometown, Debbie began to collaborate with experts and locals in the community to create a website together, that would provide useful information and resources for locals, expats, and the growing number of  tourists coming to "Visit Puerto Armuelles".
There are many contributors to the information and articles posted here. The editor just puts it all together!
Bethany Cook, Contributing Editor
Bethany has raised a family of 4 boys and a husband in Puerto Armuelles over the past 10 years. She has witnessed the decline of the town since the pull-out of the Chiquita Banana Company and has a strong desire to see Puerto become a vibrant town again. Bethany is an active community advocate who was responsible for organizing a group to get the Las Palmas pool renovated and re-opened to the public, as well as heading up numerous charity organizations and community events. She also helped initiate neighborhood watch groups, bringing the residents and local police together. Bethany was crucial in getting the idea of "Visit Puerto Armuelles" off the ground and has many useful connections and unique insight into what's happening around town.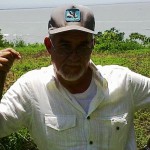 Dr. Alberto Carbono, Contributor
Dr. Carbono is a local Panamanian with a long family history in Puerto Armuelles. He is most recently known as the owner of the popular beachfront restaurant "Don Carlos", which was started by his late father. Alberto has been very active in the building and restoration of the beachfront park called Malecon, where the statue of Tomas Armuelles is located just to the north of the famous banana pier. He is a wealth of information and photos about the history of Puerto Armuelles and it will be fun piecing it all together for you to enjoy!
As always, we welcome news, stories, photos, event postings, real estate listings, and advertising from our readers!
Please comment below or email editor@VisitPuertoArmuelles.com