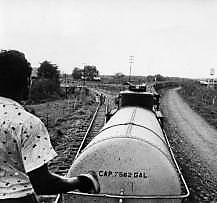 Part 6: Move to Puerto Armuelles
By this time Puerto Armuelles had become the division headquarters and, like all company towns, it included most of the amenities for a comfortable home and family life for the employees living there. The wharf had been completed and shiploads of construction materials arrived one after another. A nearby river had been dammed for water supply, pumped to a large standpipe. Over a hundred labor camps had been constructed along the beach for about a mile, from the wharf and native village at one end, to the ocean-side jungle at the other end. In back of the labor camp there was a large machine shop, power plant, material department building and railroad yards for storage of rolling stock. Then a long airstrip which also served as a fairly good nine-hole golf course.
***If you missed the previous installments, click here: 1928: Part 1,   1928: Part 2,  1928: Part 3,  1928: Part 4, 1929:Part 5
At one end of the golf course was the large merchandise department building with its ice plant and cold storage facilities, and at the other end, the jungle. Immediately in back of the airfield was a line of buildings, a radio shack and tower, the two-story general office building, a three-story hospital, the Manager's house, a large mess halls club building, tennis courts (later a private club-bowling alley building) and nine eight-room bachelor quarters, each with a large central sitting room. Continuing away from the ocean and up a hill there were about thirty widely-spaced houses for first-class married employees, a small school house, a swimming pool and, atop the hill, the tall water storage tank. All buildings were constructed of California redwood because of its resistance to termites.
All the camps and houses were built up on "stilts" about seven feet off the ground to provide space underneath them for cooking in the labor camps and for laundry rooms and storage facilities in the family houses. A church was soon constructed with private funds and there was a cemetery on another hill just outside of town near the railroad line. All of this construction was accomplished in a little over a year and it continued at a rapid pace after that for several more years. And there was a lot of construction on the farms as new plantations opened up, more supervisory personnel and labor were brought in, and banana shipments commenced to West-coast ports.
In laying out the town area, many of the original forest trees were left – an inspired landscaping idea! The clearing for the town was a half-moon shape about two miles long, the Pacific ocean bordering one side and the pristine rain-forest jungle in the back. It was located near the basal end of the Burica-peninsula which created the anomalous situation where the sun would rise over the Pacific ocean! From the very first, thousands of ornamental bushes, plants and grafted fruit trees were imported from Summit Gardens in the Canal Zone and planted along the streets, in the yards and around the houses in Armuelles and also on all of the banana farm housing areas.
At first, and for a long time, most of the top brass were North Americans, many with families, having been transferred from other divisions. They filled the many administrative and clerical positions in the various departments in Puerto; Executive, Agricultural, Accounting, Engineering, Shipping, Railroad, Mechanical, Materials, Medical and Merchandise. The Legal staff consisted of several highly-qualified Panamanian lawyers.
Mr. Cobb and I had plenty of space in the large two-room agricultural section of the general office building and within a few weeks it became a busy one when I added a secretary and two clerks.
Up the coast, and in back of the town, the terrain soon became a series of heavily forested high foothills, cut by deep gorges of small rivers flowing down to the ocean. The adjoining great block of thousands of .acres of rain forest continued into Costa Rica to the northwest; to the Cordillera de Talamanca mountain range to the north with its 11,400-foot volcanic peak, El Baru; and to the level flood plains of the Colorado and Chiriqui Viejo rivers to the northeast where the banana farms were planted on the rich deep clay loam alluvial soils.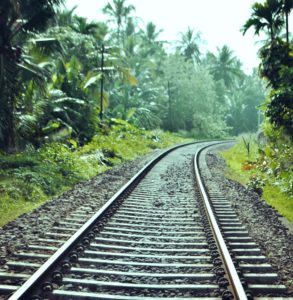 The railroad from Puerto Armuelles to the banana farms, and on to the city of David , cut through the forested hills and valleys to the northeast for about ten miles before entering into the nearest banana district. Then there was some 40 miles of railroad loops and loading spurs' in the banana area, followed by about 30 miles more through semi-open pasture and cattle country to Concepcion and to David.
The Agricultural Department is the heart of the United Fruit Company and of each division. The Superintendent's office has the all-important responsibility of providing the Agricultural Vice President in Boston with current Ufruit" '(banana) estimates – previously "bunches", but now boxes of clusters, for one, three, six and twelve weeks; six and twelve months, with revisions as necessary. This information is critical and used for arranging sales programs, schedules for ships, and for "freezer" railroad cars in the states (now mostly refrigerated trailers, including some roll-on's loaded on ships in the tropics).
In the Chiriqui division there were four farm district offices, each with a couple of clerks. Production estimates, operating budgets, for all farm operations, payroll, etc. from each district were checked and summarized in the agriculture superintendent's office for forwarding to the accountant, division manager or the Boston Office. When "cutting" orders for a ship were received, the agricultural office would assign quantities, based on their estimates, to each district for a specific date. The transportation department was also advised so they could, if possible, due to the perishable nature of bananas a shipload would be harvested and transported to port in one day and loaded aboard a refrigerated ship that night. So the agricultural office was a busy one!
My staff consisted of a secretary, Lilia Jensen (a beautiful but very shy girl; daughter of the chief engineer, a Dane, and his Panamanian wife), "Captain" Edwards (an Englishman who couldn't handle his liquor, formerly accountant for the Singer Sewing Machine Co. in Buenos Aires, Argentina), and John Tower (a "hurried" transfer from the company accounting department in Santa Marta, Colombia, after a gun fight). Surprisingly they were all excellent workers. How we would have enjoyed the small digital computers in use today instead of the endless hand-cranking and carriage shifting. The heavy and noisy mechanical "adding machines" in use then.
Now that I had the office set up, Cobb took me with him several times a week on motorcar trips to different districts where we would "ride" a banana farm on mules with the district superintendent and the overseer, an all-day job. I also accompanied him on some "fruit cuts". So I learned the banana farm business fast, and from an expert. It was a tough school though. I was often emotionally upset by Cobb's direct, brusque and often inconsiderate treatment of some employees, but that was his job, "to clean house", and he did it. He soon brought in several of his top, overseers and K. B. Block, a district superintendent, from Honduras. "KB" would become superintendent of Agriculture in Chiriqui so that Cobb could return to Honduras . KB and family became close friends of ours for my remaining eleven years in Armuelles, and for many years thereafter until my retirement. We still exchange notes of mutual family interests each Christmas.
Cobb told me to teach KB the tricks I had learned from him so when Cobb left, my routine was the same as it had been. I was like an aide-de-camp who knows the whole procedure, and is often directly responsible for the results but doesn't get the top pay!
The division manager, H. S. Blair (Hank), a gentleman of the old school, had been manager of the Almirante division and was transferred to Chiriqui in 1927. With Cobb "carrying on" in the division without ever consulting him, Hank was worried about his job, even though it was at the top.
He often entertained me at cocktails in his house, along with his retinue – Jerry Baron and others he had brought along from Almirante. That was how they kept abreast of what Cobb was up to. As time went on, Hank Blair and I became very good friends. In fact I practically ran his job for him later on as you will learn in another chapter. KB also became a good friend of Blair and was a great help to him over the years he remained in Puerto Armuelles.
To be continued…
Stay tuned for PART 7 of this story: Life in Puerto Armuelles
NOTES:
*All photos, researched from the era, were added by the editor of Visit Puerto Armuelles. 
Please follow and like us: