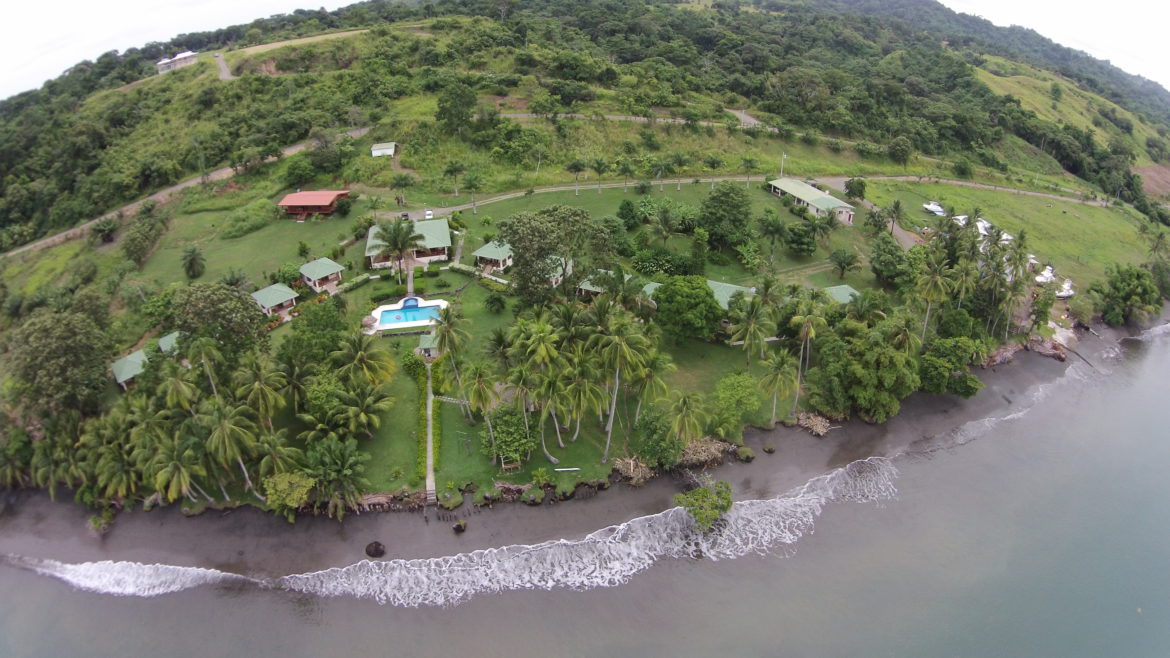 Are you a deep sea sport fishing enthusiast? There are a number of reasons why Chiriqui Bay in Panama should be on your list and one of the best fishing lodges in Panama is just south of Puerto Armuelles.
Reason #1 – Charco Azul, along the Burica peninsula between Puerto Armuelles and the point, translates to "blue ditch/puddle." This name comes from its steep slope off the shore, where the continental shelf is extremely thin. A few meters into the Pacific Ocean, the water is already about 200 meters deep. You don't have to travel far to catch big game fish!
Reason #2 – There is a wide variety of fish available here including Marlin, Sailfish, Yellowfin Tuna, MahiMahi (Dorado), Jacks, Roosterfish, Snapper and more.
Reason #3 –  There have been many World Record breaking fish caught here! According to the IGFA World Record Breaking Fish book, Panama holds many world records for different species. Here are a few: 11 MahiMahi, 4 Black Marlin, 6 Roosterfish, 9 Rainbow Runners, 12 Sailfish, and 16 Mullet Snappers. Would you like to catch your dream fish in Panama?
Reason #4 – Most of the time the Pacific Ocean off the coast of Burica is relatively calm. You will have a pleasant day and don't have to worry about getting seasick.
What are you waiting for? Come on over to Puerto Armuelles and visit one of the best fishing lodges in the entire country of Panama!
HOOKED ON PANAMA

 US (888-733-5368) Panama (507)6465-4124

Aqua Adventures' Hooked on Panama is located just 17 kilometers (about 10 miles) south of Puerto Armuelles, on the Burica peninsula that separates Costa Rica from Panama. The lodge opened in 2005.
From Panama City: Fly to David, and then it's a two-hour drive to the lodge.
Accommodations: 12 double-occupancy ocean-view bungalows for up to 24 guests.
Sport-Fishing Fleet: Three 35-foot Deepsport boats with 12-foot beam and twin turbo-diesel engines.
Tackle: Shimano conventionals with 30- to 80-pound mono for trolling, live-baiting; Shimano spinners for popping. (Reel models not specified.)
Primary Fishing Grounds: Nearshore, most often around Punta Burica and Islas Ladrones.
Distance to Fish: Typically five to 20 miles to fish coast and out to Ladrones; offshore trolling can begin within 10 miles of the lodge.
Season: Open all year. (Late November through April best for billfish; April through August for yellowfin.)
Rates: For five days of fishing and six nights, $4,620 or $5,250 (depending upon season) per person for two anglers per boat, or $2,986 or $3,430 for four anglers per boat. Rates include ground transfer from David, all meals and open bar. Optional "VIP" rates also include customs service at airport, all in-country transportation including regional flights, and hotel in Panama City.
Comments: The beachfront lodge sits amid a large grove of tropical trees in a parklike setting.
Please follow and like us: