Puerto Armuelles was a fishing village long before the banana companies came here. Fishing is still some of the best in Panama and worldwide. If you're looking for a day trip to go after big game fish, you only need to drive 20 minutes south of Puerto for some of the best deep sea fishing to be found!
Hooked on Panama Fishing Lodge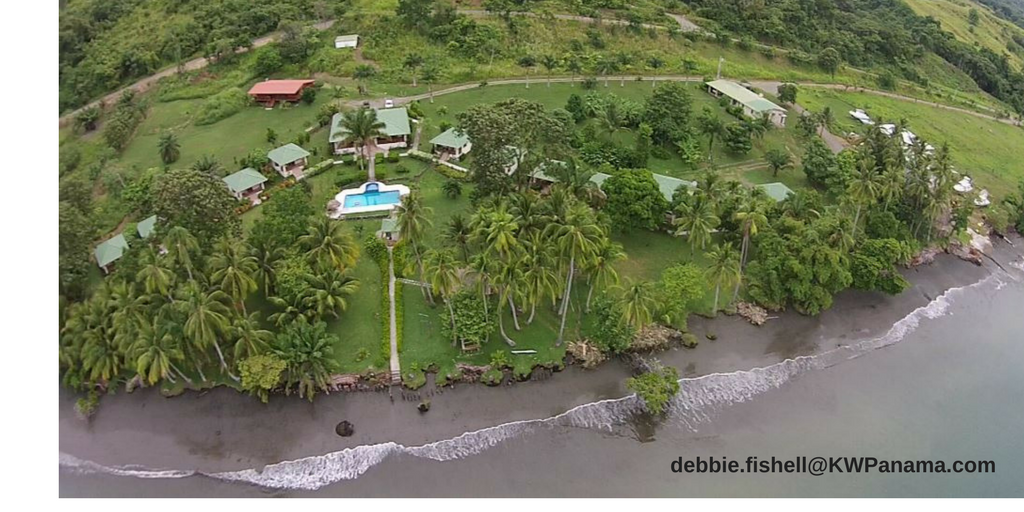 Chiriqui Bay has some of the best deep sea fishing in the world. Common game fish caught here are Marlin, Sailfish, Tuna, and Jack's. Located just 17 kilometers (about 10 1/2 Miles) south of Puerto Armuelles is one of the top ranked fishing lodges in Panama: Hooked on Panama. They offer all-inclusive deep sea fishing adventures for their clients that book online. What many people locally don't know is that you can get a group of friend's together and book a fishing trip on a boat just for the day. The lodge has three 33-35′ custom built sport fishing boats that can hold up to 6 guests. The cost (call for current rates) includes the boat for a day, including food, drinks, gear and crew. Get a few friend's together and have a memorable day!
Here is a summary from a day at sea at Hooked on Panama: 
6 A.M.~ walk from the lodge down to the beach to board a Panga shuttle boat that takes us out to the fishing boat moored off-shore.
Departure is soon after we board. As the boat heads out into the steadily brightening dawn, our direction is nominally South by South East, in the general direction of Islas Ladrones.
The deck-hand is busy prepping fishing poles, lines, live-bait (caught the night before by the fishing boat's night watchman), and artificial bait/lures.
There are breakfast burritos, drinks (both alcoholic and non), and lunch included on board. Plenty of food and drinks for the day!
About a half hour out two smaller poles/lines are deployed with lures. The deck-hand continues setting up other heavier poles and selecting the proper tackle for the area. Very soon both poles strike and 2 small blue-fin tuna are boated and dropped into the live-bait tank. Lines are redeployed and a couple more small tuna are brought in and put into bait tank.

The deck-hand brings in the smaller lines and deploys all other fishing lines. We drag those around as the skipper watches his fish-finder and heads for feeding flocks of birds. We boat a couple 30+ pound Yellow-fin doing this. The birds follow schools of fish, and the fish move constantly and fast chasing schools of smaller fish, their prey.
Soon the skipper calls for all lines in and for the crew-man to live-bait the poles. Once on the line/hook, the bait is kept in the live-bait well until needed. The skipper now picks up speed to keep up with the schools of Yellow-fin and, watching his fish-finder screen, positions the boat over the school. When the boat is positioned he cuts the throttle and orders "FISH"! That is the signal to put the live bait in the water. Very quickly, without letting out more than maybe 60 feet of line, Yellow-fin are on the hooks… all four poles.
We boat 4 more +/- 30 pounders. Four lines in the water at a time prove too much… lines get crossed when the fish get hooked. So the skipper makes a couple more passes using only 2 poles. We boat more Yellow-fin and the school out distances us.
We are very close to Islas Ladrones. Time for bottom fishing. Skipper maneuvers the boat in close to the rocky isles into about 40 feet of water. Live bait is set and we all drop our lines in the water and let the bait sink. We picked up several snapper, a few different jacks (one was probably 50 lbs.), and a couple smaller (10+ pounds) rooster fish.

Time for trolling again. Largest poles baited with the small tuna caught in the morning. We dragged those around along with some artificial bait. Caught a couple smallish dorado (mahi-mahi). Would have thrown them back but they beat themselves up so bad while the hooks are being extracted so they wouldn't have survived.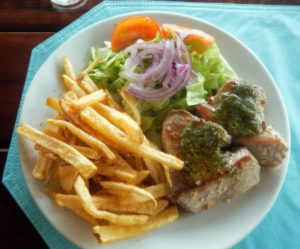 Heading back in, we were still dragging lines for a while. Not more bites. Skipper calls for lines in, and he throttles it for home.
We got back to the mooring around 4 P.M. Time for telling stories in the lodge over cocktails and a delicious gourmet meal, including sashimi from our fresh catch!
Story provided by Patrick Fishell in June 2018
Read more about fishing in Puerto Armuelles here: Fishing In Puerto Armuelles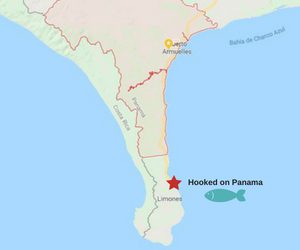 Hooked on Panama Fishing Lodge
To get more information check out their website:
To make a reservation call:
Panama 507-6465-4124 or from the US call 1-888-733-5368
Not into fishing? Read about other optional things to do at:
Hooked on Panama: More Than  a Fishing Lodge
Please follow and like us: