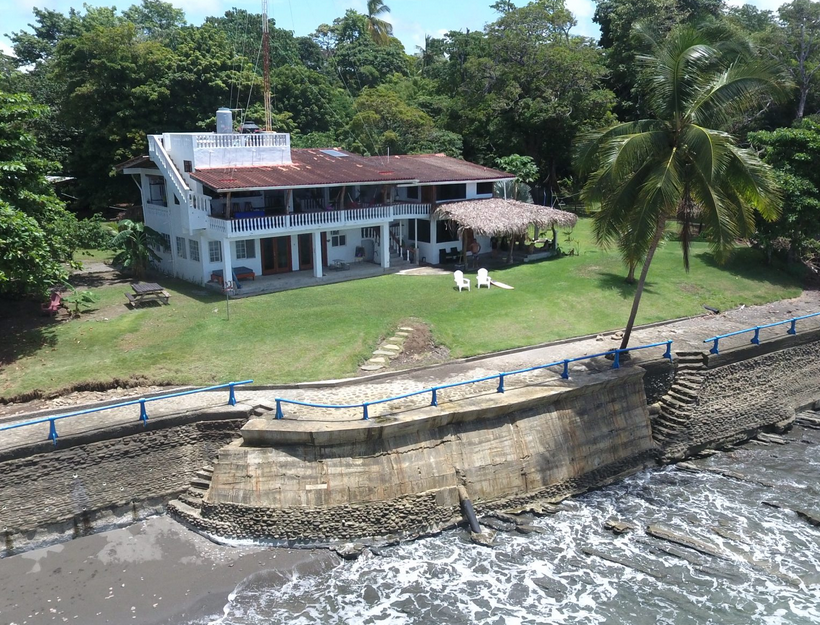 It takes a little effort to make your way south, all the way to this boutique hotel at the tip of the Burica Peninsula, but once you get there, you won't want to leave!
My latest trip to Punta Burica was a "girl's getaway retreat" at the all-inclusive beach house called Burica Life (it used to be called 'Burica Surf). It is truly another world here, surrounded by tranquility, tropical plants and wildlife, and the amazingly unique beach. This is a place to totally unplug, connect with nature, and restore your soul.

Originally opened as a Surf Camp, there is still the draw of world class waves here at the point. In fact, there are over half a dozen specific surf spots that sports lovers can try out. If you don't have your own board with you, they are available for rent. A few surfers can be seen almost daily, but there is never a crowd.

Burica Life is a family run operation and every attention is made to detail. In fact, if you have special request or a small event planned, they will do everything they can to accommodate you and your group. We requested a midnight bonfire on the beach and there it was! Ask for fresh "PIPA" water (coconut water) and someone will open one up for you. It's amazing how gracious the hosts are here at Burica Life. At the same time, they stay out of your way and give you plenty of privacy.

The rooms are clean, sleeping 2 -4 guests each, and each one has a private bathroom. They have room for groups of 10+.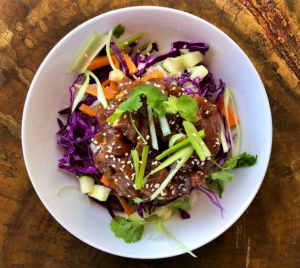 There were 6 of us and the cost per person was $100 per night, which includes a full breakfast, lunch and dinner, all made with fresh locally caught or grown ingredients. I saw the fresh tuna that was literally caught the day we arrived and dinner was the freshest and most delicious Poki Bowls ever! The ocean life is plentiful here ~ they catch lobsters and shrimp too, so meals are always a special treat. Besides the best seafood, there are also chickens raised on the property and eggs are cooked to your request for breakfast.
Even though this is an out-of-the-way location, there is plenty to do here. I enjoyed walking on the beach, exploring tide pools, and relaxing in a hammock with cool ocean breezes. In the morning, we took a short hike, about 15 minutes, to nearby Mono Feliz, where we were greeted by a troop of curious monkeys. There is a botanical garden with name labels to learn about some of the names of local flora, and a mountain fed pool. The hike is completely shaded and takes you along the coastline. You can see Isla Burica just offshore, and even walk out to it at low tide.
I think it would be easy to spend a week or more and still have plenty to see and do!
It takes roughly an hour to get to Punta Burica from Puerto Armuelles. The drive to Limones is quick and easy on the recently paved new road. Beyond Limones, the "Phase 2" part of the paving project, which was halted during the pandemic, has not been started back up yet. So, this part of the journey is on a paved, and sometimes rocky, road. Not too bad during dry season, though you may want to have a 4 wheel drive in the rainy season. Believe me ~ the trip is worth it! You may even discover your own piece of paradise (or Plan B with the way things are going) in this secluded hideaway.
For area property info, contact Debbie@visitPuertoArmuelles.com
There are also tours and rentals offered at Burica Life, including kayaks, standup paddle boards, surf boards, horseback riding, and hiking or fishing excursions; either right offshore or deep sea fishing. See lots of photos on their Instagram Page!

According to Burica Life (and I agree!)
  " Its an adventure to get here and it doesn't stop until you leave. Come and see the end of the road and LIVE THE DREAM!"
Please follow and like us: