Painstakingly updated to modern standards while maintaining the elegance and charm of the original 1940's post and beam construction. The 2118 square foot main floor has three bedrooms and two full baths, with a fully equipped one bedroom and one bathroom apartment downstairs.

The large kitchen has a central island, breakfast bar, tile floors and expansive storage cabinets of native teak.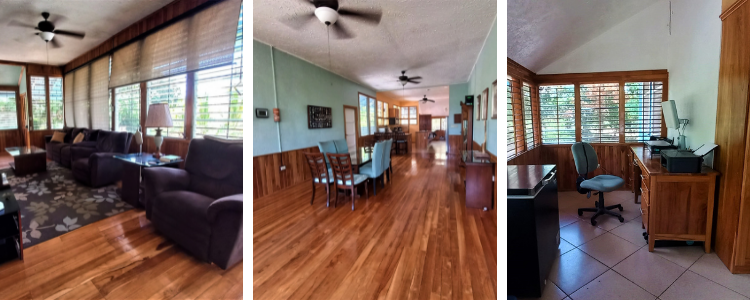 The upper living areas of the house are graced with beautiful new hardwood floors.
The house is designed to take advantage of the Pacific breeze–you can even hear the whisper of the waves from the house. Windows cover most of the external walls, with ceiling fans in every room. The three bedrooms are spacious and the ceilings are 9 feet throughout the house, giving even more of an open feeling.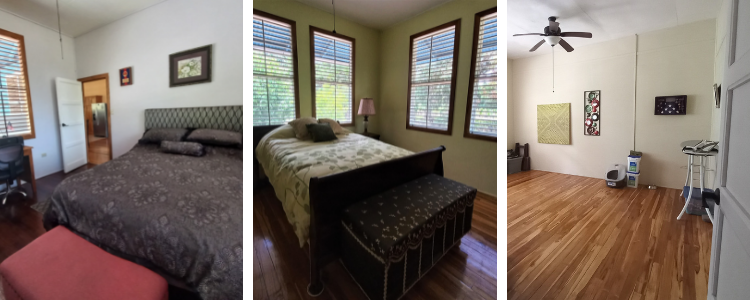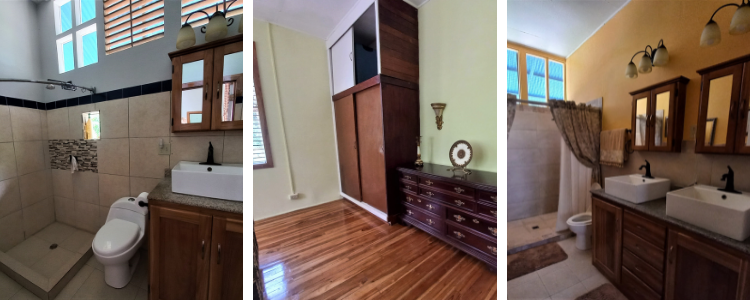 The lower level features a one bedroom, 1 bath air-conditioned guest quarters with a large indoor laundry room and new teak closets. The apartment has been rented for $500 per month, so it can be used for income or as a guest quarters. The apartment comes completely furnished.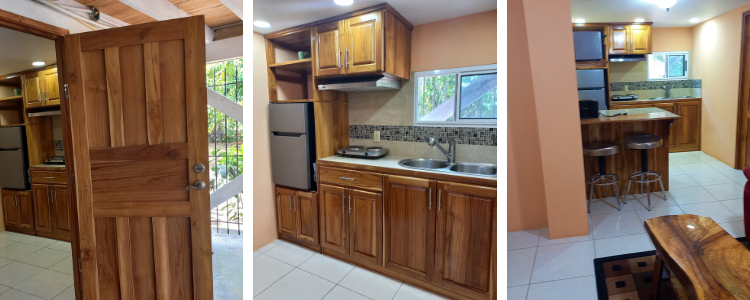 Still underneath, and right outside the door, is a spacious 'outdoor living room' that is the same size as the upstairs area. There is 6'5″ headroom underneath the crossbeams. A laundry area, storage closet and secure 'bodega' finish out this space. An ornamental ironwork surround finishes out and secures this area nicely.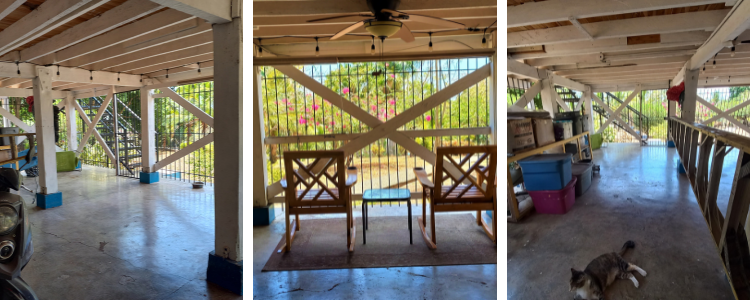 Originally built by the United Fruit Company to accommodate their upper management, the home sits atop a small hill in the Las Palmas neighborhood, close to town and away from the actual plantations. A five minute walk brings you to the community swimming pool. Membership privileges for these facilities cost $10 per month! Modern amenities such as phone, satellite TV, and DSL hook-up are available. A reserve water tank with a pressurized pump system ensures you will always have plenty of water. The property is landscaped and there is an automatic electric gate at the driveway entrance.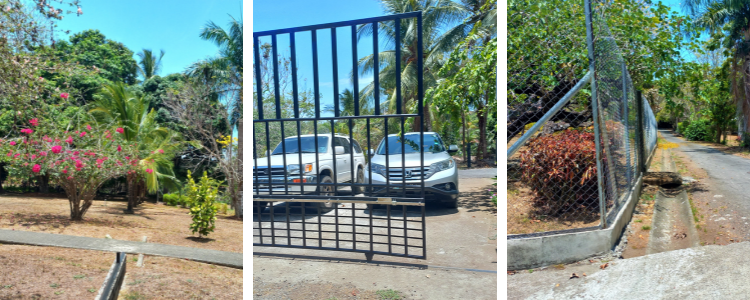 The property backs up to a Forest Reserve. Nature's amenities include a variety of fruit trees, innumerable birds (including flocks of parrots) and of course, the beach is only a five minute drive away. Fishing and beach activities in this area are not to be missed. Should you need a change of climate, an hour drive will have you in the cool mountain air.
Puerto Armuelles is a mid-sized town with most things available to meet day-to-day needs including a brand new hospital, restaurants, stores and municipal services. For other shopping, airport, and perhaps a movie and dinner, the province capital of David is a little over an hour away. The Costa Rican border crossing is only a 30 minute drive from the house. It has MANY shops.
Single Family Home 4/3

R.O.P

Size of Lot: 3646.29 sq.Meters (almost 1 acre)
Building Size: 196.8 sq. meters (2118.3 sf)
Location: Las Palmas, Puerto Armuelles
$199,500
CONTACT: Debbie@visitPuertoArmuelles.com
Please follow and like us: