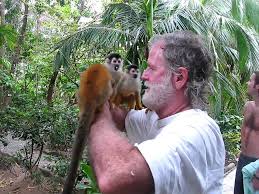 When you really want to "unplug" and spend some time enjoying the natural world around us, I suggest a day trip to Mono Feliz (Happy Monkey). This is one of the best places to relax in a clean and quiet eco-environment. You may get to feed monkeys too!

Mono Feliz is located about 34 kilometers south of Puerto Armuelles, in Punta Burica. It currently takes about an hour and a half to get there by car and you need a 4-wheel drive to get all the way to the refuge. A regular car can make it to the small town of Bella Vista, where you can park and hike about 30 minutes to get there. Small coaster buses regularly drive from Puerto to Bella Vista also. When the second phase of the road from Limones to Bella Vista gets done, this drive will be significantly faster.
The owners are John Garvey (known as Juancho) and Luz Mila . Rumors are that Juancho was shipwrecked here 22 years ago, met Luz and they have lived happily ever after since. There was a glint in his eyes and a chuckle as he told me he'd also heard that rumor. This is such a laid back and happy couple, living in their Shangri La at the furthest SW tip of Panama!
Juancho almost always has a book in hand and I don't think he owns many shirts. 🙂
Once you arrive, the parking lot has a sign that says Quiet Zone. No load music is allowed ~ this is a place to drink in the sounds of nature. They have signs marking the entrance, route to cabins, and several of the tropical plants and trees. The grounds are kept immaculately clean and there are well marked trails throughout.

You can stroll around the nice botanical garden trails from the beach, though the jungle, and up the hill for a spectacular view of Isla Burica. A $1 donation is requested. It is also $1 per person for use of the covered, outdoor kitchen. You have to bring your own food with you. There are usually cold drinks available for sale, $1.50 for a soda and $2 for a cold cerveza. Unless you made prior arrangements, you are going to be on your own for meals. Unplug your phone because there is no internet or cell service. The closest connection is either Burica Surf Camp (nearby) or Bella Vista (about 2 kilometers away).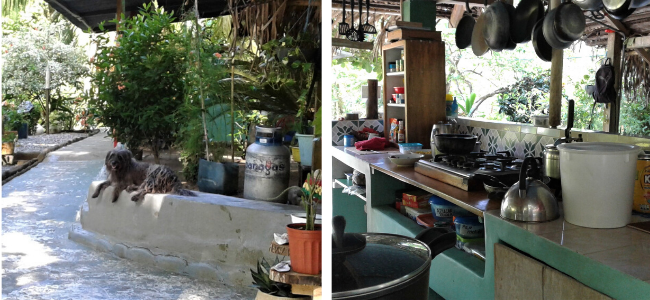 5 open air, covered cabins are available for overnight stays at $20/person. There are 2 cabins in the jungle, one is one right on the beach, another that is on the hill above with an ocean view, and a newer cabin on stilts like a sort of tree house. The owners are preparing the grounds and adding a few more. Camping is also available.

A covered swimming pool will call to you and is refreshingly cool, as it is fed by a natural spring. The beach is full of tide pools with little critters and fish at low tide and there is surf beyond the shallow area. The surf camp is right next door and several good surf spots are found here. You may find some interesting shells along the beach too! Outdoor showers are on site for rinsing off and there is a bathroom for guests.
Around mid-afternoon the wild monkeys start to appear for their, now expected, snacks. Mostly adorable little Squirrel Monkeys. They have become tame over the years and will allow guests to hand feed them and even hop on your arm or shoulder. On my last trip, we also watched a troupe of Capuchin Monkeys playing in the trees on one of the trails nearby. Sometimes, you can get Luz to do her "Monkey Call" to entice the little fellows down. I expected a sound that a monkey would make, until she demonstrated for me.
You may notice hundreds of books around the property too. Jauncho enjoys reading in his leisure-time, which is all the time! You can pick up something to read while you relax on the beach or in a hammock. I plan to bring a few of my old books to add to his collection on my next trip.

Members of the Proyecto Primates are often seen at Mono Feliz also, as they make this a home-base while they are researching the monkeys in the area or bringing guided tours of students to explore. Next time you have a free day or two, I highly recommend spending some time at the tip of Panama communing with nature and replenishing your soul.
Punta Burica is about 2 kilometers further south than Bella Vista. The phone number is 507.6595-0388, if nobody answers just go there anyways. You will be welcomed!
Please follow and like us: