June 2022 was a busy month of progress in Puerto Armuelles ~ With Improvements to the Malecón Park, construction of the Cinta Costera, and the award of payment and contract to start the new pier project. 
The most prominent project for Puerto's future is the building of the new fiscal pier and dock. To see the proposed plan for the pier project click HERE. June 2022, the order was delivered by AMP (Maritime Authority of Panama) to proceed with the construction of the new pier/dock in Puerto Armuelles, Barú. The award for the project was for over $21 million dollars.
The event took place with the participation of Noriel Araúz, general manager of the AMP, the Governor of Chiriquí, Juan Carlos Muñoz, the mayor of the District of Barú, Marcos Beitia, COSES group, as well as representatives of the private sector, the Tourism Authority, Customs and Migration Authority, and others.
I spoke last week to Adelberto, a Civil Engineer from Panama City, who is here in Puerto to conduct environmental studies. They have erected a platform near the old pier and are currently taking core samples to determine the depth and position of new pier pilings. Adelberto told me the project is expected to be completed within 2 years.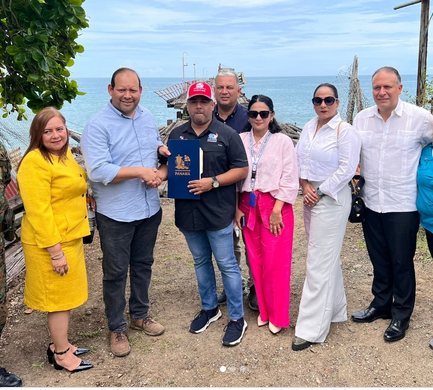 The work will be done by ASOBUZ Consortium (Administration and Supervision of Civil Works, S. A. and BUZCA Engineering Solutions, S. A). "70% of the company that will be responsible for the work is Colombian and 30% are investors from Panama," said Marcos Beitia. The entire project is expected to bring many jobs to the district during the construction and afterwards.
"The construction of the multi-use pier in Puerto Armuelles, District of Barú, is full of hope, not only to the residents of this area, but of the province and beyond, as it will generate jobs during its construction, activating the local economy. We are also convinced that this pier will encourage private investment by expanding maritime-logistic capacity and greatly impact the fishing and tourism sector," said Governor Muñoz Franceschi.
Residents of Barú have been waiting for this project for more than 25 years. Near the area where the new pier will be located, there is also work being done to improve  Malecón Park and install the Cinta Costera, a promenade project that is already 30% completed. These projects are all connected to a bigger plan to attract tourism, create business opportunities and jobs, and possibly cruise ships in the future.
Work has officially begun and the new pier will soon be a reality in Puerto Armuelles!
Read more about ASOBUZ, the Company that is constructing the pier HERE.
To see the proposed plan for the pier project click HERE
Read about the Cinta Costera Concept Plan HERE.
Please follow and like us: