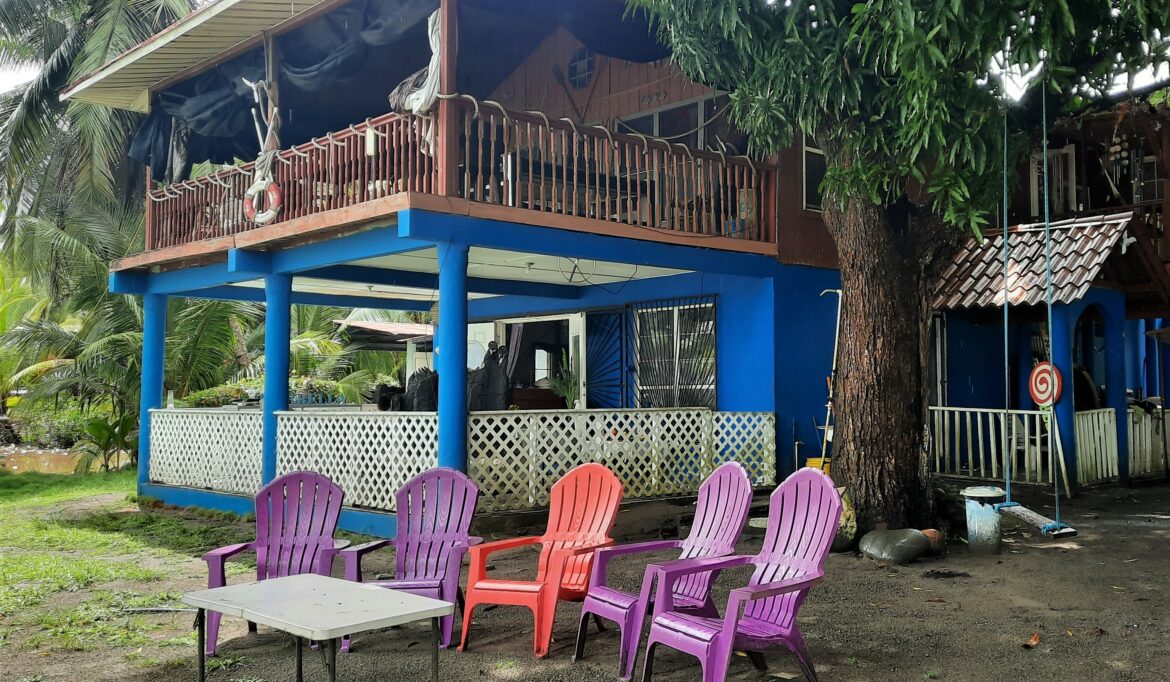 Are you ready to have a little beach fun? Hostal Marbella, located on the beautiful sandy beach of playa Melliza, just south of downtown Puerto Armuelles, is the place to go for a good time, Panamanian style!
About 10 minutes south of downtown Puerto Armuelles, just after passing through PTP (Petroterminal de Panama), is a popular local-style hostel on a beautiful stretch of sandy beach and calm water. A large colorful sign on the road marks the location. Part of the reason this place is so fun is because of the happy and welcoming attitude of the owner, Yaridenia. Known locally as Yani. There are multiple rooms to rent from $20 – $70 per night, and a separate little beach bungalow for extra privacy. Along with the room rentals, there are restaurant and bar services, lots of activities to do, and event planning/catering for private parties. I attended a beach wedding at Marbella and it was a "Dream Come True" production and setting!
Most of the rooms in the 2 story house can accommodate from 2 – 6 people, making this a popular destination for family weekends at the beach. There are also multiple living room and dining areas so couples and small groups have no problem finding a private nook if desired.


Recreation and special events are a specialty of Hostal Marbella. There are canoes, kayaks, and surfboards to use in the ocean, as well as fishing poles for personal use. Yani can also arrange fishing trips on a small panga for your group or excursions to nearby attractions, like Mono Feliz. On land, there is a volleyball net in the sand and upstairs a pool table. Yani will provide a custom bar and service for your special event, including decorations and even karaoke if desired. All events are customized to the level of service you want, so prices are very negotiable. There is wi-fi available throughout the large house and air-conditioning, if the cool ocean breeze is not enough for you.


Lastly, breakfast is included with overnight stays and a selection of delicious foods prepared on site can be purchased, or you can cook your own food in the fully equipped kitchen. See a sample of the menu choices here: Marbella Menu.
So, if you are looking for an inexpensive local getaway with fun-in-the-sun during the day, and maybe a little after dark party, try the Hostal Familiar Marbella. Yani is a great hostess and you are sure to have a good time!
You can make reservations or other inquiries via Whatsapp at (507) 6742-4210.
Please follow and like us: