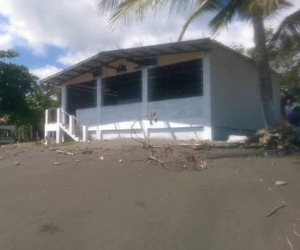 Rare opportunity to own a commercial building directly on the beach in Puerto Armuelles! This former Restaurant/Bar was the last building to be permitted on the beach in San Vicente and it can be YOURS. Only $105,000

​This little business was once a Hot Spot in Puerto Armuelles ~ popular with both expats and locals alike. Known previously as "The Watering Hole Beach Bar and Pizzeria ", it was one of the best places to grab a cold cerveza, delicious dinner, and enjoy sweeping ocean views. Here are a few pictures from the Watering Hole when it was open before:

The owners started a remodel to make a fine dining restaurant (the husband is a gourmet chef) but have decided to take their next adventure out of country, so this is your opportunity to take this perfect beach location, with a blank slate, and turn it into something special again, especially with the tremendous growth starting to happen in Puerto Armuelles. Restaurant, Beachfront bar, or even converted into a special home right on the beach! Here is the foundation for building your dream:
Contact: Editor@visitPuertoArmuelles.com for the free 2018 Puerto Armuelles Report pdf. Puerto is beginning to experience new business, infrastructure, and migration to the town!
The building is well made and constructed to add a second floor, and could even be built to 3 stories high. What a great way to create a private rooftop terrace or apartment where the owner could live. Possibly a restaurant on one floor, bar on another, and private terrace on top? Let your imagination soar!

The dining room area is open across the beach side of the building for panoramic views of the Pacific Ocean and Punta Burica peninsula. The sound of waves are rolling just beyond the walls and breezes flow through the building, which can be further enhanced with tropical ceiling fans. There is a stairway for direct access to the beach. Set up volleyball, horseshoes, or other beach activities! There were plans to turn the bar into a fine-dining restaurant, so the bar has been removed and the kitchen expanded, with a breezeway for service. All utilities and hook-ups are ready to go. There are 2 handicap accessible bathrooms for guests. All amenities are available such as, electric, water, trash pick-up, high speed internet, and cable TV.

This is the closest location and walking distance to both of the main hotels in Puerto Armuelles, Tsunami Inn and Big Daddy's, so tourists would be regular visitors as well as the locals. 
Prime location for a profitable beach business and a great investment property too!
Contact: Debbie@visitPuertoArmuelles.com for more information.
Commercial: Hotel-Restaurant-Water Sports
R.O.P.

Size of Lot: Approximately 238 sq.Meters
Building Size: Approximately 109 sq Meters
Features: Ocean/beachfront, built to add a second floor
Location: San Vicente
$105,000
Contact: Debbie@visitPuertoArmuelles.com for more information.
Please follow and like us: