It's been rare to find anything for sale in the quaint Chiquita barrio called San José because most of the homeowners are working class folks or retirees and have lived here for many years. They have no reason to move from this great neighborhood!
$52,000
This classic Chiquita home, built for the middle-management employees, is a fabulous handyman opportunity with solid bones. The current owner intended to do the same but found it impossible to supervise from long distance, since they don't live in Puerto. There is a living room, kitchen, large den, and full bathroom downstairs, with 3 bedrooms and a full bathroom upstairs. IDEA: Make the downstairs den a bedroom and owner could live downstairs while operating a BnB upstairs.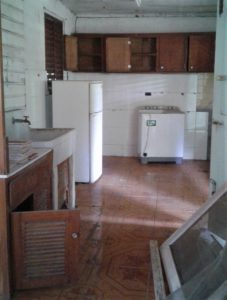 There is a large covered and tiled patio that wraps around the front and side of the house, with built in planters for flowers along the front edge. The gate opens to a covered carport with a storage room on the end. A covered patio in the back yard is set up for an outdoor laundry area. There is a small backyard shed, in need of roof repair. The backyard has a cement foundation on one side, where a rancho once stood. A new roof could be built to have a nice outdoor BBQ area and place to hang your hammocks. This property is completely fenced and fully TITLED. There is a small 'buffer' zone in the backyard between the property and the road.
This house has gobs of potential! Live in a great neighborhood, fix & flip for profit, fix and hold as an income producing property. With the planned growth coming to Puerto, the only way is up!
Read More about San José here: https://visitpuertoarmuelles.com/san-jose-puerto-armuelles

As with all old wooden homes, regular termite treatment is a must. Fortunately, there have been regular treatments for termites in this house, so there is only minimal damage, just some additions and trim that need replacing. The solid hardwood floors upstairs are in good condition. There are vintage hardwood shutters in the upstairs rooms. Electric needs to be replaced throughout. There are some plumbing issues to address in the backyard, and the kitchen and bathrooms need updating. BONUS: There is a large vintage porcelain sink in the kitchen! One small leak needs repair on the roof. The rest is mostly cosmetic.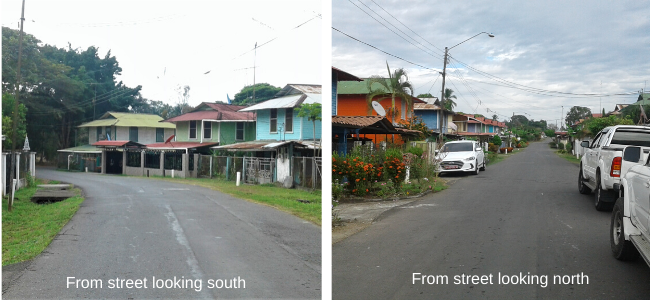 Great investment property to fix & flip or hold as a rental. ARV is about $80-95,000, depending on the upgrades added. One contractor estimate for complete rehab came in recently at around $15 – 20,000. DIY for less! Rentals are also uncommon in the quiet and colorful neighborhood, though they are highly desired. There are few areas of Puerto with North American style homes that are in demand with the influx of newcomers and tourists. Rents are currently $350-550/month in San José, depending on amenities provided.
Own a piece of Puerto Armuelles' History!
This sweet deal won't last long!
Single Family Home
Titled

Bedrooms: 3
Bathrooms: 2
Size of home:  Approx. 85 m2 (2 story under roof)
Size of Lot: 430 sq mtrs
Construction: Wood, concrete, tile & hardwood floors
Location: San José
Features: Chiquita built Community
$52,000
Please follow and like us: