San José is a colorful little barrio located on Avenida San José, just before you cross the last bridge into town and across from the public library. It is comprised mostly of working class families who have lived in the same homes for many years.
During the construction of housing for the United Fruit Company (later becoming Chiquita) employees, neighborhoods were built with specific social classes in mind, based on the employee's job title and income level. They also gave many of the neighborhoods names similar to the United States, such as California, Los Angeles, San José, and Spanish Town.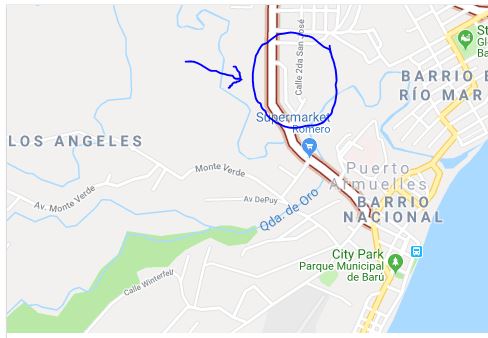 There are about 50 homes in the San José neighborhood. This community was set up for the administrative and mid-level management employees. Jobs such as electricians, telecommunications, qualified mechanics, and office workers were included in this zone. The houses were occupied by the workers free of charge at first, then offered for sale to the employees at a special low price between 1956 and 1960.
These were the first nine (9) homes of a total of approximately 50 that would form what is now called the San José neighborhood, which helped to decongest the over-populated original housing area called La Playa (now El Carmen).
Although the colorful, clapboard construction is similar to the homes built in El Carmen, the homes have larger yards in this area and there are wider streets and more space all around. Most of the homes even have a carport for parking. They are generally in better condition and the San José neighborhood is quieter. A bit further out of downtown, it is still walking distance to the hospital, Romero's grocery store, and a hardware store. Avenida San Jose is a main thoroughfare into Puerto so there is no shortage of taxi cabs and public buses. The fairgrounds are just down the road, as well as a soccer field and basketball court. Everything that is needed in a middle-class barrio setting. There are few rentals in this area and homes are not often listed for sale since the occupants tend to be long term.
On May 19, 2011 the first synthetic Soccer field in Puerto Armuelles was inaugurated in Barrio San José.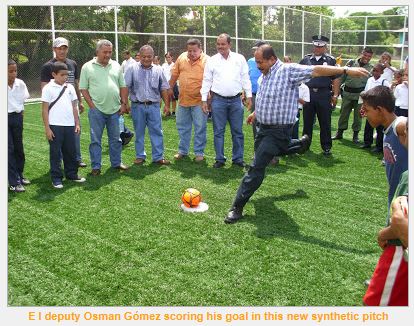 Here are a some more pictures of typical homes you will see in the San José neighborhood.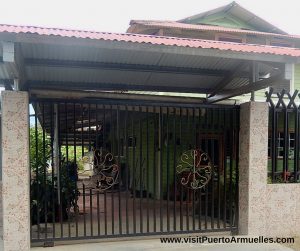 Subscribe today to get alerts of new articles & news in Puerto Armuelles!


Please follow and like us: