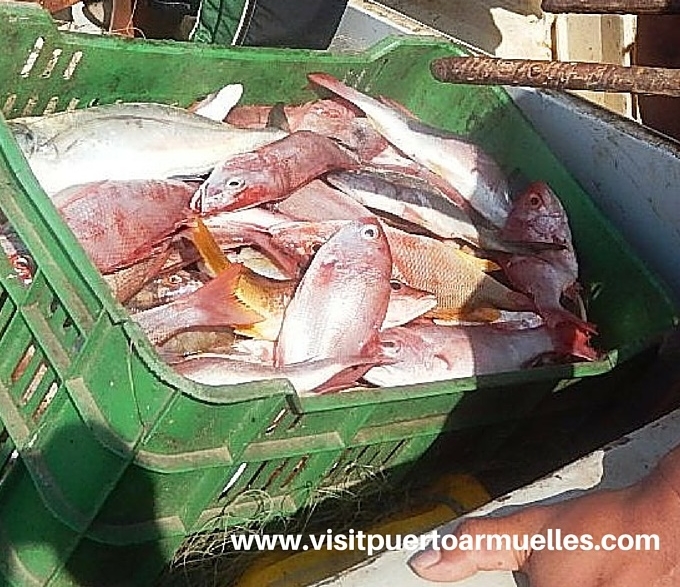 Before the banana industry came to Puerto Armuelles, this was a sleepy little fishing town. Fishing is still one of the top ways for locals to earn a living and a popular attraction for tourists.
Early in the morning it is common to see the local fisherman pulling up on several beaches in town to unload their catch. The fish are sorted and distributed to fish mongers who clean and prepare them for sale at the Fish Market in downtown Puerto, or sold to individuals who arrive in anything from trucks to bicycles, with an ice chest attached, who will drive through the the barrios and sell fresh fish right at your doorstep. They are usually a bit cheaper than the Fish Market. For an extra 25 – 50 cents each, they will clean the fish for you right on the spot! Some of the more common fish you will see at the markets or for sale from the vendors are Corvina (Sea Bass), Pargo (Snapper), and Jacks.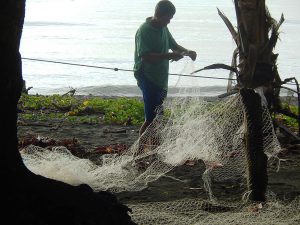 If you are interested in catching your own fish, there are several options. If you have your own fishing rod and lures, you can cast your line out from the shore at most of the beaches from Puerto Armuelles down to Punta Burica. No recreational fishing permits are required in Panama.Throwing nets out is also popular and quite productive here. Sometimes they even bring in a catch of shrimp or lobster. Many people can be seen fishing off the end of the old Banana Pier downtown too. Be careful where you walk on the pier! If you need fishing gear, there is a well equipped shop downtown called Pescamar M & E. The owner, Erick Avendano, has had this little shop for 15 years now and he can answer any questions you may have about fishing poles, what tackle is best, and where to go to get the best catch. He's open every day from about 8am – 6pm, closing at noon on Sundays.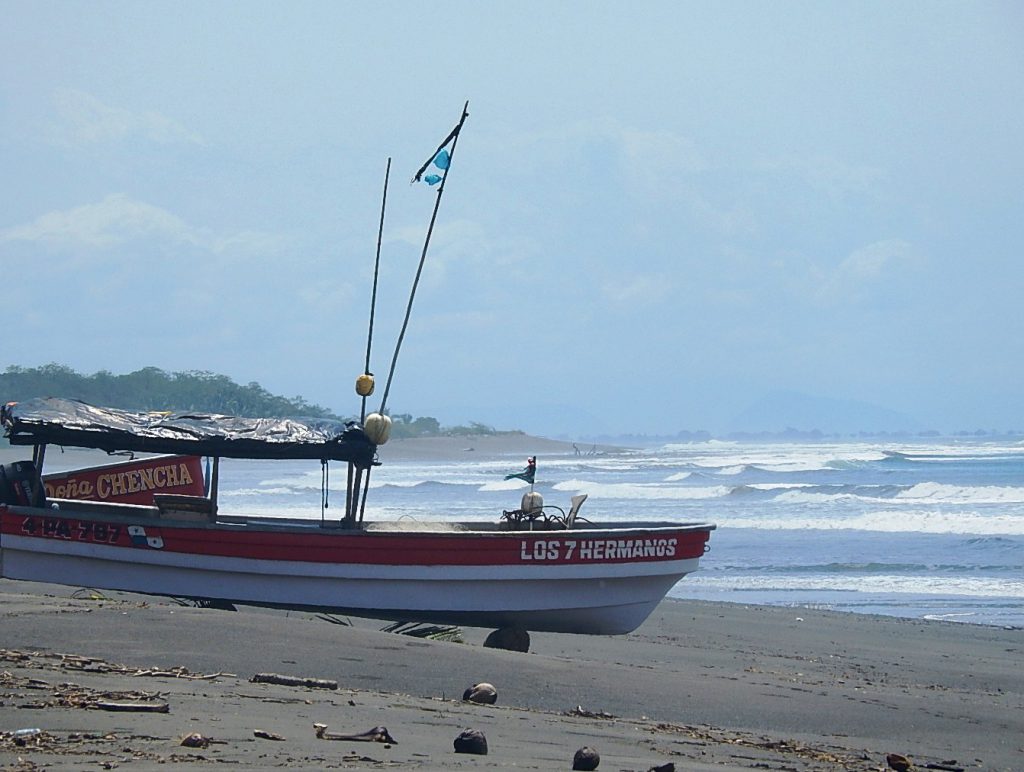 Another option, for fishing offshore, is to rent one of the local pangas. They are available at both Heavenly's Hotel and Tsunami Inn for around $100-250, depending on the service you want. A little further south is the number 2 ranked fishing lodge in ALL of Panama: Hooked on Panama. They offer extended deep sea fishing charters with all the amenities and have a picturesque lodge you can stay at, with top notch chefs to cook up your catch for dinner. Chiriqui Bay is known worldwide as one of the best places to catch Marlin and other sport fish. I was once at Hooked on Panama when the day's charter was returning and they told us they had caught 6 sail fish that day! They are a 'catch and release' fish but very exciting for sport fisherman to hook.
A friend of mine went fishing on one of the local pangas and actually got a short video of a whale while he was out! 
See the video clip HERE.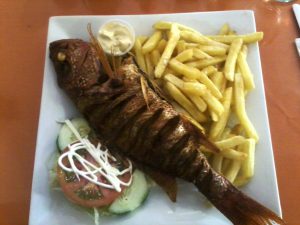 If you enjoy fishing, or would like to try something new, Puerto Armuelles will fulfill your desires and you are sure to be pleased with the experience. For those of you who just want to indulge in the "catch of the day" for lunch or dinner, we'd like to suggest Hooked on Panama in Limones, Mariscos in downtown Puerto Armuelles, El Pulpo in Rio Mar, El Rancho in Palmar Sur, or Luanas in El Carmen.
Subscribe today to get alerts & news about Puerto Armuelles!

Please follow and like us: