This is the kind of view many people dream of ~ make your dream come true! Perched above the sea with cool breezes, clean air, and the sounds of nature to serenade you. 
$87,310 
The parcel is over 4500 square meters (over 1 acre) of TITLED land with a large flat building area and sloping down on the view side for privacy. There are about a dozen lots in this exclusive enclave, with a driveway entrance coming up from the newly renovated and paved road between Puerto Armuelles and Limones. The new road has greatly reduced the driving time to this area!
Power lines are at the development, as well as a "shared well" source of water. There is high speed internet access through Planet Telecom. A short walk down the main entrance brings you to the new paved road where there is bus service to Puerto Armuelles and Bella Vista. On the other side of the road is the well known Hooked on Panama Fishing Lodge and Resort, where you can relax at the pool, enjoy a gourmet meal in the restaurant, or take a stroll on the beach. There is also a nearby elementary and high school, as well as a convenience store and beachfront restaurant in the small town of Limones.
There are sweeping views of the ocean and wild jungle mountains surrounding the area. Tropical wildlife is abundant here! From exotic toucans and parrots to a variety of monkeys, you will hear the calls of nature rather than the honking cars of the city. Some of the best offshore and deep sea fishing in the WORLD is located in this bay, along with hiking trails and long stretches of beach.  The best part is that it is only a short 20 minute drive to downtown Puerto, with a brand new hospital, hotels, banks, restaurants, and shopping!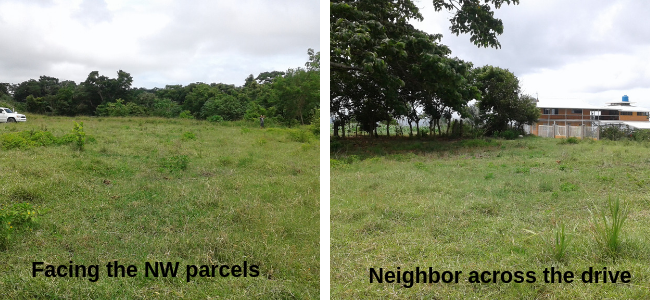 4 of the lots have been sold so far, all to foreigners who have built, or plan to build their dream home here. There is one nice home already built across from this lot and 3 others are in planning stages. Don't miss your opportunity to be a part of this exclusive community so close to amenities, yet surrounded by unspoiled natural beauty!
Titled
Size of Lot: 4531.25 square meters (Over one full acre.)
Location: Limones
Features: Ocean View, 20 minutes to downtown, negotiable, flat area for building, electricity & water to property.
$87,310
Please follow and like us: