Jhonny Yussef Santos is a 6′, 160 lb. outfielder from Puerto Armuelles, Panama. Santos will be entering his sixth season on the Miami Marlins minor league baseball team this year, 2019.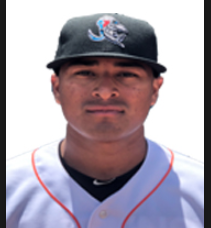 Santos was born on October 2nd, 1996. He signed a contract with the Miami Marlins on July 2nd, 2013 for $355,000 (that's a lot of money for a Porteño!). After coming to terms, Santos' first professional assignment was with the rookie-level DSL Marlins, in the Dominican Summer League in 2014. He ranked second on the team with 65 appearances at the age of 17, and hit .223/.286/.288 with nine doubles, four triples, and no homers with 19 RBI. He stole 10-of-15 bases attempted, and struck out only 11.7 percent of the time.
Santos earned a lateral promotion to the rookie-level, Florida-based GCL Marlins in the Gulf Coast League for the 2015 season. Playing left and center field, Santos slashed .301/.355/.349 in a team-third 53 contests. His 7.9 percent whiff rate was the lowest on the club, and he collected 21 RBI and six stolen bases.
Santos spent most of his 2016 with the short-season-A Batavia Muckdogs, and with the single-A Greensboro Grasshoppers in the South Atlantic League. 2017 would see Santos split the year more-or-less evenly between Batavia and Greensboro, with 30 and 31 appearances, respectively. Santos spent most of the 2018 season with the Grasshoppers, also spending 28 games with the high-A Jupiter Hammerheads in the Florida State League. Between the two levels, he stole 19 bases and got caught seven times. More impressively, perhaps, he mashed a total of eight home runs, well over his career projections.
According to the MLB Pipeline: "Santos has good contact skills thanks to a compact swing, and he exhibits advanced feel for the strike zone, leading scouts to believe he will continue to hit for average as he moves through the Minors. With quite a bit of projection remaining, Santos should grow into some power as he develops physically." 
Santos has already proved himself at the middle-A level with decent numbers for Greensboro, and is currently rostered at the like-leveled Clinton LumberKings in the Midwest League. Look for him to break camp with the high-A Hammerheads. Longer range projections would see him challenging for a major league spot with the Miami Marlins in 2021. 
Only one major leaguer has originated from the town of Puerto Armuelles, longtime Pittsburgh Pirates outfielder Omar Moreno.
Please follow and like us: