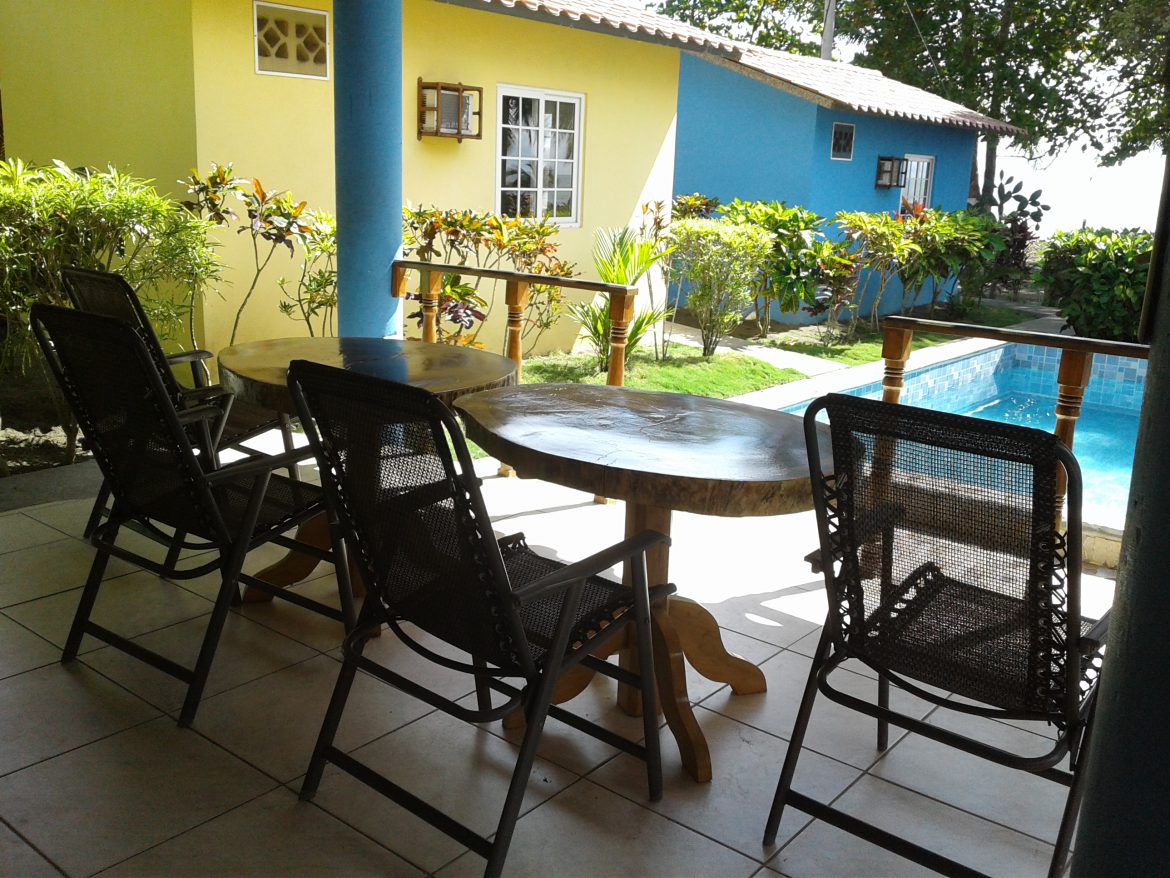 Puerto Armuelles has a range of hostels and hotels from around $10-95 per night. Although we attempt to stay current with prices, they are subject to change, so be sure to contact the accommodations to verify prices when you make a reservation. We have included lodging south of Puerto Armuelles, along the Burica peninsula as well. Some of them are pretty remote and perfect for a "tranquilo" getaway!

Bamboo Bay – Yerbazales beach, about 15 minutes south of Puerto Armuelles. 3 Rustic, thatched roof cabins on the beach. Hot plate and small apartment fridge. Bathroom, shower and electric. No wi-fi or A/C. $50per night. Its on one of the prettiest sandy beaches on the Burica Peninsula!  http://www.bamboobaypanama.com/ Currently under renovation & new ownership, as of July 2018 –  email for update. editor@visitpuertoarmuelles.com    507-6683-6682
Big Daddy's Beach Club & Hotel – San Vicente Beach Front Road, Puerto Armuelles. 12 rooms with wi-fi and A/C. Restaurant/bar and pool on site. $85+ per night. There is a dinner special on Friday nights. http://bigdaddysbeachclub.com/   507-770-0989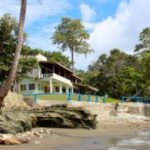 Burica Surf House – A Boutique Eco-Hotel at the tip of Punta Burica, about a 1.5 hour drive south of Puerto Armuelles (will be much faster when the new road is finished!). Rent individual rooms at $20 per person and bring your own eats or pay $30 for 3 meals per day while you stay. Book the entire hotel for just $200! High speed internet is available, there are surfboards and paddle-boards for rent, and fishing and snorkeling excursions. www.buricasurf.com  (506)8839-2997  (WhatsApp)
Hideaway Panama – About 15 minutes from downtown Puerto, across the street from the beach in the community of Corazon de Jesus. 3 rooms with private bathrooms and a large common living room and kitchen area. Wi-fi and A/C in every room. Owned by an expat couple that have lived in Puerto over 10 years, so they know the scoop around town! There is even a small library with a wide assortment of books to read while lounging in a hammock. www.hideawaypanama.com       chasebums@yahoo.com  (507)6493-2943    READ REVIEW
Hooked on Panama Fishing Lodge – Charco Azul beach,  Limones, about 30 minutes south of Puerto Armuelles. All-inclusive with restaurant, pool, wi-fi, and fishing charters. Fishing Charters: Minimum 3 night, including fishing, rates start at around $1400 per person. Book just a cabin at the lodge to chill by the beach for $75-95 per night, depending on season.  www.hookedonpanama.com info@hookedonpanama.com   1-888-733-5368
Hostel Museo Las Palmas – 3 rooms available in a home in Las Palmas. The owner is Panamanian, born & raised in Puerto, and speaks good English. He has many artifacts in the home from Puerto's past and lots of stories to tell!  507-6204-2598
Koko's Place – Just before Puerto Armuelles on the main road. 20 rooms and a swimming pool. Built over 20 years ago, but the place has been under renovation. The hotel hosts the monthly Spay/Nueter Clinic. hotelkokos@hotmail.com    6684-9154 or 6592-3097
Martha's B&B – A small farm located in the Agua Buena Barrio, just outside of town, Martha is a Panamanian who spent time in the US and speaks English & Spanish. There are 3 rooms available with a shared bathroom for $30/night each. Breakfast is included and other meals can be ordered for an additional fee. Cable TV and horses are available for riding. NO internet      507-770-9460 or 6568-8075
Mono Feliz – All the way down at the tip of the Burica Peninsula, but well worth the drive! Currently, it takes about 1 1/2 hours to drive there. When the new road is completed that time will be cut in half! There is also a bus (van) that runs regularly from Puerto Armuelles to Bella Vista, then you have to hike about 30 minutes on an easy trail. This is a rustic and natural place to stay, right on the beach. Feed the monkeys that hang around and are used to people! Sleeping ranchos are $20/person per night.  Cook your own meals in the common kitchen. There are bathrooms, showers, and a swimming pool…and nature.
Pension Balboa – Located right in downtown Puerto Armuelles across from the bus station. This place is really more like an ancient hostel, with private or shared bathrooms. On the plus side, rates are $7-10 per night. On the downside, you are sleeping on an uncomfortable bed above a noisy bar…   507-770-9145
Tsunami Inn – On the beach in San Vicente, Puerto Armuelles. 7 individual beach cabanas with wi-fi, A/C, pool, outside bar/lounge area and BBQ grill.  $60 per night They also host a weekly "Gringo Gathering" of playing horseshoes and shooting the breeze, from 2 – 4 pm on Sundays.          www.tsunamiinn.com        cabins@TsunamiInn.com  Scott: 507-6604-9369    READ REVIEW
Please follow and like us: