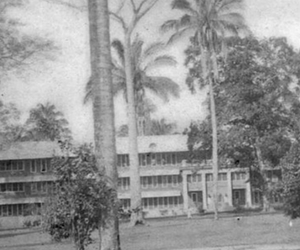 During the community building of the United Fruit Company (later Chiquita Banana) an impressive hospital was built in Puerto Armuelles. The hospital of the Chiriqui Land Company was built in 1932. It was one of the best and most modern hospital centers in the country and Central America at that time.
It was a spacious, cool and beautiful building. The hospital's base was made of cement and hardwoods were used in its three floors, topped by a high tower in its upper central part. The Puerto Armuelles Hospital provided medical and health services to the entire region, not only to banana workers and employees, until 1970, when the mandatory regime of the Panamanian Social Security Fund took over. The institution continued to use the building until 1972 when it moved to it's new location, where the Dionisio Arrocha Hospital is today.
Photo courtesy of Historia Humana y Economica de Puerto Armuelles
Read about the progress of the NEW hospital here: New Hospital in Puerto Armuelles-Progress Report
Trivia – The current hospital site used to be the garbage dump of the Chiriquí Land Company and the municipality!
Subscribe today to get alerts of new articles & news in Puerto Armuelles! 
Please follow and like us: