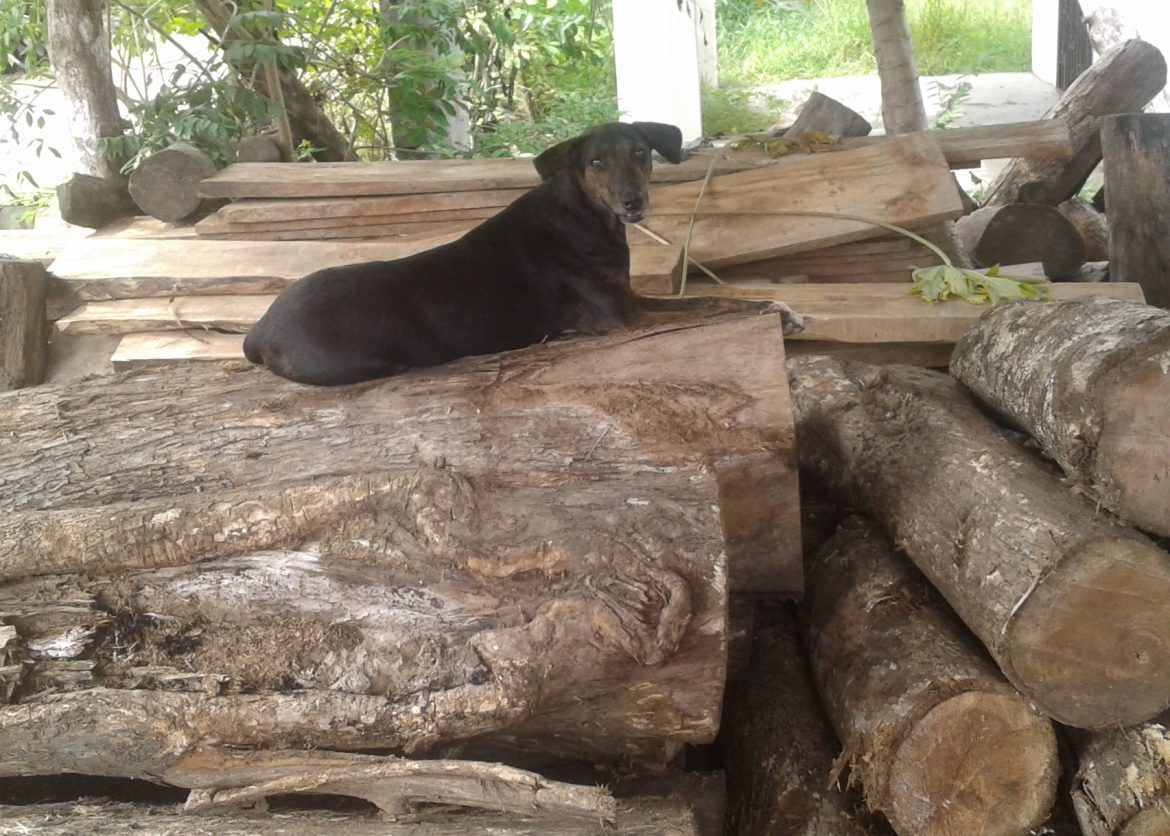 This rainy season has felled quite a few large trees in and around Puerto Armuelles. Now, what to do with these trees? We used the services of a local tree trimmer and sawmill to help cut up and preserve the wood for future use.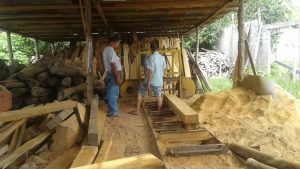 As is usually the case in Puerto, a recommendation for the services of a good sawmill came from an expat friend. We contacted Moises Marin in San Vicente and visited his shop to find out what he can do. Moises has a good reputation in town, speaks good English, and looks to be well equipped to cut raw lumber into planks and also builds furniture for customers. We will use his services after our trees are dried out and ready to be cut into planks. First things first!
There were 2 large trees that fell in our yard and we did not even know what kind of trees they were or whether the lumber would be any good to use in building later. Moises referred his friend and associate,  Rody Camato, who came over to look at the trees and give us his assessment. Rody does not speak English, but he is a good communicator through 'sign language' and it works out, even if your Spanish is limited.  I was impressed with his obvious knowledge of the types of trees and their uses! The first tree was "junk", not good for lumber, and used mainly for firewood or cooking. The next tree he told us was a "Conejo" and provides good lumber for making furniture. We paid Rody $35 to cut the tree into usable sections and chop & pile the leaves and small branches. He was on time for his appointment and efficient in his work.

Rody also explained the process of drying for the different types of trees. Certain trees are more susceptible to warping and must be cured in a specific way to prevent it. These guys really do seem to have a depth of knowledge about trees and lumber!
Next, we sent Rody to our neighbor's house to take down a 90 foot coconut tree next to their driveway that was causing fear of future car or human damage from dropping coconuts. The task was done using just a strap that was tied to a truck, a chainsaw, and no safety gear what-so-ever. There was only one way the tree could fall without causing any damage and it went over on target. See the amazing video HERE. The cost to cut down the coconut tree and cut it into sections was $50.
We also have a very large Cedro tree that needs to come down in our front yard. Moises will go with us to get a permit for this tree (certain trees require a permit to cut ~ Rody or Moises can tell you if you need it) and the cost for Rody to cut it down and make blocks to dry for lumber is $150. After we get the permit for $13, we have to wait for the right phase of the moon to cut the tree down. This will be a massive endeavour! I will record the dropping of our "monster tree' and post it on the website when it happens.
NOTE: In Phoenix, Arizona we had to have ONE branch of a pine tree cut back because it was touching the utility lines. Cost: $400+
The best way to contact these men is through WhatsApp, or cellphones, and set up a meeting.
Saw/Lumber Mill: Moises Marin  507-6972-7908  (San Vicente)
Tree Trimming & Cutting: Rody Camato   507-6563-3581 (Rio Mar)
Please follow and like us: