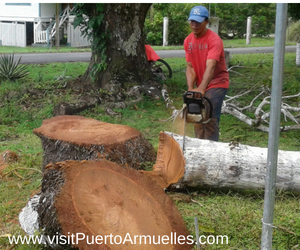 This Coconut Palm in Las Palmas had to go! It was next to my neighbor's driveway where dropping coconuts threatened any car or person that happened to be under it. The coconuts were too high to harvest. So, as is often the case in Puerto Armuelles, it turned into a community event!
We all guessed that the palm was about 80 feet tall but, after measuring it on the ground, it turned out to be just over 90 feet. What amazed me about this job is that the local Panamanian who cut the tree down, assisted by a friend in shorts and flip flops, accomplished the job using a strap tied to a truck, a chainsaw (which he brought to the site on his bicycle), and no safety gear what-so-ever.  The friend shimmied up the tree barefoot to tie the strap on. The truck that was supposed to pull the tree over got stuck and the palm still fell exactly where Rody, the tree trimmer, said it would. Good job!
Read the review of the tree trimming service HERE.
Please follow and like us: