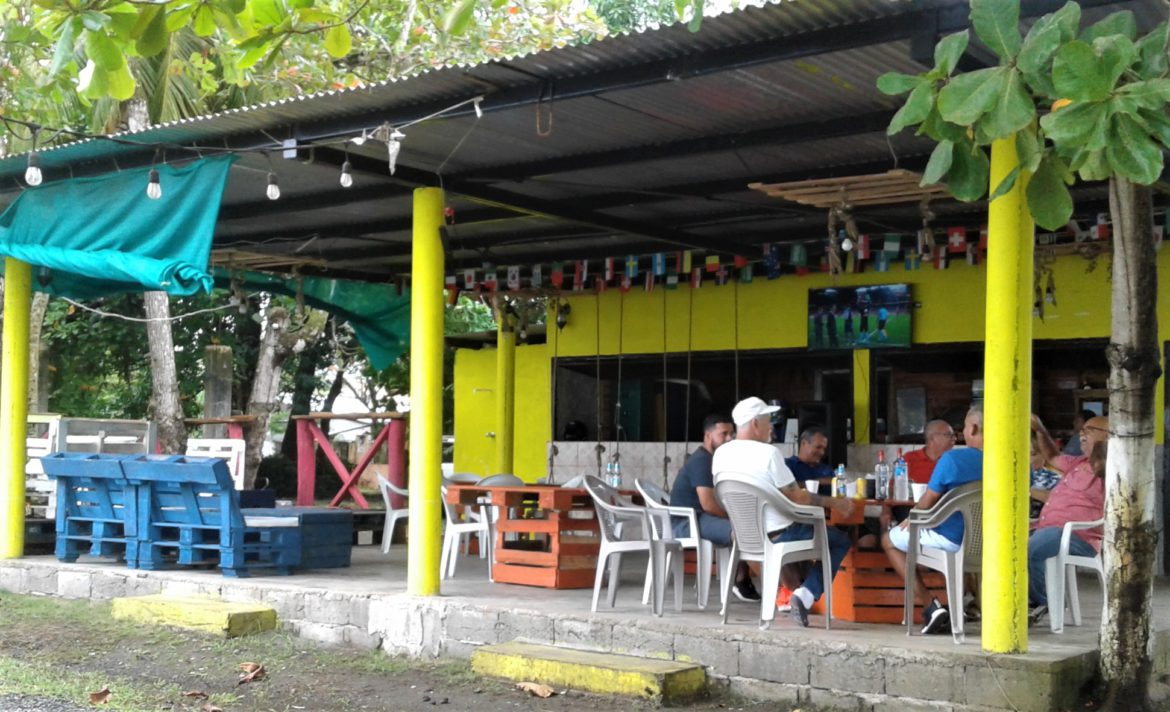 I came across an ad for the "Sunday Special" at a beachfront bar/restaurant called IBIZA in Puerto Armuelles. Well, that is a place we haven't tried yet! Patrick and I decided to take them up on their special '6 beers for the price of 5 Bucket' and an afternoon snack, so we headed for the beach.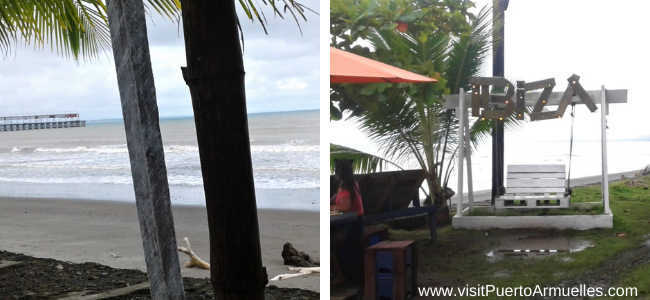 I have to tell you, this place is a bit hard to find the first time. Tucked away behind houses and a basketball court, on sort of a side road, in barrio El Carmen. It is located right on the beach wall with a view of the banana pier to the north and Burica to the south, Parking can be tricky, especially in rainy season and if there are a few cars there already. There's not a parking lot per se, so we parked in the vacant lot on the south side.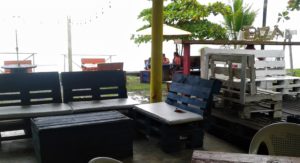 The place is open air and rustic, but clean (even the bathroom ladies ~ that's important!). There is a comfortable, laid back family-type of ambiance here. Furniture is made of re-purposed pallets, painted in fun colors.The bar stools are swings – I had to try one! This is also a sports bar and the TV was playing NFL football, without the sound, while music was played in the background.
There were about a dozen other customers there on the Sunday afternoon that we visited. A waitress came to get our order as soon as we sat down at a beach view table with an umbrella. We got the beer bucket, which was ice cold and delivered quickly, followed by our order of fried chicken with a salad and fries. The fare is typical Panamanian food. The meal was good ~ chicken crispy on the outside and tender inside. The beer bucket was $5 and the plate was $5. Good value and service was excellent.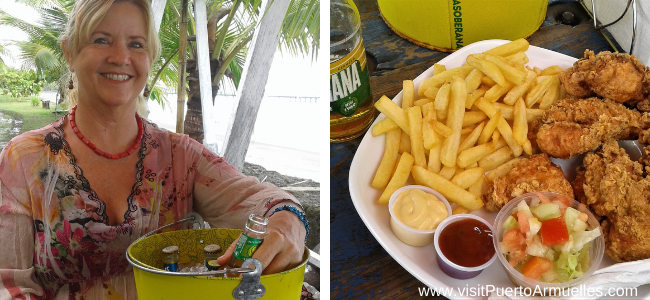 I plan to go back to IBIZA again. There is a Thursday special that looks good on the flyer: Hamburger on a plantain bun with a soda for $3.50. Ibiza is a nice, simple place to hang out with friends or family to enjoy cold cervezas and the ocean breeze and vistas.

Sports Bar Ibiza
6221-3806
HOURS:
Mon & Tues Closed
Opens 1 pm Wed – Sun
Closes all days between 11pm – 3am
Please follow and like us: