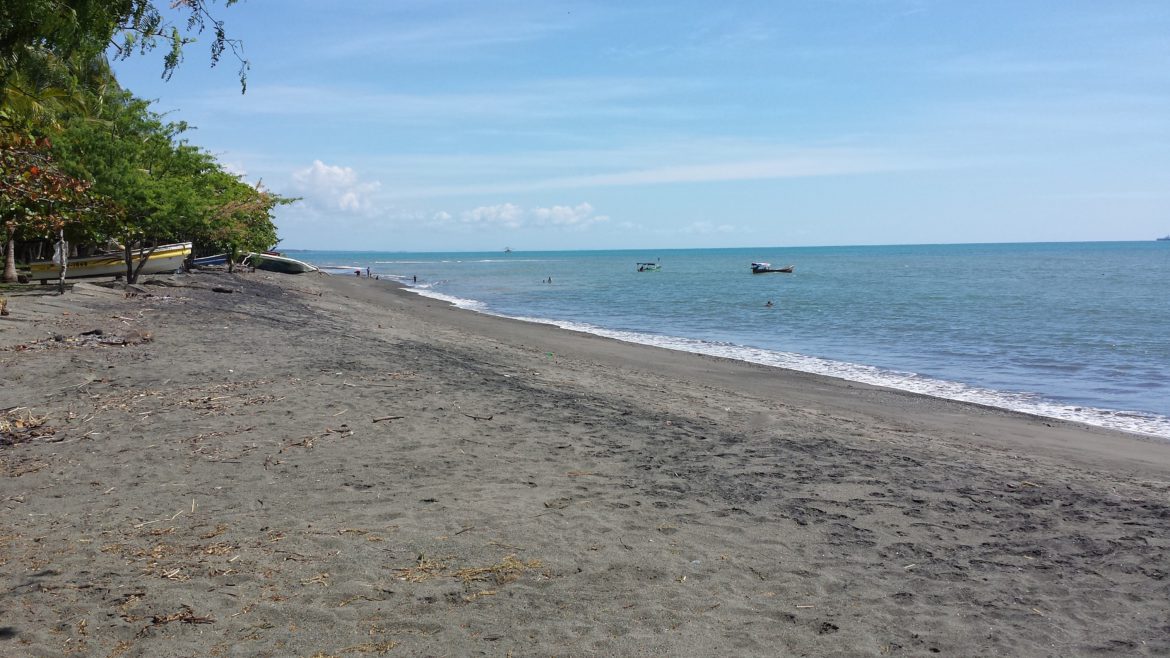 This parcel, located in El Povenir, Puerto Armuelles, is on over a hectare of flat land, with a long beach frontage and solid cement beach wall, as well as cement breakwater pilings for additional security. There was no movement here during the recent 6.5 earthquake and storm surges along the shoreline! There is a paved road to the property, which is about a 5 minute drive from downtown Puerto, in a quiet area. Large trees and Palms add to the tropical feeling here. There are 2 separate titled parcels in this piece and it could be split if desired. 

Perfect for an investor project or subdivide the property into separate building lots.
Some of the best investments for appreciation on real property are available in this far western area of Panama. The Province of Chiriqui is exploding with growth! Knowledge of the future train from Panama City to connect to this western region, along with a push towards eco-tourism have become major factors in promotion here and Puerto Armuelles has one of the prettiest stretches of beach on the Pacific Coast of Panama. Things are really advancing here as "smart money" is pouring millions of dollars into this part of the country through private investors and infrastructure projects.

Puerto Armuelles, "Puerto" as the locals refer to it, offers an evolving opportunity for those who seek outstanding accessibility in a beachfront setting.  The Panamanian Government has many infrastructure projects ongoing and planned for the near future. Puerto is about 55 miles from Panama's international airport located in David (the second largest city in Panama). Plans are already underway to refurbish and open the small National Airport right in downtown Puerto Armuelles. Puerto has all the amenities one needs, including banks, shopping, restaurants, and a brand new hospital.
The El Provenir neighborhood, just north of Puerto Armuelles, offers some of the most beautiful beaches in the area. There are clear views of the iconic Chiquita Banana Pier. Investors have purchased most of the beachfront property here; leaving very little currently available for sale. Over 90% of beachfront property is R.O.P. (Right of Possession), so TITLED property is a major plus!

All roads leading to this beachfront area are immaculate and smooth. Real Estate is appreciating fast as people see the value in beachfront property with the infrastructure of a small city nearby. The lot could be subdivided for individual homes or used to build a larger project. *The owners have a condo concept that they would be willing to share with a new buyer. There is an adjacent parcel (through a different owner) that could be purchased to add another acre+ and 280 meters of additional beach frontage. Municipal water and electricity are available for hook up.
Be a part of the exciting growth already beginning in Puerto Armuelles!
Titled
Size of Lot: 10,000+ square meters (Over one full hectare.)
Location: El Porvenir
Features: Beachfront, close to downtown, views of Banana Pier, investment potential, negotiable, can be subdivided, flat & build-able, electricity & water to property. Adjacent Parcel also available through another owner.
$440,000
CONTACT: Debbie@visitPuertoArmuelles.com
Please follow and like us: