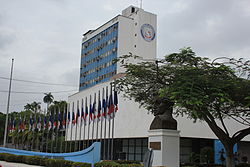 The National Assembly is scheduled to give the final approval for the Del Monte subsidiary, Banapiña, to begin operations in the district of Baru on April 17, 2017. This time we all hope that the signatures needed will happen without a glitch! "Let us support the economic revival of Baru, a people who are fighting for their future and deserve better days!", Carlos Motta, Representative to Puerto Armuelles.
***UPDATE: The contract was APPROVED. April 26, 2017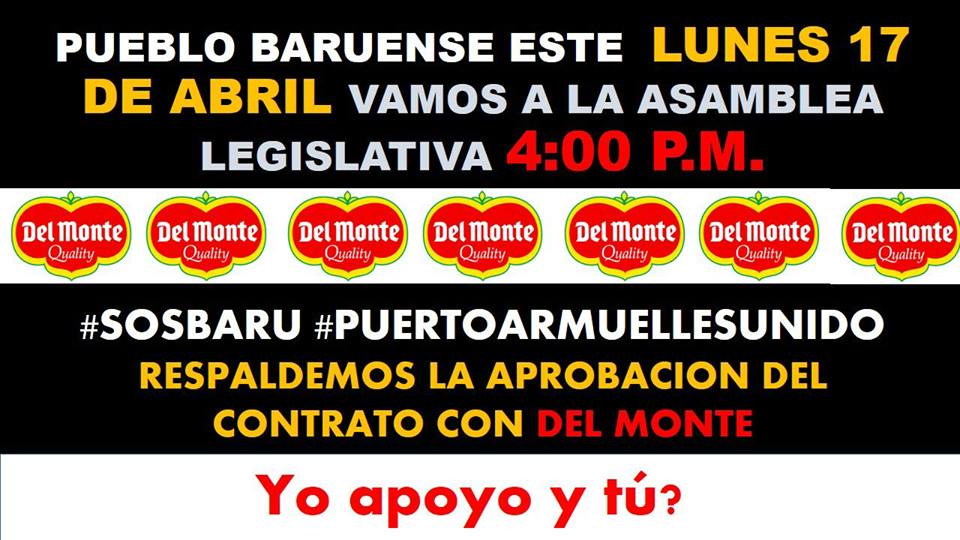 *Contrato Ley que reactiva bananeras en Barú será presentado el lunes ante la Asamblea Nacional*
Panamá, 12 de abril de 2017. El Gobierno avanza en el proceso de reactivación de las zonas bananeras en las provincias de Chiriquí y Bocas del Toro, luego de que el Consejo de Gabinete autorizara al ministro de la Presidencia, Álvaro Alemán, presentar ante la Asamblea Nacional el Contrato Ley que permitirá a una subsidiaria de la transnacional frutera Del Monte invertir más de 100 millones de balboas en la producción bananera.
El presidente Juan Carlos Varela reiteró la solicitud de respaldo a la Asamblea para la aprobación de este contrato que permitirá sacar adelante esta importante área del país.
Se espera la generación de aproximadamente 3,100 empleos directos y consecuente generación de 12,000 empleos indirectos en comercio y servicios con la reactivación de esta actividad comercial a través de la empresa Banapiña de Panamá, S.A.
Banapiña de Panamá, S.A., según establece el contrato refrendado por la Contraloría General de la República, realizará una inversión mínima de 100 millones de balboas en un plazo no mayor de siete años en los distritos de Barú y Alanje, en Chiriquí, y en el distrito de Chiriquí Grande, en Bocas del Toro.
Se estima una productividad promedio de 2,725 cajas de banano por hectárea por año.
Este contrato, además, establece el arrendamiento de terrenos y su acondicionamiento para la siembra, las actividades agrícolas para el cultivo de bananos y/o plátanos, la instalación del sistema de riego, la construcción de la infraestructura para el empaque y exportación de la fruta y cualquier otra mejora necesaria para el desarrollo de la actividad bananera.
Se detalla que este acuerdo tendrá una duración de 20 años prorrogables automáticamente por igual período en iguales términos y condiciones, exceptuando las exenciones fiscales, las cuales deberán ser revisadas por el Estado al finalizar el primer periodo del contrato.
El proyecto se ejecutará por etapas a un ritmo de 900 hectáreas por año aproximadamente, paralelamente con la ejecución de las inversiones requeridas en la construcción de edificaciones e instalación para la operación del proyecto.
El ministro Alemán adelantó que esta iniciativa será presentada ante la Asamblea Nacional el próximo lunes 17 de abril de 2017.
<Gracias Carlos Motta for providing this information>
English Translation:________________________________________________________________
* Contract law to reactivate banana industry in Baru will be presented on Monday, before the National Assembly *
Panama, 12 April 2017., the government is moving in the process of revival of the banana-growing areas in the provinces of Chiriquí and Bocas Del Toro, after the council of the cabinet minister of the presidency, Alvaro German, Presented to the National Assembly the contract law that will allow a subsidiary of the transnational fruit company of Del Monte to invest more than 100 million balboas in the banana industry.
The President, Juan Carlos Varela, reiterated the request for support to the Assembly for the adoption of this contract and that they will push it through for this important area of the country.
It is hoped the contract will generate approximately 3,100 direct jobs and the subsequent generation of 12,000 indirect jobs in commerce and services with the revival of this business through the company Banapiña of Panama, S.A.
Banapiña of Panama, s. To., as stated in the contract countersigned by the comptroller general of the Republic, will be a minimum investment of 100 million balboas within a period of not more than seven years in the districts of Baru and Alanje, Chiriquí, and in the Chiriquí Grande, Bocas Del Toro.
It is estimated an average to produce 2,725 boxes of bananas per hectare per year.
This contract, in addition, establishes the leasing of land and preparation for sowing, agricultural activities for the cultivation of bananas, the installation of the irrigation system, the construction of the infrastructure for the packing and export the fruit, and any other improvement required for the development of the banana activity.
This agreement will have a duration of 20 years, automatically renewable for the same period in the same terms and conditions, except for the tax exemptions, which should be reviewed by the state at the end of the first period of the contract.
The project will be implemented in stages at a rate of 900 hectares per year approximately, in parallel with the implementation of the required investment in the construction of buildings and installation for the operation of the project.
The German minister advanced that this initiative will be presented to the National Assembly next Monday, 17 April 2017.
Please follow and like us: