Yesterday, Patrick and I went to downtown Puerto to do some shopping. You really can find just about anything in town if you take the time to walk around and explore the multitude of shops! Afterwards, we decided to try a local restaurant called Restaurante Yola. We pass by regularly and always see people eating there. Lots of people usually means it must be good ~ we were not disappointed!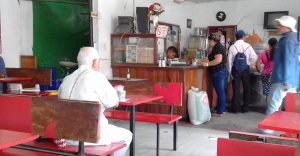 The large restaurant is located to the left just as you enter Barrio Nacional (downtown), on the street that leads to the police station. It's long and turquoise colored, so you can't miss it. What I like about Yola's is that you walk in and there is a buffet table to the right where you order your food. This is especially good if you are a visual person, like I am. Also, if you don't know what something is called, but it looks delicious, you can just point to it!
We were having a late breakfast (desayuno) and both of us ordered the fried liver (higado), a common breakfast in Panama. Patrick had hojaldras (like Indian fry bread) and yucca with his plate. I chose a tortilla and one crunchy chicharrone (fried pig skin ~ super good!). We had 2 hot coffees also. The bill for 2 breakfasts with cafes was $4.20.
UPDATE: I went back a couple of days later for lunch and had Fried chicken, beef, and yucca for $4 with a soda.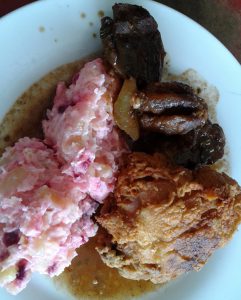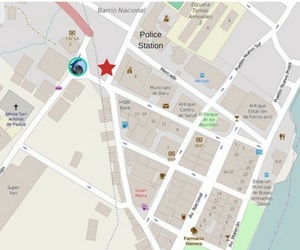 There is a bus stop in front of the restaurant which makes it a good place to eat while you wait for the bus. Unlike a lot of restaurants in Puerto, you pay when you get your plate so you can take off quickly if your bus shows up.
Restaurante Yola is open 7 days a week from 6am to 6pm, serving breakfast, lunch, and dinner. It's a great place to stop for a quick bite at a low price while you are exploring downtown Puerto Armuelles.
Subscribe today to get alerts of reviews & news in Puerto Armuelles!


Please follow and like us: