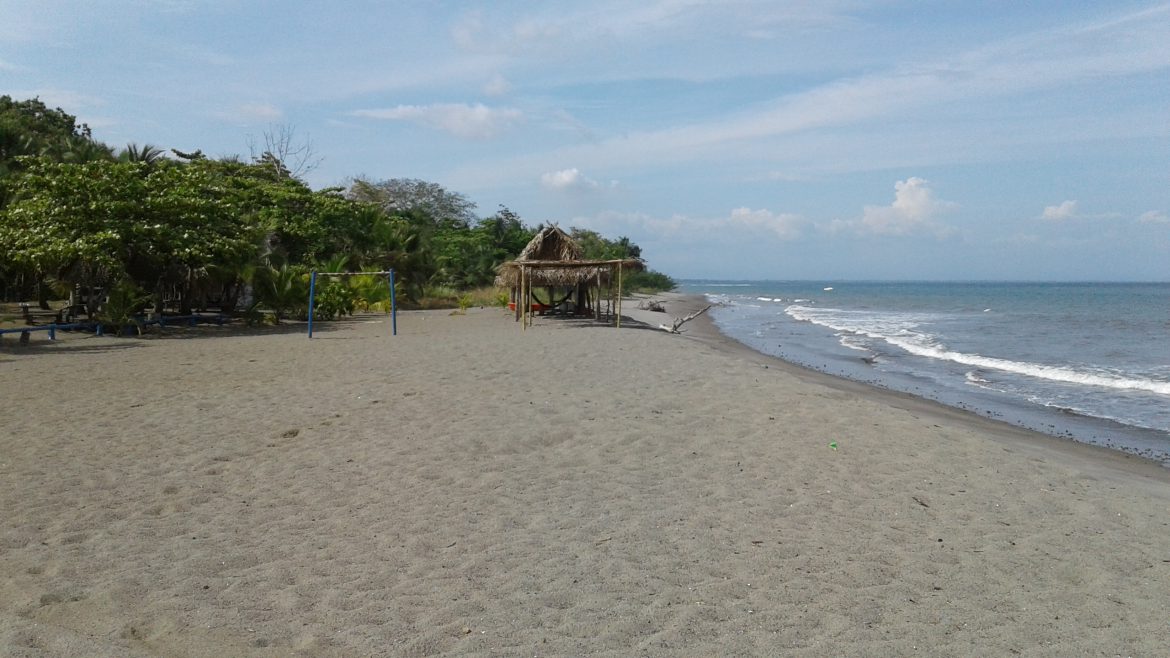 Affordable Fixer-Upper for Tiny House, Investment or Vacation Home!   $25,000
This small 2 story ocean view cottage is a short walk, about 300 meters, to one of the best beaches on the entire Pacific Coast of Panama! Wide stretches of pristine sand and calm clear water to sink your toes in and take a morning dip. It doesn't get much better than this!
There is a large lot, about a quarter acre (1000 square meters) which has a variety of tropical fruits and flowers, including mango, bananas, cacao, and starfruit. Walk a short distance down the beach access road and come to a long, sandy, and beautiful stretch of beach. There is currently a small local beach bar and some cute Tropical cabanas (Bamboo Bay Panama) that have recently come under new ownership, so you can even stop and enjoy a cold cerveza and maybe a nice lunch and other activities soon!
The driveway comes right off of the new main road that goes from Puerto Armuelles to Limones, which is already bringing new growth to the area. There are 4 additional lots for sale in this small community, so there will soon be neighbors with nice little beach retreats nearby. The adjacent 300 m2 lot is available for just $10,000 and could increase the property size to 1300 square meters! The water can be drawn from the community well or delivered to the home's large water holding tank. A septic is started and electric lines run nearby the property now.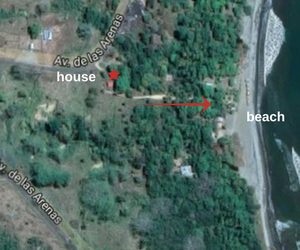 It is about a 15 minute drive into Puerto Armuelles along the new road, which was completed in February of 2019. Puerto is undergoing changes of its own. A brand new hospital opened Phase 1, of 3, in November, along with many stores, banks, restaurants, and hotels. Everything you need!
There has been approval of 2 new piers and a new beach boardwalk just this year! Tourism is expected to reach 100,000/year after completion in 2022. The Puerto airport is being re-built and the international airport in David is about an hour and a half drive away.
Get in on the ground floor of this up & coming area! 
This is a quiet and natural jungle area of the Burica Peninsula, teeming with wildlife. The Tourism Authority is targeting this area as a top Eco-tourism destination in Panama. The vistas are breathtaking! There is a Surf Camp and a Monkey Refuge (Mono Feliz), as well as a Sea Turtle Rescue (Tigre Savage), top ranked Fishing Lodge (Hooked on Panama) already well-established in the area. The new road and amenities will bring growth in the next few years, along with price increases. Now is the time to pick up some of the cheapest beach front and ocean view properties in all of Panama, in a strategic and beautiful up & coming area!

Contact Debbie for a FREE REPORT on Puerto Armuelles and information on this and other properties for sale in the area at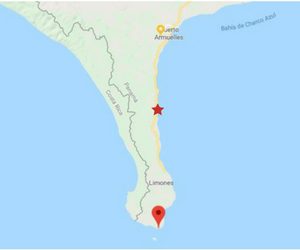 Single Family Home
R.O.P.

Bedrooms: 1
Bathrooms: 1
Size of home: 72 square meters
Size of Lot: 1000 sq.Meters
Construction: Block walls, tin roof
Location: Playa Yerbazales
                                                                                            $25,000
Subscribe today to get alerts of new property listings & news in Puerto Armuelles!


Please follow and like us: