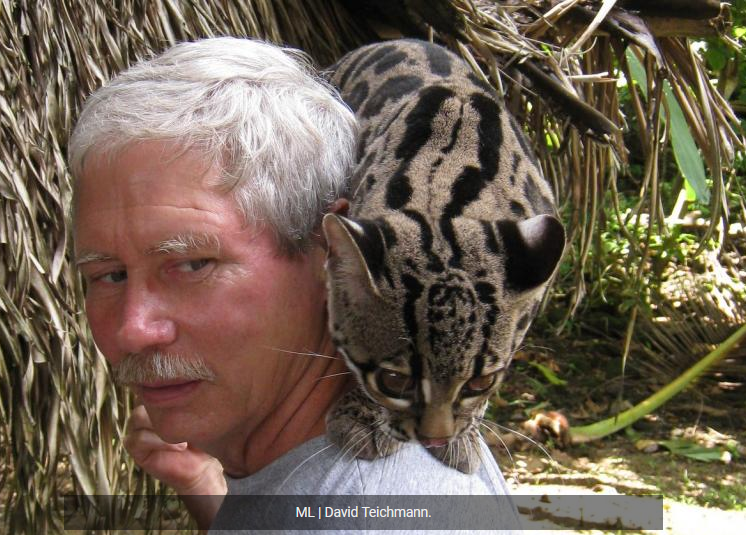 A North American conservationist, 69 year old David Teichmann, was found dead in his residence in Punta Burica, reportedly from natural causes, over the weekend of October 28, 2021. Nature lovers are mourning the loss of a passionate man with a grand mission.
David was well known for his project 'Tigre Salvaje', a 5 hectare wildlife sanctuary in Panama, located at the end of Punta Burica, near the border with Costa Rica. I visited the reserve and was witness to the passion and dedication that David exuded. It seemed to me that this was a one man operation most of the time, with very little outside support. Since 2005, the reserve has been dedicated to the conservation of several endangered species including the Red Backed Squirrel Monkey and three types of sea turtles.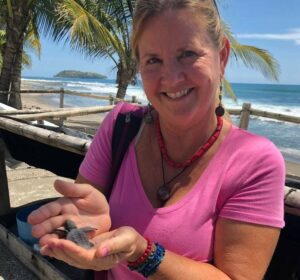 The reserve encourages environmental education to young students and conservation enthusiasts who are invited to share their work and love for nature, as well as reforestation and acquisition of more land from the ranchers for reforestation and the re-introduction of native species. David's signature cause was the collecting of sea turtle eggs, incubating, and releasing the baby sea turtles back into the ocean. Most of the turtles are olive ridleys, with a few green turtles among the mix. He said in the past seven years, only two hawksbill turtles showed up to nest. In one year alone, he told me they released over 14,000 baby sea turtles!
Since its inception, David kept meticulous records of the turtle rescue operation. He showed me charts throughout the years registering dates, species of turtles and location, numbers of eggs collected, how many hatched and were released successfully. Hopefully these records and research can be used in a positive way by the proper organizations. It would be amazing to have David's hard work and data continue to be useful in conservation efforts going forward.
Here is a good overview of the turtle rescue process:

"We are using the land as a natural reserve for animals, and a base from which we can extend the tree corridors to the small patches of forest that still remain along the border with Panama and Costa Rica," said David. He continued, " We have troupes of Red Backed Squirrel monkeys in the area with 35 or 40 individuals but studies have shown these troupes have only 2 or 3 females due to the hunters who shoot the mothers to sell the babies. When we moved to Punta Burica the hunters were openly plying their trade and transporting baby monkeys on public transportation for sale in the nearby towns. We have not completely stopped this decimation of a nearly extinct species. With the help of the volunteers, newspapers and by turning in names of hunters we have certainly slowed them down."
See the passion of David's cause here:

When he started building Tigre Salvaje in 2005, he said the Panamanian government promised him a road if he would build a hotel because his dozen acres sit beachfront in a zone designated for tourism. He complied with their request to build the hotel and install electricity to the tune of about $500,000, but he's still waiting for the government to put in the road.
David was always in Burica during the Sea Turtle egg laying season then returning to his other home, in the Virgin Islands, between these times, where he worked as an odd-jobs man to raise desperately needed funds for Tigre Salvaje. He was a bare bones operation trying to save turtles and monkeys from poachers and dogs.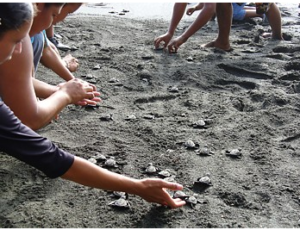 Tigre Salvaje is also home to three species of monkeys. David said it has about 25 Red Back Squirrel monkeys, 35 White Faced monkeys and 30 Howler monkeys.
It's a very rural environment without internet or cell phone service, but it does have running hot water and electricity (most of the time!). The rare hotel guests and volunteers have to  walk 35 minutes from the nearest town, Bella Vista, to reach the property. Instead of paying guests, he and his wife, Vielka, mostly host school groups in hopes of starting the environmental education process at a young age. "It's a third-world country and there's no environmental education," David said.
Volunteers willing to make the 35-minute walk, would pay $35 a day for the first week and $25 a day for subsequent weeks. The fee included three meals and a room. Their jobs included patrolling the beach at night to keep the poachers and dogs away from nesting turtles as well as working on reforestation projects because most of the trees have been cut down. If they speak Spanish, they could also do education programs in the schools.
How Tigre Salvaje Came to be and Where Will the Future Lead?
David moved to Panama because he felt he couldn't make a difference on St. John, Virgin Islands. He said he lacked a college degree that would give him environmental credentials, the island already had plenty of "do gooders" and V.I. National Park staff were very involved in environmental efforts. He said that isn't the case in Panama, and despite the obstacles, he can make a difference with Tigre Salvaje. The name means wild tiger in Spanish, and David said he plucked it out of the air while in his attorney's office filing out incorporation paperwork.
According to David, people used to eat turtles in the Virgin Islands also. He said that gradually after the passage of the federal Endangered Species Act in 1973, the practice ceased. He said that "although Panama has rules and regulations to protect wildlife, enforcement is lax."
Born in St. Louis, Mo., David went off to college before the U.S. Army drafted him during the Vietnam era. He served in Germany, came home and went back to college. He didn't finish school, and went on to kick around doing this and that in construction-related jobs. At one point he served as a wilderness guide in Canada. He moved to St. Thomas just after Hurricane Hugo hit in 1989 to repair his brother's boat. He stuck around, working various construction jobs first on St. Thomas and then on St. John until he decided he wanted to make a difference. He purchased the land in Punta Burica, Panama, that is now Tigre Salvaje, in 2004.
In spite of the constant financial shortfalls and poachers, "I can't give up," he said.
Although it is outdated, you can read more about some of the projects and plans that have been carried out on their website at Tigre Salvaje.
What will be the future of this critical project?

If you are in a position to help revive or continue the work at Tigre Salvaje, Through volunteer or financial assistance,

Please follow and like us: