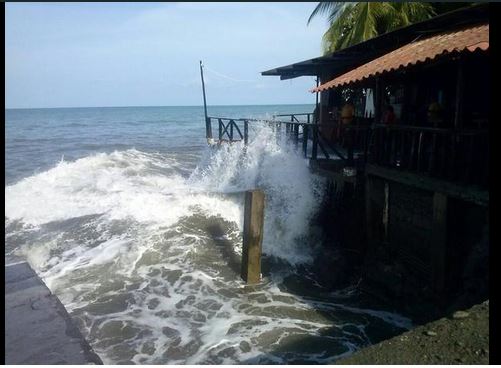 During the past two months here in Puerto Armuelles, we have been experiencing some bigger than usual tide swells. As a result, there have been over a dozen homes and businesses along the coastal areas affected by flooding. Warnings are still in effect.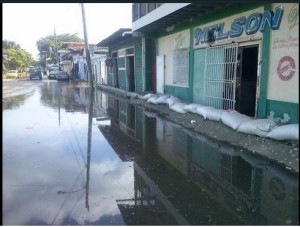 On July 8th, SINAPROC (National Civil Protection System) reported that the tides reach heights up to 17.1 feet and last Friday, August 7th, we saw some of the highest tides in the Pacific Ocean fronting Puerto, which reached up to 17.9 feet. To put that in perspective, the high range in Puerto Armuelles is usually around 12 – 14 feet.
José Donderis, director of SINAPROC, has appealed to people living near the Pacific coast to take necessary preventive measures. You may have noticed some of the local businesses have sand bags piled up in front of their establishments to stop water from coming in. Fishermen are urged to use navigation equipment, if they can, and have life jackets on board.
With the rainy season starting, the levels of water in rivers and streams increase also and can cause flooding along the banks. High tides in the ocean contribute to the potential of rivers overflowing.
Donderis has asked the public not to place trash and debris into drains, sewers, rivers and streams. 'One of the main causes of flooding is the bad practice of depositing waste in these places,' he said.
So, if you have a home or business in a coastal area, please take preventative measures. If necessary, pile up sandbags or create a berm between the ocean and your residence to prevent water from coming in and place valuables up high, off the ground in case of flooding.
SINAPROC can be reached 24 hours a day at * 335 and 316-0080 to report emergencies.
Be sure to subscribe today to receive regular updates about Puerto Armuelles!


Please follow and like us: