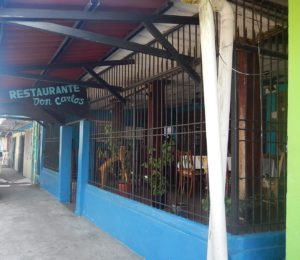 Don Carlos, an iconic downtown restaurant, started by his father, is owned and operated by Puerto humanitarian, Dr. Alberto Carbona. Located across from Malecón Park, with a spectacular view of the old Chiquita Banana Pier, this is one of my favorite dining spots in Puerto Armuelles. Don Carlos is best loved for it's location and the friendly conversation with the ever present owner, Alberto. Ask to see his old photo collection and you'll get several stacks of old black & whites. A great diversion while you wait for your meal.  Alberto lived for over 40 years in the house in Las Palmas that is currently the headquarters for the Panama subsidiary to Del Monte,  Banapiña. Alberto is very opinionated, with a clear and deep love for Puerto Armuelles…but that's another story.

Don Carlos has daily lunch specials for $5 each, including 2 or 3 generous Panamanian-style meals with your choice of meat, rice & beans, and a salad. Just looking for a snack? There is usually a delicious ceviche appetizer on the lunch special menu. If it's on the daily menu, try the Salpicon. This is a typical Colombian dish that includes fresh tuna. Yummy!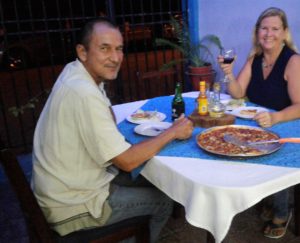 The evening menu is extensive and includes several pasta dishes, seafood, and Panamanian dishes and  soups. Prices range from about $6 -12. One of our favorites is the Pizza because they have a thin and crispy crust (my favorite) and flavorful sauce. A large (Familia) combination pizza is $16. You can order "Take-out" by phone and pick it up when you're in a hurry (number below).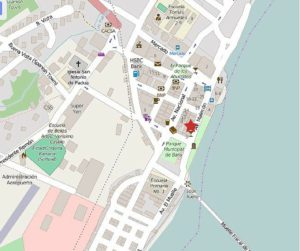 Don Carlos Restaurante y Pizzeria
Hours:
Mon, Wed, Thurs, Fri: 12 noon – 8pm
Tuesday – CLOSED
Saturday: 1 – 9 pm
Sunday: 5-9 pm
PHONE: 770-7773
Please follow and like us: