Hundreds of Panamanians in Puerto Armuelles were up at the crack of dawn yesterday, December 16, 2017, to get a place in line and buy their Christmas ham at the Naviferias only $8 each (it's about double that price in the grocery stores). There was the ever-present music and several street vendors along the winding lines selling snacks and drinks to the folks who waited patiently in the hot sun, for hours in most cases, to purchase inexpensive produce. The sale started at 8am and ran until around 1pm and was held across from the Banana Pier in the big lot just south of the Municipal Park.
Naviferias is a project of the Instituto de Mercado Agropecuario (IMA), under the direction of the Ministry of Agricultural Development (MIDA) in Panama. The IMA was created in mid-1975 and its purpose is to promote development of agriculture with an emphasis on producing and distributing products to feed the general population. Naviferias is an annual event held throughout the country in December.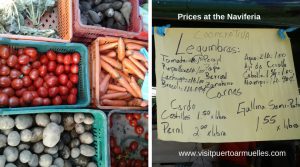 There was plenty of visible security in place, although the entire event looked well organized and ran smoothly while I was observing. Along with the Christmas hams, were several other staples available for purchase at deeply discounted prices. The other most popular items were 20 pound bags of rice for $5 (about $12 retail) and round Christmas Bread for $1 (Retails for around $5). There was also a large assortment of fresh vegetables, cooking oil, dried beans, and even fresh pork cut to order at a flat rate of $1.50 per pound.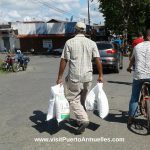 I heard from one woman who gave up waiting in line after 3 hours and went home. However, in spite of the heat and long lines, most of the folks I talked to were very happy with their purchases when they finally made it to the distribution tent.
Feliz Navidad y Próspero Año Nuevo Puerto Armuelles!
Subscribe today to get alerts of new articles & news in Puerto Armuelles!    

   
              
Please follow and like us: