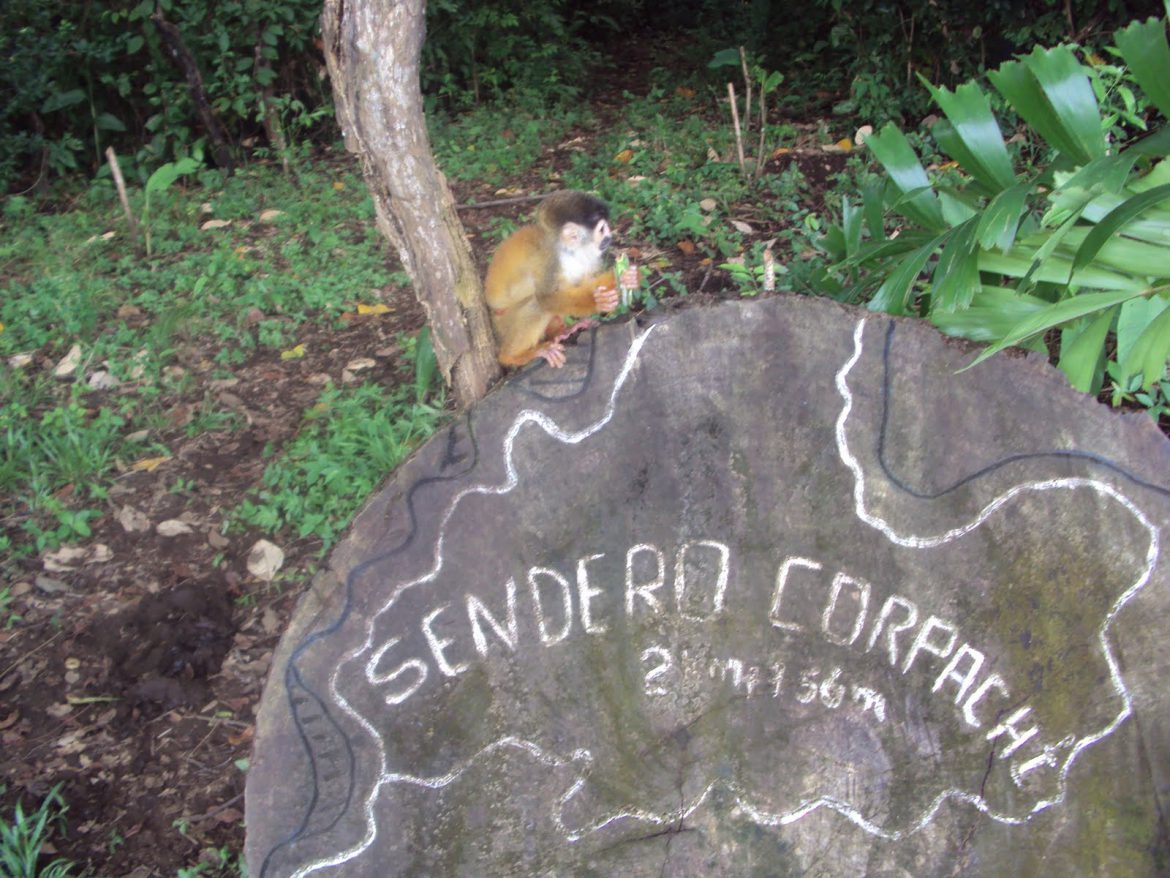 Located on the campus of the Punta Burica High School (Primer Ciclo Punta Burica) in Limones is a 2.7 kilometer ecological trail, which was the first of its kind built on a school campus in Panama. The High School was built in the late 1970's. It currently has about 60 students in grades 7, 8, and 9 with 5 teachers. They are a small but close group of students who learn a lot through hands-on studies around the topics of farming and the environment. The school is unique because it is located on 57 hectares of forest and agricultural lands. Building the eco-trail was one of these school projects and was opened to the public in June 2007.
The name "Corpachí Trail" comes from the name of a tree, which is abundant in this area. The main purpose for the trail is to help teach students and others about the biodiversity and conservation of the Burica Peninsula region, which includes several endemic species like the Baird's Trogon and other birds that are only found in Punta Burica.
According to Dioselina Vigil, director of the High School, "there are fifty-seven hectares in this school, of which fourteen are on the path; we have other agriculture and agricultural projects such as cows, chickens, bananas, corn, pigeon peas, lemons, rice along the sandeo ".
Some other creatures you may spot on the trail include the Marbled Quail, White-crowned Parrots, Howler Monkeys, Capuchins, Marmosets, Iguanas, and Spotted Rabbits (Conejos Pintados). There are also many small frogs, snakes, and lizards. You will see a huge variety of trees, medicinal plants, flowers, and interesting fungi along the way. You'll also pass an impressive waterfall and some amazing vistas of the area.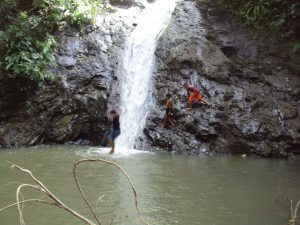 The trail is a relatively flat and easy hike, so it is appropriate for older adults and children. The area is considered a "secondary forest" with a wide variety of flora and fauna. It starts off with pavers, but quickly turns into a dirt trail, which is apparent so you won't get lost. Wear jeans and boots because you could come across a snake or some prickly bushes and take along a walking stick if you have one. I was bitten by mosquitoes, so a bug repellant is another plus. Water is a MUST. Bring your camera, binoculars and bird or wildlife guide, if you have one, because you never know what you'll see today.
A donation of $3 is requested, to help maintain the trail. You can also request a guide from the school (one of the staff) take you along the trail and point out things you might miss on your own. It is a total of 4 kilometers and takes about 2 hours to complete, although there is a shorter, more popular, route that is 2.7 kilometers, which takes an hour and a half to hike. Try them both and maybe you'll see something different! When you arrive at Punta Burica HS, the trail is off to the left, past the basketball court. Along the path are structures made of natural materials where you can take a break and rest in the shade. Check out the view of Isla Burica you'll see!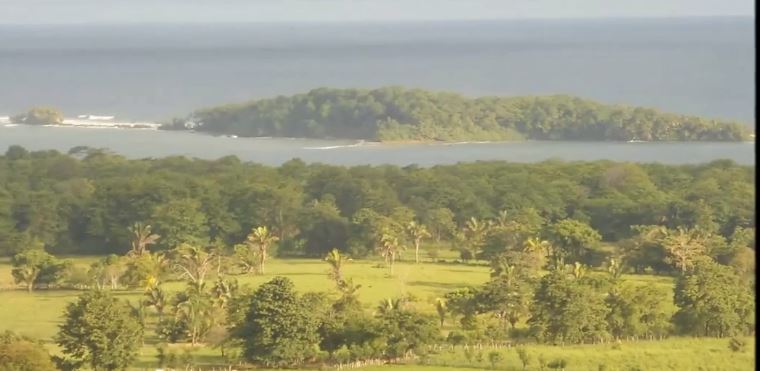 Corpachí Ecological Trail (Sendero Ecológico Corpachí) is one of the little-known places to visit in the Barú district, so pass the word along and support what the students are doing here to help conserve and teach about the environment in the area. It's a fun Self-guided Day Trip (or guided, if you prefer). This is a place you can visit often, since every trip is different!
Click below this article for a video of the trail and surrounding area.
Details of Corpachí Eco-Trail
It is open during school hours:  7am – 3pm
Contact a facilitator for a weekend tour or go "self-guided"
Easy trail, accessible by older adults and children
$3 donation requested
Contacts:
Dioselina Vigil    6462-4823  dioselinavigil@hotmail.com
Joaquin Atencio    6698-5740  juniormurcie@outlook.com
Edmond Wilkes (English)    6562-9725 justedmond@aol.com
Here is a link to a video of the Sendero Ecológico Corpachí and surrounding area:  CLICK VIDEO HERE
Watch a video interview with Joaquin Atencio, talking about the Eco Trail by clicking HERE 
Subscribe today to get alerts of new articles & news in Puerto Armuelles!      

 
Please follow and like us: