Have you ever dreamed of your own Tropical Getaway on the beach?
Playa Burica, Panama ~ $29,500
There are 21 large lots in this ecological subdivision, about 2 kilometers from the town of Bella Vista. All are now SOLD, except lot 11 (available for $49,000) and lot 10 ($29,500). There is an off-grid tropical home built on lot 14 and 2 others soon to be under construction. The developers built in plenty of "green spaces" to keep an open feel and preserve wildlife habitat.
Lot 10 is priced low due to the owner changing life plans and having a new baby. Must sell!
This area is still a bit remote, being about an hour drive from Puerto Armuelles, where there is shopping, banking, restaurants, and a new hospital. There are plans to improve the road from Limones to Bella Vista, which will cut the drive time about in half. Plans have also been approved to refurbish and open the local national airport. There are even plans in the works for an upscale gated community right down the road. Power lines were only installed on the main road about 2 years ago. In the meantime, there are amazing opportunities for investment here!
There are tourist attractions nearby, including a sea turtle rescue, monkey refuge & botanical garden, and a surf camp. You can hike or bike to these places! Check out more photos of the area on their links. Fishing is a local past-time and there is abundant wildlife. The beach is pristine and exotic ~ sandy near the shoreline with an unusual clay landscape beyond, which is visible at low tide.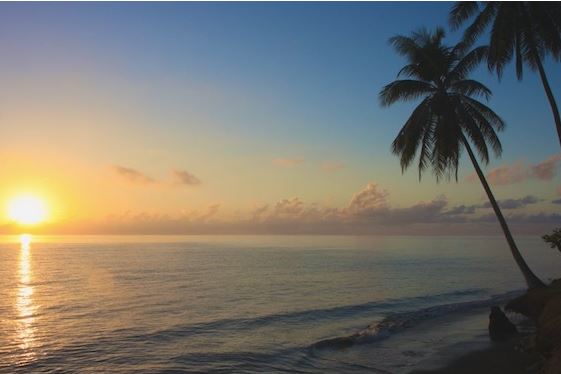 Seize the opportunity before it's too late!
Playa Burica is the world's best-kept secret, and it's an investment opportunity you can't afford to pass by. Jutting reefs, wild jungle, and crashing waves await the savvy, adventure-seeking investor in you.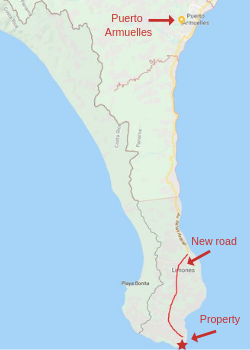 Beachfront Lot
R.O.P. (request our Free Report: How to Title ROP Property from Editor@visitPuertoArmuelles.com)
Size of Lot:  1/3 acres (1348.95 s mtrs)
Features: Beachfront, Tropical wildlife, fishing, nearby attractions
Location: Playa Burica, Chiriqui, Panama
$29,500
CONTACT: Debbie@visitPuertoArmuelles.com
Please follow and like us: