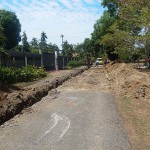 Driving anywhere in Puerto Armuelles these days is a maze of torn up streets, construction vehicles, and detours everywhere you turn. The good news is; soon, the stinky sewer smell should be gone from several places around town (you know where I mean!) where the antiquated sewer systems, built over 50 years ago, have cracked and sprung leaks.
President Juan Carlos Varela's plan to improve the sanitation systems in four provinces, thankfully, includes Puerto Armeulles.
The IDAAN (Institute of Aqueducts and Sewers) has been given $100 million, through a loan from the Development Bank of Latin America, for the project. The IDAAN will be carrying out the water treatment works, which includes buying equipment, renovating wells, and construction of 1113 Sanitation Units in the district of Puerto Armuelles, district of Baru, Chiriqui.The resources will be used to improve basic sanitation, followed by upgrading of the drinking water system.
Large modern sewer lines are currently being installed underneath the roads. The new lines are going to be hooked up to several pumping stations around town and then routed to a new treatment plant about a mile south of Puerto, you may have noticed activity going on there, between Rio Corotu and Rio Guanabano.
We spoke with Julio at IDAAN recently and were told that the sewer lines will be finished and the roads paved, followed by work on the drinking water lines. At first, I was afraid that meant the road would be torn up again, but he assured us it would not. The water lines will be running along the side of the roads. Just when you think driving will be easy again in Puerto, get ready for more delays and detours!
NOTE: If you don't see any work going on in your part of town, it may be a good idea to go to the IDAAN in Puerto Armuelles and take a look at the water project routes. There have been a few areas missed and petitions are being submitted to get them included in the project.
According to the IDAAN website, as of June 12, 2015 the Puerto Armuelles sewage system project was about 50% complete. Soon, we will have clean smelling air, clean drinking water, and newly paved roads.
Puerto Armuelles will be an even better to live!
Resources:
IDAAN Company website www.idaan.gob.pa/ 
The Puerto Armuelles branch of IDAAN is located in Barrio Las Palmas
Hours are: Lunes – Viernes 7:30am – 4:00pm
Phone: 770-7273
Please follow and like us: