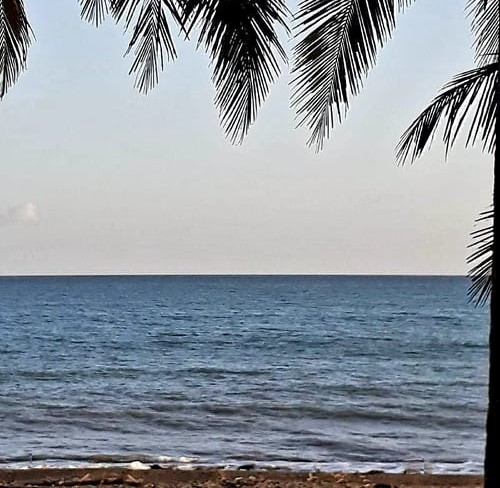 Located about 20 minutes south of downtown Puerto Armuelles is this 2.5 acre beach access property with loads of potential. The titling process has been started on this land and all paperwork is currently in Panama City. One of the nicest beaches in Chiriqui!

1 Hectare with 3 small homes and private beach access
ONLY $245,000!
The property has paved road frontage, and runs from the road to within meters of the Pacific Ocean, with its own private beach access. The landscape is flat above, with ocean views and a gentle slope to the flat building area on the bottom half of the property, there is a private driveway above and short private trail for easy access to the sandy beach below. There are many mature trees and jungle, including mango, banana, coconut, and cacao. The beach here is wide and the water is calm ~ perfect for swimming, kayaking, or standup paddle boarding. Fishing is also very popular just offshore or with nets. At the right time of year, you can see dolphins and whales passing by!
Monkeys (Squirrel monkeys and Howlers) visit this property regularly ~ these howlers were filmed on the property!
Everything you could want in a beach community and a short drive to downtown Puerto Armuelles, on a newly paved road, with all amenities ~ Including a brand new modern hospital, several banks, hotels, restaurants, shops and grocery stores. This is one of the fastest growing areas in Baru and has one of the most beautiful sandy beaches on the Pacific Coast ~ Get in on this opportunity at an unbeatable price!
The property is being offered as a total package, about 1 hectare of land, for a special price of $245,000. Priced to sell quick!

This includes 3 tiny homes: 1 – move in ready, 2 – partially completed container home. 3 – foundation and walls of a brick and m2 walled home.
Property has a private well for a fresh water source and a small creek along the north boundary.
Septic in place for the first 2 homes.
Electricity and internet are in place and there is weekly trash service.
Potential Options include:
* Put your dream home here, with a few more houses as a family compound or private estate.
*Build a Hotel, restaurant, or exclusive retreat, in a natural habitat.
* The land can easily accommodate at least 10 more tiny homes and generate a nice income as rentals,beach access/ocean view at $4-500/month each, depending on amenities and furnishings. 12 rentals (assuming you live in one) could generate retirement income of around $6000/month or $72,000/year!
* Divide into 12 lots and sell individually and get a quick return by flipping the 3 houses.
* Build 10 more houses, finish the 2 incomplete houses, and sell them. Keep your favorite house as a beach vacation getaway for yourself.
Get creative and come up with your own ideas for this unique property, very near town, with a beautiful sandy beach, wildlife and tropical flora ~ Paradise!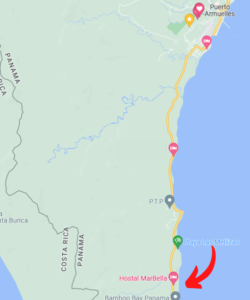 Investment Property
ROP, with all documentation and titling started
approximately 1 hectare
3 small houses (1 completed, 1 almost complete, and 1 started)
Well, electric, internet, trash service
Paved road to lot and fenced
Ocean view and private beach access
$245,000 firm
Please follow and like us: