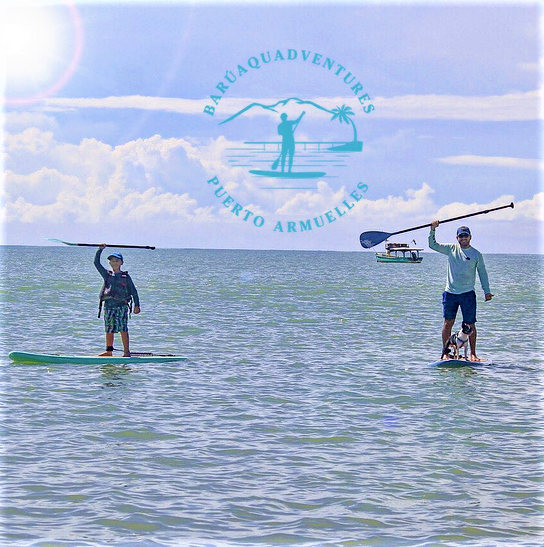 A new water-sport activity has opened up in downtown Puerto Armuelles. Whether you are a visitor or resident, you can now explore the coastline, get some exercise, or enjoy our beautiful Pacific sunrise on a rented stand-up paddle board.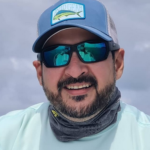 Here is part of my interview with the owner of Barú AquAdventures.
" Hi Debbie, my name is Pedro Gaitán. I'm a Porteño living at Panamá City because of my work and consider myself a full-time sea lover. I decided to start this small business that will be focused on a variety of Aquatic recreational activities so our visitors can enjoy what I think is our best resource to explode as a tourist destination. Why Stand Up Paddle? Because it is my 2nd favorite hobby and Puerto has this calm seas that are ideal for all type of paddlers, from beginners to advanced."
Barú AquAdventures currently has 4 rigid YOLO SUP Boards. The YOLO Co. describes them as "Easy To Paddle: A great all-around board for beginners & intermediate paddlers". It can float riders up to 275 lb. comfortably and has an integrated cargo bungee system and cooler tie-Downs.

Pedro pointed out many of the benefits of practicing Stand Up Paddle Boarding. Some of this are:
– Gives you a full body workout
– Helps with balance, stability & flexibility
– Reduces your stress level
– Low impact workout, which is great for recovery of other sport injuries
– Helps you lose weight
– Boosts your cardiovascular health
– Offers you the optimal environment for meditation
If any of these goals are on your list, consider a sunrise paddle this weekend. Can you imagine sitting on a board in the bay, meditating as you gently float in the water, and watching the sun come up over the Pacific Ocean? Perfecto!
If you already know how to paddle-board, rentals are $10 per hour. Beginners can start with an introductory class for $15 per hour, which includes instruction with their coach, a board, adjustable paddle, leash and safety life jacket.
Barú AquAdventures even has waterproof covers, so you can take your cell phone with you and record your unique moments at sea.For now, they are open on Saturdays and Sundays from 6am – 12pm. Call ahead to reserve a board.
I am excited to see a new marine activity in Puerto Armuelles and hope to see the company enjoy lots of success! Pedro told me that "future plans will include other water activities, such as kayaking. We are so very excited to welcome all our locals and visitors that are willing to live the Stand Up Paddle experience."
Make a reservation today and help to support the local economy while improving your mental & physical health!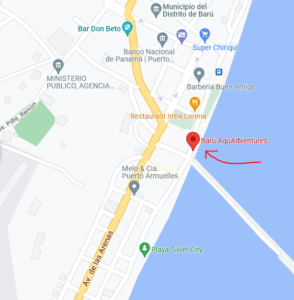 Barú AquAdventures
6am – 12pm Saturday and Sunday
Malecon Park, between the Armuelles Statue and the Pier
For reservation +507 6687-5671
Please follow and like us: