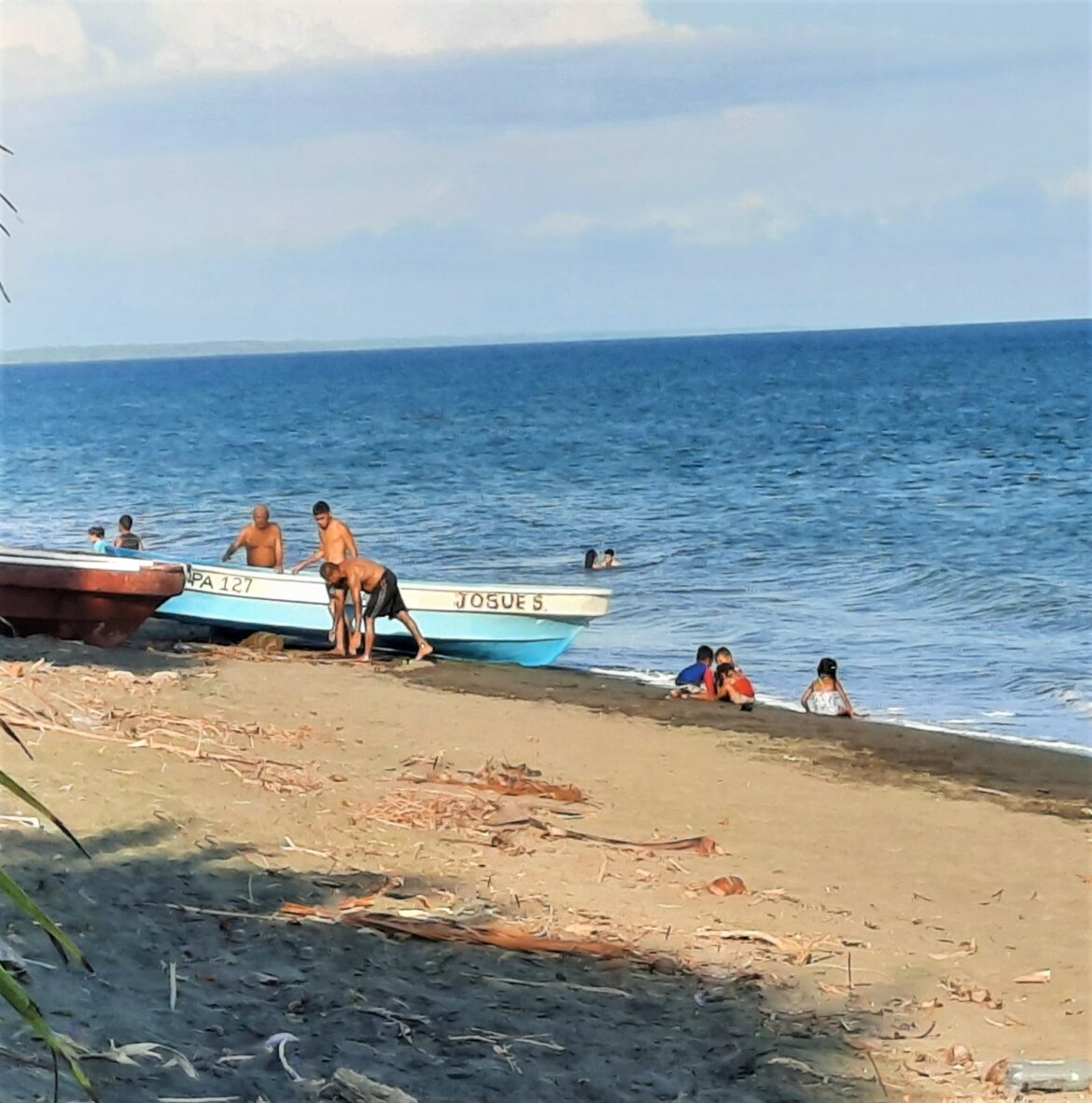 There are over 40 kilometers of coastline in the District of Baru. Along this stretch, there are so many different and unique beaches to explore. Here are 10 beaches to check out the next time you are craving sand and surf!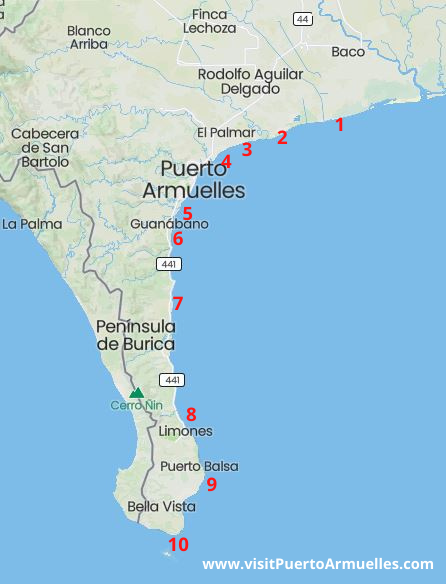 1 Los Olivos ~ About 15 minutes North of downtown Puerto Armuelles is a long stretch of soft sand and palm trees. Very secluded and private. We are often the only people at the beach here! There are bamboo and palm frond ranchos for shade and a local rustic "fonda", where you can get a snack and a cold drink, while sitting on recycled tire furniture. Occasionally, the waves are good for surfing too.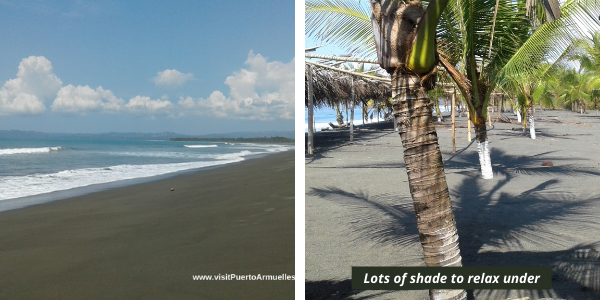 2 CoCo Beach ~ Sandy beach, with some surf and current. Great spot to sunbath or stroll in the soft sand. This is located at a gated community. There is a restaurant on site, when they are open (Call to confirm 6042-3004) , and you can get a cold drink or lunch and relax on their patio. Tell the guard at the gate that you are going to the restaurant to get through. However, you can drive past the community and access the beach in another spot.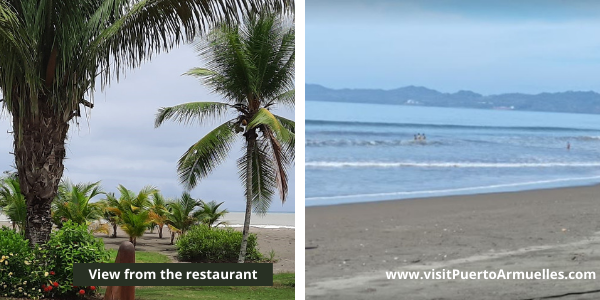 3 Palmar Sur (Cucuy to Corazon de Jesus) ~ This stretch of beach, best know for it's surf, is one of the most popular in Puerto Armuelles. There are lots of homes in this area, with beach access every couple of blocks. Early in the morning, you can also watch the fishermen come in with the "Catch of the Day". On weekends and holidays, there can be large groups of people and families on the beaches here.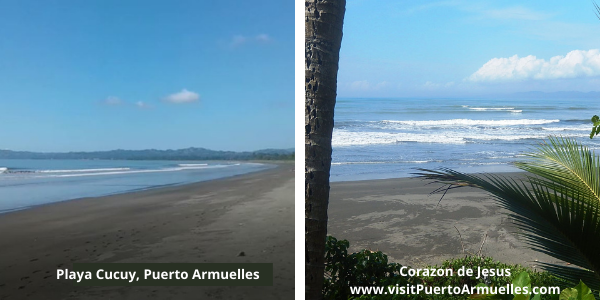 4 El Porvenir ~ This is a fishing neighborhood, with "pangas" lined up along the beach. Besides a few fishermen tending to their boats, it is usually a little less crowded. At low tide, the beach goes out very far here, which is good for exploring.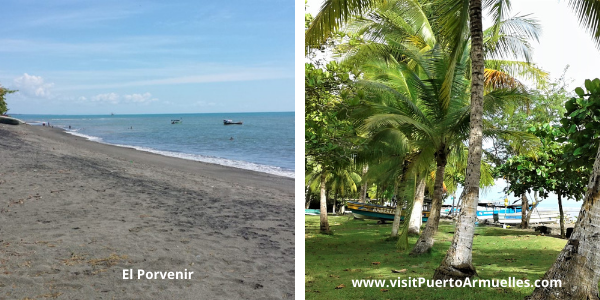 5 Downtown Puerto (Rio Mar – San Vicente) ~ Downtown Puerto is literally right on the beach! From the Tisamar Sports Bar, there is a good view of Playa Rio Mar and looking on-wards to the Palmar Sur beaches. It is densely populated here and the beach can be a shortcut to other parts of town. From El Carmen to San Vicente, there are almost always people strolling along the beaches, along with occasional dogs or horseback riders. There are several beach-side restaurants in town to enjoy a cold brew or lunch. Sometimes the surf is good and you can watch the surfers while taking a stroll or swimming.
6 Punta Piedra ~ this is the first popular beach south of Puerto, about 10 minutes south of downtown. The waves are very small so it is a good swimming and family beach. On weekends and holidays, there are sometimes crowds of people, with chairs and ice chests.
7 Playa Melliza ~ Just south of PTP, playa Melliza is one of the nicest swimming beaches along the coast. This beach is very popular on weekends and holidays, with families and groups everywhere. There are long stretches of sand and several restaurants and beach bars where you can get lunch or a cold drink. Some of them even rent 'palapas' with tables and chairs.
8 Limones ~ About 30 minutes south of Puerto, you'll find the 'small town' fishing beaches. Hooked on Panama has a great lodge for lunch and there are a couple of good restaurants in Limones town. There is also a pier in town that is popular to fish from, with a rod and reel. Because it is a town, there are often people on the beaches here.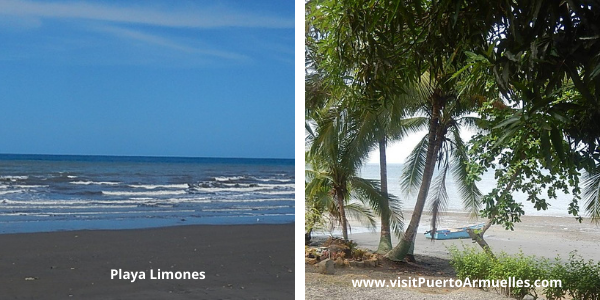 9 Punta Balsa ~ It's about a 45 minute drive from Puerto to playa Barca. There are round signs along the road leading you from Puerto to this beach. Quite a bit more secluded, and you will often be the only folks on the beach. Great for a relaxing and quiet weekend retreat!
10 Punta Burica ~ It will take about an hour and 15 minutes to drive all the way to Punta Burica, with a bit of rough road after you pass Bella Vista, but it is well worth it! The beaches here are varied, from the exotic shapes of caliche to the long sandy stretches around the point. At low tide, which goes really far out, there are lots of little tide-pools to explore. Closer to the point, there is a surf camp where you can rent boards and take lessons, if you make reservations in advance. There is also a Monkey Reserve called Mono Feliz, which has a beautiful botanical garden. You'll have to pack your own lunch and drinks to Burica and plan to spend the whole day.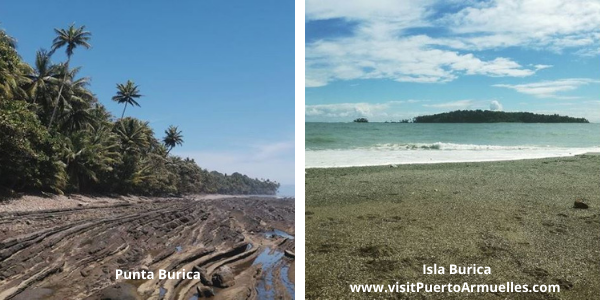 Please follow and like us: