Close to Town:
Titled Ocean View Parcel is Priced to Sell!
ID# 090115-2
$45,000
This is one of the best priced parcels of ocean view TITLED property around! One hectare or about 2 1/2 acres. Located just up the hill in Alto San Vicente, a grouping of small fincas, and a few short minutes from downtown Puerto Armuelles. Road goes all the way there, with a driveway between 2 other properties to create a very private access.
The lot has been cleared and is maintained so almost no work is needed to view the parcel or start your project. The property sits on top of a flat plateau with multiple building sites available. There is power to the lot and water can be reached by digging a well. At most of the property lines, the land slopes down rather steeply, for added security and privacy. It is completely fenced with barbed wire.
Entrance is on the north side and there is a seasonal stream running along the NE side of the property. To the east, there is a breathtaking ocean view, which can be expanded by cutting or trimming a few large trees. Along the south west of the parcel is a stunning view of rolling green hills and the lot is cleared to the west border. There are numerous mature fruit trees including, Coconut Palms, Banana, Mango, and Avocado.
This parcel could easily be subdivided and additional lots sold, while retaining the best lot for yourself. The property is also the perfect size for a small self-sufficient farm and would allow the owner to be near amenities of town, while still being very private.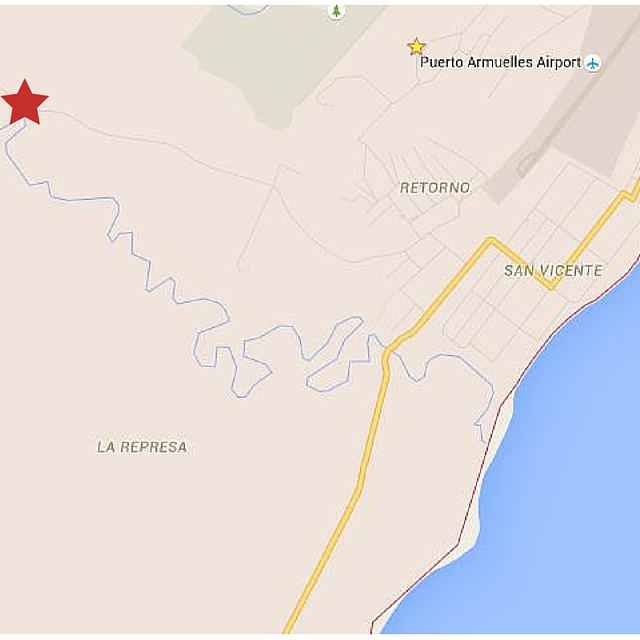 Land

Total Parcel size: 1 Hectare
TITLED

Road to driveway
Features: Ocean view, scenic mountain views, completely build-able, power to property line, fenced, close to town, privacy.
Location: Alto San Vicente
 $45,000
Property

ID# 090115-2
You will be prompted to double opt-in via email to protect our advertisers from Spam. An easy unsubscribe button is attached to the email if you don't want to be on our real estate list. Thank you for your interest!
Subscribe today to get alerts of new property listings & news in Puerto Armuelles!