MARCOS BEITIA, of Puerto Armuelles, got 34.57% votes on May 5th to win the 2019 election for Alcalde (Mayor) of the district of Barú, in Chiriqui, Panama.
The total number of votes for Marcos was 8,810. He was followed by the long-time Alcalde, Franklin Valdés, with 20.35% of the votes or 5,185. *Marcos was a candidate in the 2014 election but lost to Valdés, by a narrow margin, after originally being declared the winner. I was in Puerto during that election, which had a lot of controversy surrounding the results, such as claims that there was vote buying, results were altered, and ballets were burned. There was even a request filed with the Electoral Tribunal for a new election, which did not happen.
Marcos Beitia is a member of the PRD (Partido Revolucionario Democrático or "Democratic Revolutionary Party"), which was founded in 1979 by General Omar Torrijos. It is one of the three major political parties of Panama, along with the PP (Partido Panameñista) and the CD (Cambio Democrático). The PRD policies include a focus on agriculture, education, and re-organizing the civil service and welfare state. Marcos has pledged to support better employment opportunities and progress in Baru, which will be a welcomed change if he follows through. The new president of the Republic of Panama, Laurentino Nito Cortizo, is also a member of the PRD.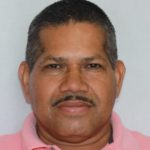 Also, our new diputado (representative to the Panama National Assembly), by a very narrow margin, is Everardo "Pipo" Concepción Santamaría. Pipo is a member of the Panameñista Party.
With all the changes that are coming for Puerto Armuelles, it is nice to see that we have some new politicians here who say they are supportive of new growth and progress in our town. Let's hope for a bright future in Puerto Armuelles and support Marcos in his position as the Alcalde of Barú  through 2024!
Follow Marcos Beitia's Facebook page here: FACEBOOK
Read more about Panama's political parties here: POLITICAL PARTIES IN PANAMA
Please follow and like us: