There are not any Fast Food chains in Puerto Armuelles…yet. However, if you have a craving, you will find a good selection just 30 minutes north, at the Frontera (Paso Canoas).
Along with the large assortment of local fondas, street vendors, and restaurants scattered throughout the border town of Paso Canoas, you will find a selection of North American and Panamanian fast food franchises.
On the Puerto Armuelles side of the PanAmerican Highway, at the border, there is a Pio Pio, the popular Panamanian version of Kentucky Fried Chicken.
FYI – I asked a local what "pio pio" means and he told me that it's the sound baby chicks make.
Just before the highway is a Domino's Pizza, which you can't miss because there is a lineup of delivery bikes in the front of the restaurant.
After passing the highway and heading further north, on the right side of the road are two franchises side-by-side: KFC (Kentucky Fried Chicken) and Pizza Hut.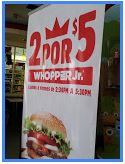 Further down, on the right side of the street, you'll find Burger King and Warala Coffee Shop. Warala has an assortment of coffee drinks, ice cream & sweets, crepes and sandwiches. It is one of my favorite places to stop for a treat when I spend a day at the border. Warala has umbrella covered tables in front, where you can enjoy your frappe and a strawberry crepe while people-watching (which is fabulous at the frontera!). Both of these restaurants are right in front of Mall Jerusalem.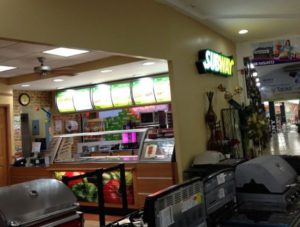 Inside the Mall Jerusalem, on the second level, there is a Subway – for those days when you are craving a "made to order" sandwich. Open from 9:30 am to 9:00 pm.
Inside of City Mall, a little further up the road, there is a McDonald's located on the second level. It is open daily from 9:30 am – 9:30 pm.
Please follow and like us: