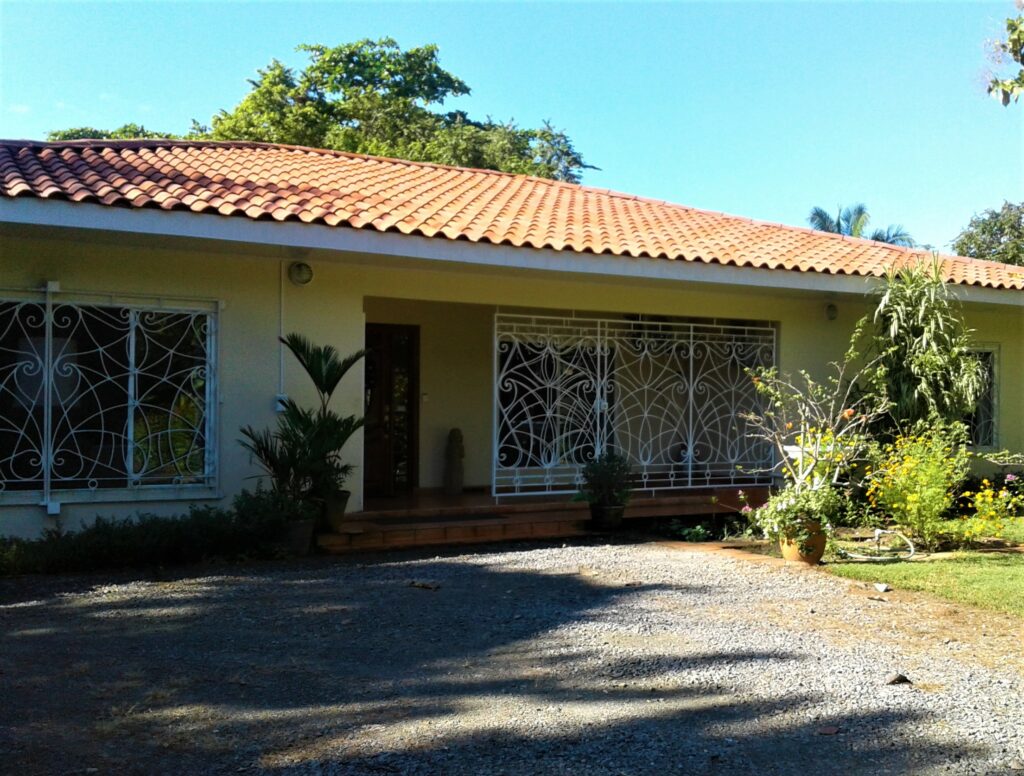 $575.000
ESTATE includes 2 immaculate homes on over an acre of prime beachfront!
Cucuy beach is one of the most sought-after areas by foreigners coming to Puerto Armuelles. Only about 15 minutes north of downtown Puerto, with all its amenities, including a brand new hospital, shopping, banks, and restaurants. Approved to have a new upgraded National Airport as well! There are only about a dozen or so homes in this close knit community and the laid back lifestyle is prevalent as neighbors sit under tropical 'ranchos' and enjoy a cold 'cerveza' and conversation after a day in the ocean, swimming or surfing.
This short video will give you a better "Feel" for the home:
This ESTATE consists of 2 houses on 4 lots. The Main Beach House is 3 bedrooms and 2 bathrooms, with an indoor laundry area and walk-in pantry in the kitchen. The home is built according to North American standards, with many extras. These include a bodega for garden equipment with ½ bath for workers, underground sprinkler/watering system, exterior and interior alarm systems, hot water and all modern appliances, including dishwasher, back-up generator, back up water holding tanks and a filtered water system. There is an additional storage container outside, beautifully camouflaged with tropical flowers and vines. No lack of storage here!


This beachfront home sits on three parcels of land, two that are completely fenced, together as one, and total over an acre of land right on the beach, all landscaped with tropical flowers and fruit trees. Among these are mango, citrus, sour sop (Guanabana), citrus, avocado, coconuts, cashews, papayas, bananas, figs, lychees and pineapples. You could live off the land if you had to!

There is a covered patio that faces the ocean to sip café and watch the sunrise. A large tropical "rancho" with thatched roof allows for entertaining friends outdoors or enjoying the cool ocean breeze while lounging and reading a book, with your favorite cocktail of course. A beautiful private gate gives you access to the sandy beach, just outside your back yard.
If this were not enough, the Estate also includes a smaller home on an adjacent separate lot!
This additional, well built home comes furnished and is perfect for a couple or single who want to live in a beach community. It could be sold separately from the beach house and is Titled. It could also be used as a rental at about $500/month (more on a nightly basis) as income, or a great mother-in-law or guest house. Walk right out the front door of this little house and stroll 1 minute to the pristine beach!

This home is clean, well equipped, and move-in ready. There are 2 bedrooms, 1 bath, a living room, dining area, outdoor (enclosed) laundry room, storage and an enclosed carport, totaling about 140 m2. The yard is large enough (616 m2) to add an outdoor rancho, garden, or other small structure. There are mature fruit trees and the lot is fenced. A water storage tank is elevated so there is water even if the power should go out. This is a very quiet area with good neighbors.

The neighbors are mostly North American expatriates who enjoy the "quiet" beach community lifestyle.
Both homes will come completely furnished ~ Bring your suitcases and Move right in!
2 Single Family Homes
Titled & ROP

Size of Lot: 4 lots totaling over an acre of land
Features: Beachfront, 2 homes on separate lots, rental income or sale potential of smaller home, V about $150k
Location: Cucuy, el Palmar, Puerto Armuelles
                                                                                         $575,000
Please follow and like us: