$199,000 

 

 Reduced ~ $125,000
This restaurant/hotel located on the main road from Puerto Armuelles to PTP (Petroleum Terminal Panama) is in a prime location for continuous drive-by traffic (Potential CUSTOMERS!). Less than 10 minutes from downtown and directly across the street from one of the most popular, calm water, beaches in the area.

The new buzz around Panama is the tremendous potential for growth in the now discovered town of Puerto Armuelles, in Chiriqui province. With the start-up of Del Monte this year, numerous infrastructure projects by the National government, and the attention to eco-tourism along the Burica Peninsula, there is a lot going on in this area! It's the perfect time to get on board, while prices are still affordable and there will be potential for growth in the near future.
***Email me for the 2020 Puerto Armuelles Report at editor@visitPuertoArmuelles.com
EXCELLENT COMMERCIAL OPPORTUNITY!
                                         Possibly partial seller financing
                                               Health issues force sale
Due to an injury, the current owner has decided to sell the project he started, and has taken through about 85% completion. Owner estimates around $25,000 to finish and be open for business and will agree to assist in the completion, if needed.
The property has approximately 200 feet of ocean/beach view frontage and is only 7 minutes south of downtown Puerto Armuelles. Punta Piedra is the first public beach south of town. The playa has calm water and attracts people on weekends. Holidays are jam-packed ~ Steady supply of walk-in customers!
1st level:  approx, 3400 sq' ft', and has an indoor /outdoor restaurant, with a large commercial kitchen, along with a wood fired  brick oven/smoker for great pizza, and smoked foods . Includes rustic seating for 80+ clients.  An additional indoor /outdoor  bar, with seating for 60+ clients, is ready for your finishing colors , floor selection, and wiring preferences. The 3 bathrooms and Kitchen are already plumbed. The kitchen has a floor drainage to outside for easy cleaning. Counters are sloped to drain into the sinks. 1st floor is 90 % complete, and  can be opened almost immediately while you finish up the decorating.

2nd level: approx,2500 sq' ft, is 'roofed , insulated, and rough  plumbed for 7 hotel rooms, plus, APPROX, 900 SQ FT OF living quarters with room to add on  swimming pool,party deck , and more. Each room has a private bathroom and ocean view balcony and the apartment could be a perfect owner's/manager's quarters!e. The 2nd floor currently has a concrete floor ,  insulated roof, and needs only the walls to be put in place as you prefer.
3rd level: has concrete floor of about 300 sq' ft', and was intended for private rooftop bar, or patio, or 2 private hotel rooms.
A great deal of attention has been given to details!  Let your dreams and ideas guide you!
This bar/ restaurant  business has done a few holiday "soft" openings , and  already has a following of locals and expats, as well as a Facebook page with over 260 folks following from all over the country and waiting for it to officially open.
Included with sale is: Rustic restaurant seating for 80, Brick oven, concrete kitchen fixtures, Rustic wood bar, large restrooms for men and women, separate restroom for employees, wood room for the brick oven, 200 sq ft floor space liquor/beer locker,  Survey of the property, the existing (transferable) commercial building permit, transferable food , and liquor, and water sports equipment rental license, the Facebook page, and followers, use of the trademark business name. Initial , and ongoing knowledge from the builder pertaining to the (so far)completed work, and projected layout  for the project.
Originally intended to be an Italian restaurant with a real brick pizza oven, the sale will also include authentic Italian recipes that were handed down through generations! Of course, a new owner can do something different if desired. Upstairs was planned for hotel rooms that all have an unobstructed view of the beach and Pacific Ocean. Additional income from water-sport rentals is also part of the plan.
Multiple streams of income! All business and liqueur licenses are included, even a concession to rent jet skis on the beach.
BONUS:
Owner is open to creative financing, investment options, and potential leasing of the property ~ possibly even breaking up the elements (restaurant, hotel, water sport rentals) to individual investors. Bring your ideas and let's talk!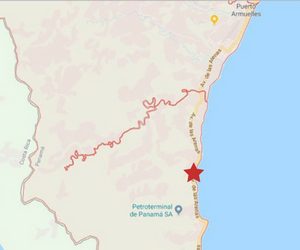 Commercial: Hotel-Restaurant-Water Sport Rentals
R.O.P.

Size of Lot: Approximately 1000 sq.Meters
Building Size: Approximately 6000 square feet
Features: Ocean/beach View, brick pizza oven, built to add a third floor, includes business license, liquor license, and jet ski permit, furniture and appliance are included
Location: Playa Punta Piedra
 

$199,000 

 

Now $125,000
CONTACT: Debbie@visitPuertoArmuelles.com
Please follow and like us: