No sign marks the home that is a safe refuge for the forgotten elderly residents of Albergue Amistad. As you approach the driveway into the hospital in downtown Puerto Armuelles, there is an incognito cream colored building on the left. After living here for 5 years, I have driven by this place many times and never paid any attention to it. I had no idea what was inside.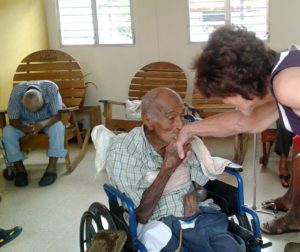 Albergue Amistad was constructed in 1985 with a contribution from the District of Baru and the Chiriqui Land Company. It is a Nonprofit, nongovernmental agency, subsidized by the Ministry of Social Development (MIDES). This means that the meager funding provided is only $120 per month for each adult. To qualify, they must be over age 65, have no pension or retirement, be in a state of poverty, and in conditions of social risk and vulnerability. The money can ONLY be used for food, clothing, housing, medicines, and health services.
You can imagine what a difficult task this is to provide clean bedding, care, and all the essentials of a comfortable life on such a small fund. There are only 3 staff at Amistad, headed up by the Administrator: Josefina de Rios,  and yet the space is spotlessly clean. It is tidy and everything is in order ~ very well run.
From 1985 – 1990, the fundraising arm of the organization, "Damas de la Amistad", was established and headed up by Rafaela Stargardter. There were fundraising activities to raise awareness. A bank account was established and funded by Chiquita Banana at that time. The home thrived and there was great care for the folks who resided at Amistad. They have room for 30 residents, 15 men and 15 women. Since Chiquita left Puerto Armuelles, the fund has dwindled down and the small amount of money received from MIDES is all that is left to support them. Today, there are only 15 residents because that is all they can support. How long can they keep this up?
The good news is that one of the past board members of Damas de la Amistad, Rosa Amador Centeno, has enlisted the help of other Puerto residents to revive the organizations fundraising efforts. Beginning with a Thanksgiving Benefit Dinner on November 22, 2018, with the goal of purchasing a badly needed new washing machine for the facility. 50 tickets sold out in a few days! Many special events and fundraising activities will be ongoing throughout the months to come so watch for news alerts here.
Please get involved! Visit, donate, or volunteer.
For more information, volunteer opportunities, or to make a donation, CONTACT: Rosa (507)6216-8259.
Or contact Editor@visitPuertoArmuelles.com
Find out more about the organization at their web site (coming soon).
Please follow and like us: