4 Hectare Elevated Oceanfront and View Property With Title
$2 Million
It's a rare find to see an oceanfront property for sale that is TITLED in Panama! This unique parcel, known as Point Rock, is a total of 4 hectares (approximately 10 acres).  Of the total, 3 1/3 hectares currently are fully titled and the last 2/3 hectare is in the process of getting titled. It is a perfect parcel for an oceanfront development, a hotel, or an estate.
Located just minutes south of the town of Puerto Armuelles on a recently improved road. The east side of the property has road frontage along it and the west side of the property is oceanfront for spectacular sunsets. There is a stream running down the south side of the parcel, with a gravel footpath and a small lookout built by the owner at the stream's edge. It is a gentle slope on an elevated lot to provide a view from any vantage point. Large teak trees are planted on the north half of the property for additional income in the near future.
The entire lot has been cleared, aside from the teak plantation, and is completely fenced. There is a small rancho on the property as well as another, larger, rancho that has an outside patio and indoor kitchen. It has been used as a small restaurant in the past. There is a bathroom next to the kitchen building. Power and water are on site.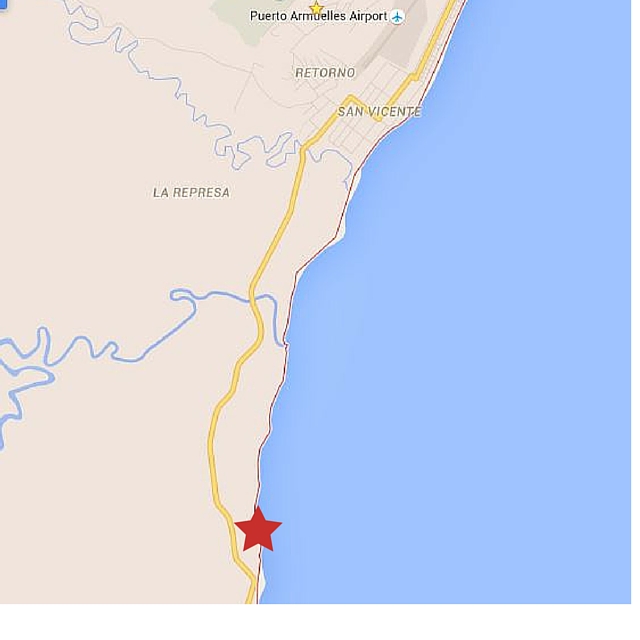 Land

Total Parcel size: 4 Hectare
TITLED: 3 1/3 hectares (2/3 hectare in process)
Bathrooms: 1
Kitchen: 1
Features: Oceanfront, ocean view, gentle slope, road frontage, power & water available, fenced.
 $2 million
Would you like more information on this property?

Subscribe today to get alerts of new property listings & news in Puerto Armuelles!