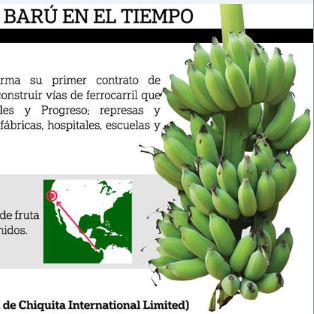 The big news in Barú these days is the revival of the banana industry here. Watch for changes that have already begun in Puerto Armuelles! I came across this concise Infographic at Prensa and thought it worthwhile to translate and post because it gives a nice visual overview of the history of the banana (Green Gold) industry in the district of Barú, Panama.
*English translation is below the photo.
English Translation:
The Green Gold of Barú Timeline
1927 – Chiriqui Land Company signs its first contract of concession with the State, to build railway lines that will connect Puerto Armuelles and Progresso, dams and aqueducts, power plants, factories, hospitals, schools and homes.
1929 – The first shipment of fruit is sent to San Francisco, United States.
2003 – Chiriqui Land Company (subsidiary of Chiquita International Limited) ceases operations, in accordance with the provisions of Law No. 13 of 1998.
2006 – After a negotiation between organized social groups and the State, the Cooperativa de Servicios Multiples de Puerto Armuelles (Coosemupar) was formed, which assumed the banana production.
***la Cooperativa de Servicios Multiples de Puerto Armuelles (Coosemupar)
2008 – The Instituto Panameno Autonomo Cooperativa (Ipacoop) intervened Coosemupar, after the financial reports reflected more losses than gains due to various factors.
***El Instituto Panameno Autonomo Cooperativo (Ipacoop)
2012 – During the government of Ricardo Martinelli, 2,226 former workers of Coosemupar received one hectare each to work the lands where Chiquita operated.
2015 – The Del Monte multinational presents a proposal to the State to reactivate banana production. The company negotiated with 1,770 former employees of the total of 2,226, who maintained the title of their land individually. The rest opted for a collective agreement and business with a local entrepreneur.
2017 – After several proposals and oppositions, Del Monte, the State and a vast majority of former Coosemupar workers reach an agreement for the lease of the land for 20 years at $ 7,500 per hectare.
2018 – The first stage of Del Monte production will begin on 900 hectares. The total project, for which the multinational will invest not less than $ 100 million in seven years, consists of about 5,670 hectares.
*infograph by La Prensa – Roy Hernandez
Subscribe today to get alerts of new articles & news in Puerto Armuelles!

Please follow and like us: