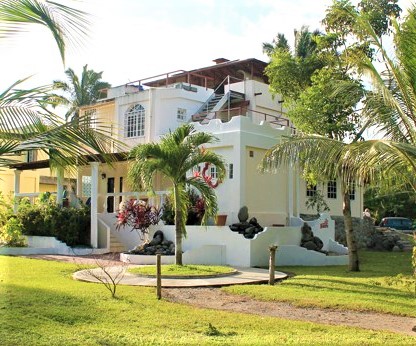 Large Move-in Ready Home Near Sandy Beach 
$194,000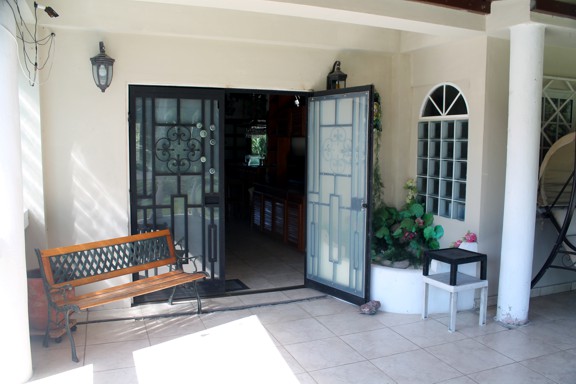 Large international-style home in the exclusive development of San Ignacio Gardens de Cucuy. Some of the nicest homes in Puerto Armuelles are in this area, mostly foreign owned. This home is a short 350 meters from the ocean with partial views from the rooftop patio. It was built in 2009 and the owners have lived here off and on. They will leave the furniture and appliances for you. All you need to bring is your suitcase!
The location is about a 15 minute drive from Puerto Armuelles or the Frontera, for all amenities and shopping, including a brand new modern hospital. Surrounded by the jungle with sounds of parrots and the relaxing rolling in of Pacific Ocean waves to create a tranquilo space to hang your hat.
This home is named the "SORRENTO". There are 3 levels to this gorgeous home. The open concept kitchen and living room open out to a patio where you can enjoy your landscaped backyard, with a variety of tropical fruit trees and a manicured lawn. The second level has bedrooms/office and the covered rooftop patio is perfect for entertaining and enjoying the ocean views and breezes. The foundation is over 2 meters deep and built above ground as well, for an extra  solid structure. There is an enclosed garage and security cameras with a monitor in the house. No need to worry about the town's occasional water or power outages because this home has it's own high-grade solar system and batteries  for back-up power and a well with an abundance of clear water. There is a green space along the ocean side of the property so that you are assured of not having neighbors right next to you, adding privacy to the backyard area. High-speed internet has been installed. There is a community swimming pool and tiki bar!



The kitchen has hardwood cabinets and granite countertops. All appliances and kitchen utensils are included! On the first level, with kitchen/living room, there is a south facing front patio. This spacious area is where people spend most of their day time. There are cooling breezes both on-shore and off-shore that make living in this part of the tropics most enjoyable. A putting green and pond complete the ambiance! There is a community swimming pool and a Tiki hut is under construction for private use or entertaining.
The property is fully titled. There is a property tax exemption for another 8 years! There are HOA fees of less than $100 to maintain common areas, roads, and gate. High-speed internet is available.
By far, one of the nicest homes in the Puerto Armuelles area. Large enough for a family or a spacious home for a couple, with a perfect floor-plan for entertaining. Close to town and amenities, including a hospital, banks, restaurants, and shopping. Costa Rica is about 20 minutes away for trips across the border and shopping at the Frontera. There is a tremendous amount of growth anticipated for the area and prices like these will not be around much longer! This would also be an ideal rental or Air BnB and investment property that is sure to increase in value.
There are ceiling fans throughout the home. I bedroom and bath are downstairs and 2 bedrooms with 2 bathrooms upstairs. The master bedroom leads directly onto the mid-level patio. This is an ideal place to sit and relax before turning in. Also from here you get the refreshing off-shore evening and night time breezes.From the mid-level patio stairs lead up to the rooftop patio. The top patio floor is almost 25 feet above the ground and affords peek-a-boo views to the Pacific Ocean. There is little or no light pollution here and this virtual "canopy" location gives you spectacular vistas of the setting and rising suns and breathtaking visions of a tropical night time sky.The roof also accommodates the 300 gallon water tank and the 6 TROJAN solar gel batteries. This is the coolest spot in the home as there is an almost constant breeze, either on or off shore. True Paradise!!!

Leisurely strolls on the beach are peaceful and healthy additions to your lifestyle in Cucuy Beach.
Hurry to secure your piece of paradise in this exclusive community!
The property is fully titled. Negotiable ~ Partial owner-financing available for qualified buyer.
 Contact Debbie@visitPuertoArmuelles.com for details. See another home called "OASIS" for sale in San Ignacio Gardens HERE.
Single Family Home
Titled

Bedrooms: 3
Bathrooms: 4
Size of home:  2000 sf +
Size of Lot: 1200 sq mtrs
Construction: Insulated foam, concrete, and tile floors
Location: San Ignacio Gardens de Cucuy ~ The SORRENTO
Features: Cul-de-sac, includes furniture and appliances, solar, septic, well, and ocean views
$194,000 – possible owner financing to qualified buyer

Would you like more information on this property?

Thank you for your interest!
Subscribe today to get alerts of new property listings & news in Puerto Armuelles!