8 Hectares of Titled Oceanfront & Ocean View ~ Prime for Development!
$750,000

A Unique "fully-titled" beachfront and ocean view property just 15 minutes south of Puerto Armuelles. 8 build-able hectares (about 20 acres) are perfect for an exclusive, high-end development or an exquisite gentleman's estate. Partially cleared and ready to realize your dreams!
Partners purchased this amazing property with the intention of developing a beachfront resort and camping area. Some of the work has been started and about a quarter of the property is cleared and currently maintained. As sometimes happens with long distance  partnerships, interests have changed and their decision to sell has created an opportunity for another creative entrepreneur!
There is a paved road from Puerto Armuelles to the property, which is just before the small town of Limones. The road actually divides the property into about 2 hectares (5 acres) of beachfront and 6 hectares (about 15 acres) of gentle slope with a driveway to access the upper area with its breathtaking ocean views.  The entire property has been fully titled, which is a RARE FIND and valuable in itself!

The amenities that have been added include 5 buildings. On about 1 hectare of the beach front parcel, there is an outdoor, covered kitchen with 2 separate bathrooms and 2 separate shower rooms. There is a rancho with a cement floor that includes an upper platform and mattresses for sleeping. Also, a cement block sleeping cabana that is closed on 3 sides and open to the oceanfront view. It has a queen-sized platform with a mattress for the bed. Electrical power and water are on the property already. This entire beachfront area is landscaped, fenced and gated, with a cement ramp to the beach for a boat launch. There is high-speed internet available in the area.
See a photo taken at the beautiful beachfront of this property at the bottom of this page!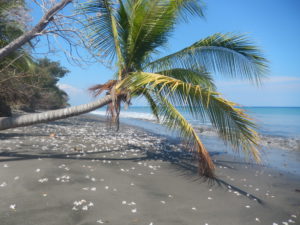 Across the street, there are two cement block apartments. One was originally built to house workers, with 2 bedrooms, 1 bathroom, a kitchen and covered outdoor living area. The other is a small studio apartment with 1 bathroom and a kitchenette. There is also a large, gated workshop/garage. This  area is beautifully landscaped and maintained. There is a driveway that runs up the side of the hill behind the apartments to access the upper sections of the property. The balance of the land is native jungle, with a stream running along the south edge. There are monkeys, lizards, and an abundance of birds and other wildlife. Just being here evokes a sense of relaxation and tranquility that is so sought after today!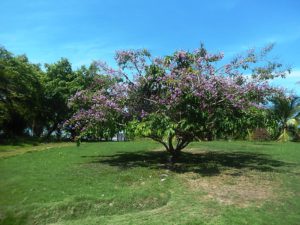 A popular all-inclusive fishing lodge, Hooked on Panama, is nearby with cabana rentals and fine dining. Limones is the closest small local town that has a couple of restaurants, schools, and small convenience stores. It is currently about a 15 minute drive to Puerto Armuelles for shopping, dining, hospital, and other services.There is also an airport in Puerto Armuelles. The road from PTP to Bella Vista has been re-paved which is drawing new people and investors to the area. The Burica Peninsula is an up and coming expat destination where we are starting to see beautiful international style homes being built. This is truly an opportunity to invest in an emerging hot-spot of Panama. It has been 'under-the-radar', although, with the proposed new ports and dry canal, it won't be for long!
Titled

Bedrooms: 5
Bathrooms: 4
Size of homes: About 1400 sf total
Size of Lot: 8 hectares (about 20 acres)
Built: 2006
Construction: Cement Block
Features: Oceanfront & Ocean View, income producing potential
$750,000
Would you like more information on this property?

Subscribe today to get alerts of new property listings & news in Puerto Armuelles!