Chiquita Banana (previously United Fruit Company) has a deep rooted history in Puerto Armueles and Baru. Did you know that Chiquita was the first company to ever brand a fruit? Their commercials and marketing were some of the most effective campaigns created. In fact, I'll bet you can sing along, or at least hum the tune, to the original jingle from 1944! Let's explore a bit of history.
The original Chiquita jingle was written to help teach North Americans how to ripen and use bananas. In the 1940's bananas were still considered an exotic tropical fruit. At its peak, the song was one of the most successful commercial jingles of all time, played on US radio stations over 375 times a day!.
The singer in the original 1944 recording was Patti Clayton, the first in a long line of Miss Chiquitas. She was half-banana and half-woman until 1987, when she was transformed into a human. Modeled after the Latin American icon of the time, Carmen Miranda, and portrayed as exotic and seductive. Miss Chiquita celebrates her 75th birthday in 2019.
Here is the original Song and Lyrics (typed below for easier reading).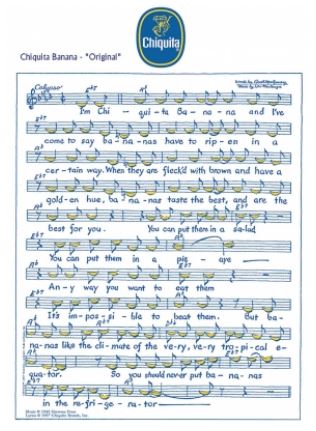 "I'm Chiquita banana and I've come to say
Bananas have to ripen in a certain way 
When they are fleck'd with brown and have a golden hue
Bananas taste the best and are best for you
You can put them in a salad
You can put them in a pie-aye
Any way you want to eat them
It's impossible to beat them
But, bananas like the climate of the very, very tropical equator
So you should never put bananas in the refrigerator."
Over the years the lyrics have been rewritten many times, although the familiar tune has remained the same. Below is a compilation of several vintage Chiquita commercials. The first one is the original 1947 version. Several banana recipes are also included. Feel free to sing or hum along!
Here's one more from the early days of television – some time in the late 1940's
To see more vintage Chiquita marketing campaigns CLICK HERE.
Subscribe today to get alerts of new articles & news in Puerto Armuelles! 
Please follow and like us: