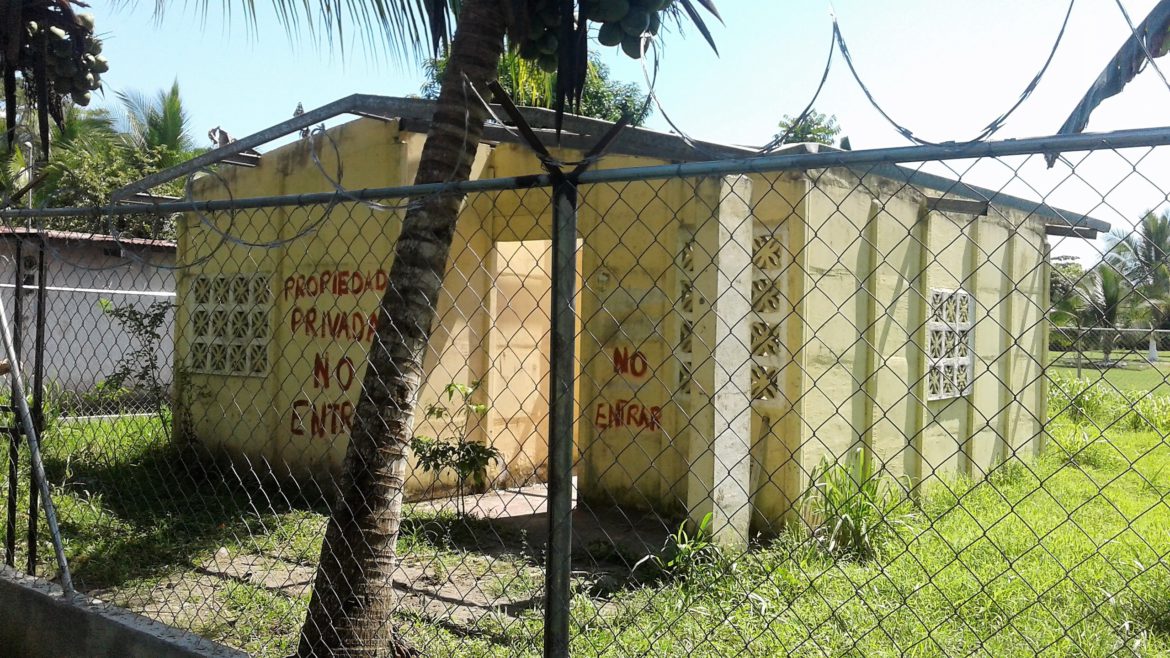 Basic Panamanian "Shell" Home in Popular Beach Area
$29,000
Panamanian-style house in the up and coming beach community of Coronado, El Palmar Sur, in Puerto Armuelles, Panama. Where over a dozen expats are already remodeling these homes into international-style dwellings.

The beach barrios of Corezon de Jesus, Coronado, and Cukui are quickly becoming the hot spot for expats looking for laid back beach-side living at an affordable price. Only about a 15 minute drive from downtown Puerto Armuelles with all the amenities, including banking, a hospital, shopping and restaurants. El Palmar itself has a couple of popular restaurants and a medium sized grocery store.

The homes in this area are all similar; small 2 bedroom, 1 bath homes with a combined kitchen and living room. This small house is built with block construction and a metal trusses in place to add a roof of your choice. The lots are a square 20×20 meters, or 400 square meters. There is room to add on to the house, including adding a second story, and put in some nice landscaping or a small garden. There are mature banana and coconut trees in the yard now. Utility permits are pulled and included for electric and septic. Water line is in front of the house. There is a brand new, well made, fence with walk-in and driveway gates installed.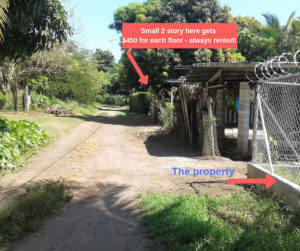 The current owner will include the floor-plan they were going to build, which has an estimate of about $15,000 to complete. So, for LESS than $50,000 you can own a beach town home just steps from the Pacific Ocean. Live there yourself or purchase for investment and equity growth. An expat remodel 2 houses down, is a 2 story duplex that rents for a minimum of $450/month for each unit! 
You can even see the ocean from the back yard! Imagine if there is a second story?

This house is a corner lot with one side along the beach access road, with the beach is just one block away. You can even hear the relaxing sound of the waves rolling in! There is a large International-style home on the beach, but ocean views are still available from this lot along the access road and a second story could be built for even better views! The basic shell of a future dream home is here!

Homes in this area are inexpensive today, but word is getting out and they won't be this affordable for much longer. There is already one remodeled home in the area currently for sale for $129,000 and another sold earlier this year for $75,000. If you want to get into a "soon to be discovered" beach-town at prices under $50,000, now's the time! Not ready to move? Great for a 'buy and hold' investment.
R.O.P.

Bedrooms: 2
Bathrooms: 1
Size of home: About 600 sf
Size of Lot: About 400 square meters
Construction: Block with metal roof trusses
Features: Ocean view, one block from beach
Location: Coronado Beach, Puerto Armuelles
$29,000
Would you like more information on this property?   
Subscribe today to get alerts of new property listings & news in Puerto Armuelles!