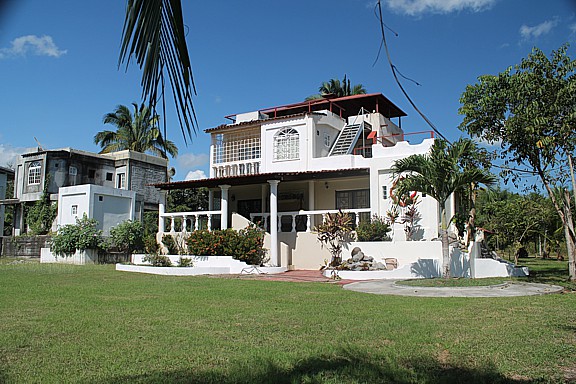 Newer Move-in Ready Home Near Sandy Beach 
$189,500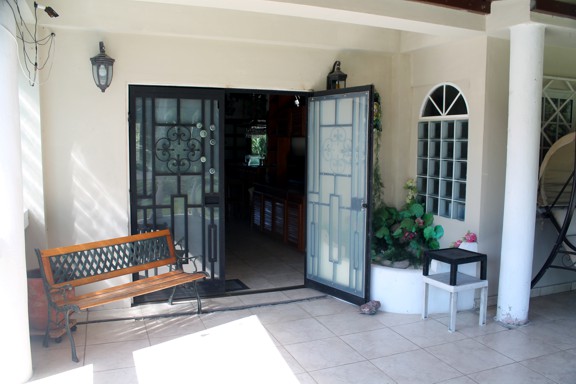 Large international-style home in the exclusive development of San Ignacio Gardens de Cucuy. Some of the nicest homes in Puerto Armuelles are in this area, mostly foreign owned. This home is one block from the ocean with partial views from the rooftop patio. It was built in 2009 and the owners have lived here off and on. They will leave the furniture and appliances for you. All you need to bring is your suitcase!
The location is about a 20 minute drive from Puerto Armuelles or the Frontera, yet it feels like your own private piece of paradise. Surrounded by the jungle with sounds of parrots and the relaxing rolling in of Pacific Ocean waves to create a tranquilo space to hang your hat.
There are 3 levels to this gorgeous home. The kitchen and living room open out to a patio where you can enjoy your landscaped backyard, with a variety of tropical fruit trees and a manicured lawn. The second level has bedrooms/office and the covered rooftop patio is perfect for entertaining and enjoying the ocean views and breezes. The foundation is over 2 meters deep and built above ground as well, for an extra  solid structure. There is an enclosed garage and security cameras with a monitor in the house. No need to worry about the town's occasional water or power outages because this home has it's own high-grade solar system and batteries and a well with an abundance of clear water. There is a green space along the ocean side of the property so that you are assured of not having neighbors right next to you, adding privacy to the backyard area. *NOTE: Municipal power was recentyl installed, so the solar can be considered back-up.

The property is fully titled. There is a property tax exemption for another 10 years! There are HOA fees of less than $100 to maintain common areas, roads, and gate. High-speed internet is available.
By far, one of the nicest homes in the Puerto Armuelles area. Large enough for a family or a spacious home for a couple, with a perfect floor-plan for entertaining. Close to town and amenities, including a hospital, banks, restaurants, and shopping. Costa Rica is about 20 minutes away for trips across the border and shopping at the Frontera. A popular deep-sea fishing lodge is south of Puerto with a first class restaurant. There is a tremendous amount of growth anticipated for the area and prices like these will not be around much longer! This would also be an ideal rental and investment property that is sure to increase in value.

Leisurely strolls on the beach are peaceful and healthy additions to your lifestyle in Cucuy Beach.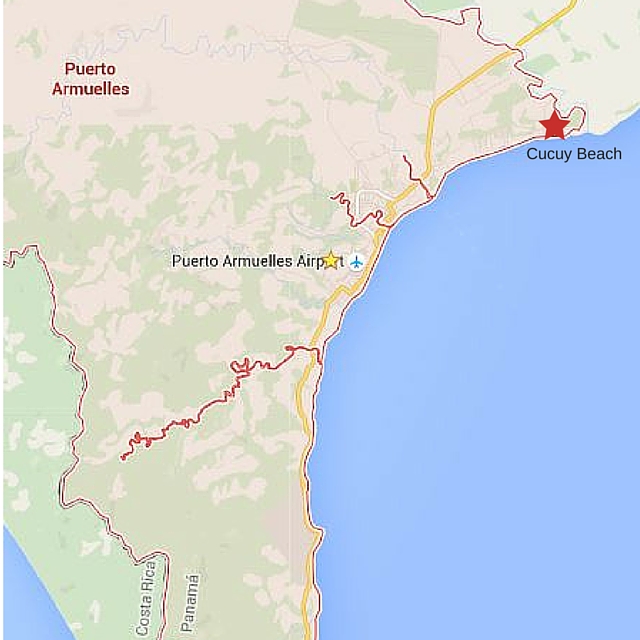 Single Family Home
Titled

Bedrooms: 3
Bathrooms: 4
Size of home:  2000 sf +
Size of Lot: 1200 sq mtrs
Construction: Insulated foam, concrete, and tile floors
Location: San Ignacio de Cucuy
Features: Cul-de-sac, includes furniture and appliances, solar, septic, well, and ocean views
$189,500
Would you like more information on this property?

Thank you for your interest!
Subscribe today to get alerts of new property listings & news in Puerto Armuelles!