Have you noticed that the road construction along the road to Puerto from the Frontera has stopped?
Here's why:
The Commission on Public Infrastructure and Canal Affairs recently conducted an inspection of the road widening project between Paso Canoas and Puerto Armuelles. Although 80% of the work has been completed, there are now some delays due to legal and technical issues. These include compensation of certain private lands, relocating of sidewalks, and removal and replacement of power and phone lines.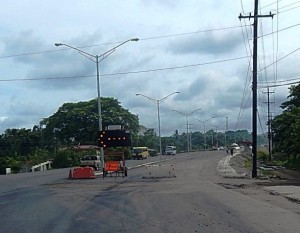 The project involves the widening of the previous road from two to four lanes. Roselis Requena, an engineer and project manager, says the construction of the new four lane road is costing $114.9 million and includes 34 kilometers from Paso Canoa to Puerto Armuelles, plus more than 13 kilometers of internal roads. There are also four new bridges being constructed, 14 pedestrian crossings, and 104 bus stops.
Roberto Hernandez, another engineer, says that the project is almost at its end. Right now they are waiting for the companies Cable & Wireless and Gas Natural Fenosa to relocate or remove electrical and telephone wires and poles that are in the way and preventing the road's completion in some sections.
Roberto also says they are waiting for final legal documents to be cleared related to the compensation of some kiosks and houses that are located on the road improvement path, in order to complete the sections that are still pending.
Deputy Carlos Motta says that the companies in charge of the construction project, MECO and TRANSCARIBE, are not responsible for the delays. They expect the issues to be ironed out soon so that the entire new four lane road will be ready for use by May of 2016.
The Ministry of Public Works has granted an extension of time to complete the project.
Please follow and like us: